INDIANAPOLIS – Perhaps easy to forget or overlook in the aftermath of the fact rookie Alexander Rossi won the 100th Indianapolis 500 presented by PennGrade Motor Oil was who he did it for, besides himself and his family.
In delivering the victory for Michael Andretti, Bryan Herta and the Agajanians, plus Honda, Rossi has added another incredible race in the world of motorsports to their respective win totals in 2016.
—
ANDRETTI'S MAGICAL MONTH OF MAY
Let's start with Andretti, first. We all know what a challenging 2015 season it was for both the Andretti Autosport team, and what also occurred with the overall Andretti company, following the loss of all three of its promoted races (Miami FE, NOLA and Milwaukee) and the dissolving of Andretti Sports Marketing into what is now LST Marketing. Then all that paled in comparison to the loss of driver Justin Wilson at Pocono in August.
Alas, Andretti told me preseason at Phoenix that "the team's never clicked this well before," which was a bold statement to make considering the level of dominance the team has achieved before, most notably between 2004 and 2005 in IndyCar.
But this is why he knows his team and knows his people better than I do and considering the amazing month his race team has had, that statement bares more fruit.
Consider the month of May for Andretti Autosport:
1-2 in the Indianapolis 500, led by Rossi over Carlos Munoz, after placing three cars into Fast Nine Shootout (arguably could have had four, had Rossi not been bumped out at the last second).
1-3-4 in the Freedom 100 for Indy Lights Presented by Cooper Tires, led by Dean Stoneman, in the closest photo finish in Indianapolis Motor Speedway history, with Dalton Kellett and Shelby Blackstock third and fourth.
Two wins in first two Red Bull Global Rallycross races with Tanner Foust at Phoenix, and a second from defending GRC champion Scott Speed in race two.
Double points finish in the most recent FIA Formula E Championship race with Robin Frijns sixth and Simona de Silvestro ninth in the Berlin ePrix, the team's first double points score of the year.
Stoneman also won one of the Indy Lights road course races earlier this month at IMS, his first career victory.
That's just the on-track side. Commercially speaking the team also completed a late deal with NAPA Auto Parts, following an invitation for the company to the Angie's List Grand Prix of Indianapolis weekend and then within a week, Rossi's car was getting re-wrapped in yellow and blue prior to qualifying. The goal was to maximize NAPA's exposure over the two weeks – that certainly worked.
Rob Edwards, Director of Race Operations and Engineering for the team and Munoz's race strategist, made a couple key points of note during a brief chat on Monday morning during the Rossi victory shoot.
He noted that Herta's presence within the team has, already, evolved into a Dario Franchitti-at-Ganassi or Rick Mears-at-Penske type of advisory/sage guidance role. Herta was always known as a smart, thoughtful driver and it's become obvious that the addition of the No. 98 team to this group has enhanced the single, unified program.
Additionally, Edwards said that the thinking with Rossi is that this is designed to be the first of more years to come. If they're not thinking about 2017 yet, it's not because they don't want to – as Rossi has said in numerous interviews, keeping the focus on now a would-be potential championship bow in 2016 is the next immediate goal.
Keeping Rossi in the Andretti fold in IndyCar would be good for the series, and good for the team, to not have turnover in the fourth car, as there has been in recent years.
"It works really well together. Again, I have to give Michael the credit," Herta said of the team partnership post-race. "Back when I drove for him, when we had all those great years together with the four of us, it wasn't an accident. He chose people based on how they fit in, putting these groups of people together.
"I think he really saw the same thing here, a good fit. I don't know if he gets enough credit for having the vision of understanding what a team is and not just individuals, but putting a team together."
"It's been great. The partnership has been fantastic," Andretti added. "We've always been good friends. It was great to have him back part of our family. Hopefully we'll stay together for a long time."
—
HONDA ADDS INDY TO DAYTONA, SEBRING THIS YEAR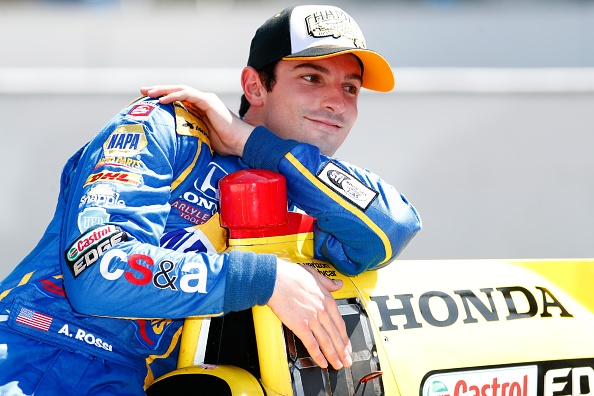 People don't know how much this win means to Honda. This is big. This is something that wasn't just desired, but almost needed, for the Japanese manufacturer whose U.S. operations are out of the Honda Performance Development headquarters in Santa Clarita, Calif., and who endured a trying 2015 season and particularly trying Indianapolis 500.
The tell tale of whether Honda put all its 2016 eggs into Indianapolis will be revealed later, over the final 10 races. And Honda still trails Chevrolet in the IndyCar manufacturer's championship (858-607).
But for one day, Honda got all the spoils it has been working towards, and has added the Indianapolis 500 win to two other wins of huge magnitude this year – the back-to-back wins in the Ligier JS P2 Honda fielded by Tequila Patron ESM at the Rolex 24 at Daytona and Mobil 1 Twelve Hours of Sebring.
"That 100th running of the Indy 500 had a little bit of everything: clean, long runs at the beginning, followed by unfortunate incidents in the pits mid- race, to finish up as a strategy and fuel economy nail-biter – all the things that make IndyCar racing exciting," said HPD President Art St. Cyr.
"After dominating the first half of the race, it was gratifying to know that we had enough depth to cover both the fuel economy strategy, and the max power strategy. It makes all the incredibly hard work performed by HPD over the past year worthwhile. Congratulations to Alexander [Rossi] for an incredible performance in his '500' debut."
The craziest stat of the race for me about Honda? In the first five races of the year, Honda led only 40 of the 612 total laps, with Conor Daly having 29 of those laps out front.
On Sunday, Honda led 129 of 200 laps, from seven different – largely unlikely – drivers: Ryan Hunter-Reay (52 laps, a race-high), James Hinchcliffe (27), winner Rossi (14), Townsend Bell (12), Alex Tagliani (11), Munoz (10) and Bryan Clauson (3).