DETROIT – The IMSA WeatherTech SportsCar Championship is back in action this weekend with three of its four classes, and Christian Fittipaldi, Robert Alon and Bryan Sellers have the three class pole positions for this weekend's Chevrolet Sports Car Classic .
Fittipaldi survived a lurid last lap spin in the No. 5 Mustang Sampling Action Express Racing Corvette DP to score his second pole position of the season – overall and in Prototype (Long Beach), over the three other Corvette DPs in the field. That being said, his tires were flat-spotted from the spin.
Fittipaldi's best lap was 1:23.815 around the 2.35-mile Belle Isle Park with Marc Goossens second in the No. 90 Visit Florida Racing Corvette DP at 1:23.863.
Ricky Taylor and Eric Curran are next ahead of Katherine Legge in her first start in the No. 60 Michael Shank Racing Ligier JS P2 Honda, then the two Mazdas.
Fittipaldi will share his car with Joao Barbosa, then Goossens with Ryan Dalziel, Taylor with brother Jordan and Curran with Dane Cameron as the two seek an encore win of their 2015 triumph. Legge is in her car with Ozz Negri.
Alon, in the No. 52 PR1/Mathiasen Motorsports Oreca FLM09 he'll share with Tom Kimber-Smith, took the Prototype Challenge pole at 1:27.571. It's his second pole of the season as well, having also won pole at Mazda Raceway Laguna Seca.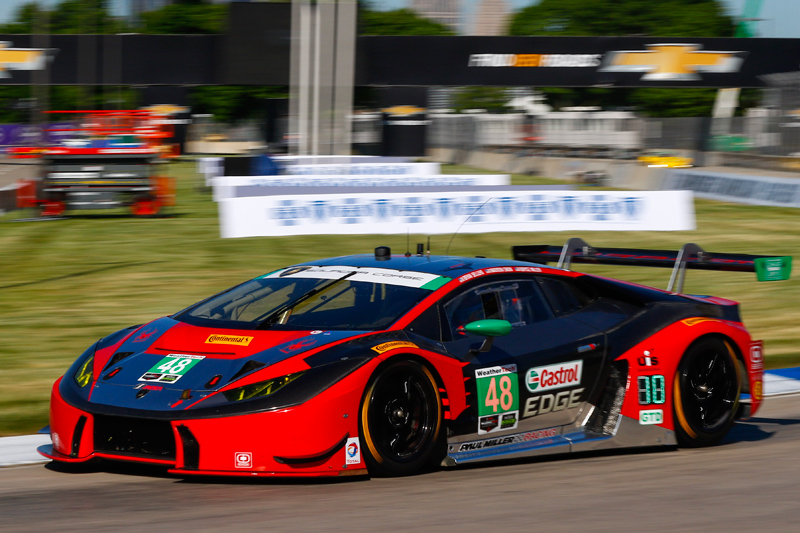 In GT Daytona, Sellers took a perhaps surprise pole – not because he isn't one of the more talented drivers on the grid, but because he doesn't usually qualify, and both he and the Lamborghini Huracán GT3 has never been to the streets of Detroit before! His best time was a 1:31.340, just ahead of Patrick Lindsey's 1:31.351.
This marks both their respective first poles in IMSA competition (and Sellers' first overall since a GRAND-AM race in 2008 at New Jersey), but the second in a row for the No. 48 Paul Miller Racing team at Detroit. Dion von Moltke also won last year's pole in an Audi R8 LMS ultra.
"We hit it right, having went out early, then sat back," Sellers said in the post-qualifying press conference. "It's huge for Lamborghini, as they have a huge, vested interest in the U.S. market.
"It was a team decision (as to why he qualified), based on the way the driver pairings sit. The Silver guys (generally am drivers although there are some professionals) only have to do 35 minutes based on minimum drive time. We've talked about this for a couple races, and we figured this could be an option. But six others were just as clever!"
Sellers will share his car with Madison Snow and look forward to seeing what the talented teenager out of Utah will be able to unleash.
"Madison has been ready for this moment. Let's see how he fares," said Sellers.
Lindsey will start the No. 73 Park Place Motorsports Porsche 911 GT3 R second in the car he shares with Porsche factory ace Joerg Bergmeister.
Then it's the two Stevenson Motorsports Audi R8 LMS cars of Robin Liddell (qualified third in the No. 6 car) and Matt Bell (fifth in the No. 9 car), who sandwich Spencer Pumpelly in the No. 16 Change Racing Lamborghini Huracán GT3. Liddell will co-drive with Andrew Davis, Bell with Lawson Aschenbach and Pumpelly with Corey Lewis on Saturday.
The one-hour, 40-minute race rolls off at 12:40 p.m. ET on Saturday.