DETROIT – Simon Pagenaud being on pole for a Verizon IndyCar Series race this year isn't a surprise.
The fact the Frenchman did it on Firestone's primary black sidewall tires, however, is.
Today the Frenchman and series points leader scored his third Verizon P1 Award of the year in the No. 22 Hewlett Packard Enterprise Team Penske Chevrolet (Barber, Indianapolis Motor Speedway road course).
Pagenaud's best lap in the Firestone Fast Six session was a 1:14.9166 around the 2.35-mile Belle Isle Park street circuit in Detroit. While the rest of the runners took shots at him on Firestone's softer red alternate tires, none was able to top Pagenaud's time on a hot track. Temperatures were at 78 degrees ambient and 103 on track, per Firestone, after being a much cooler 74/79 respectively for the start of morning practice.
"It was very important to go with this strategy," Pagenaud explained afterwards. "The reds have the tendency to degrade more here with the concrete. So we were very well balanced on the blacks. I could extract more of myself on the blacks, and it gave us a big advantage."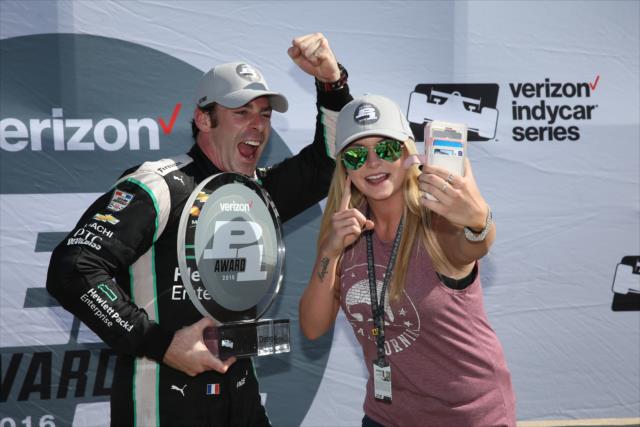 An order of normalcy, in a sense, was restored with Team Penske and Chip Ganassi Racing Teams locking out four of the six Firestone Fast Six spots.
Helio Castroneves starts second in the No. 3 Hitachi Team Penske Chevrolet, having set the track record in Q2 at 1:14.6899 but slower in the Fast Six. Then Juan Pablo Montoya was third in the No. 2 Verizon Team Penske Chevrolet to make it a Team Penske top three sweep.
The interlopers were James Hinchcliffe in fourth in the No. 5 Arrow Schmidt Peterson Motorsports Honda and Carlos Munoz in the No. 26 Magneti Marelli Honda in fifth, the latter having made his first Firestone Fast Six since Mid-Ohio 2014. Scott Dixon completed the Fast Six in the No. 9 Target Chip Ganassi Racing Chevrolet.
Will Power, a usual Fast Six regular, slotted into ninth.
Meanwhile the bigger story out of the earlier sessions was a disagreement between Andretti Autosport teammates Marco Andretti and Ryan Hunter-Reay.
Hunter-Reay told IndyCar Radio he'd been balked, earlier, by a slowing Sebastien Bourdais while Marco Andretti – who refused to talk on air – reportedly told IndyCar Radio's Dave Furst that his teammate "effed" him.
Hunter-Reay starts 15th, Andretti 19th, with teammate Alexander Rossi following up his Indianapolis 500 win with 17th on the grid for the first of two races this weekend on Saturday.
Spencer Pigot starts 21st for his first race in the No. 20 Fuzzy's Vodka Chevrolet at Ed Carpenter Racing.
Times are below:
DETROIT – Qualifying Friday for the Chevrolet Dual in Detroit #1 Verizon IndyCar Series event on the 2.35-mile(s) Raceway at Belle Isle Park, with qualifying position, car number in parentheses, driver, aero kit-engine, time and speed in parentheses:
1. (22) Simon Pagenaud, Chevrolet, 01:14.9166 (112.926)
2. (3) Helio Castroneves, Chevrolet, 01:14.9285 (112.908)
3. (2) Juan Pablo Montoya, Chevrolet, 01:15.5659 (111.955)
4. (5) James Hinchcliffe, Honda, 01:15.7708 (111.653)
5. (26) Carlos Munoz, Honda, 01:16.3897 (110.748)
6. (9) Scott Dixon, Chevrolet, 01:16.4613 (110.644)
7. (10) Tony Kanaan, Chevrolet, 01:15.5508 (111.978)
8. (83) Charlie Kimball, Chevrolet, 01:15.6712 (111.799)
9. (12) Will Power, Chevrolet, 01:15.7142 (111.736)
10. (15) Graham Rahal, Honda, 01:15.7172 (111.732)
11. (14) Takuma Sato, Honda, 01:16.0998 (111.170)
12. (7) Mikhail Aleshin, Honda, 01:16.2665 (110.927)
13. (11) Sebastien Bourdais, Chevrolet, 01:16.1087 (111.157)
14. (21) Josef Newgarden, Chevrolet, 01:16.3154 (110.856)
15. (28) Ryan Hunter-Reay, Honda, 01:16.2643 (110.930)
16. (18) Conor Daly, Honda, 01:16.6370 (110.391)
17. (98) Alexander Rossi, Honda, 01:16.4512 (110.659)
18. (8) Max Chilton, Chevrolet, 01:16.7138 (110.280)
19. (27) Marco Andretti, Honda, 01:16.4965 (110.593)
20. (19) Gabby Chaves, Honda, 01:16.9140 (109.993)
21. (20) Spencer Pigot, Chevrolet, 01:17.6894 (108.895)
22. (41) Jack Hawksworth, Honda, 01:18.3918 (107.919)