Sam Hornish Jr. may not be racing right now, but he's sure logged a lot of miles of late.
Just before he returned to Indianapolis late last month to take part in the festivities of the 100th Running of the Indianapolis 500, Hornish – who won the 2006 Indy 500 – took to the road for a unique trip with his father, Sam Sr.
He recently spoke exclusively with NBCSports.com about the father-son journey they enjoyed.
"We'd been planning for the last six or seven years," Sam Jr. said. "It was a bucket list kind of thing. My dad has had this dream since he was 10 years old that he wanted to drive the Alaska Highway. It's something he always wanted to do.
"At this point in my life, I'm trying to pay back all the things people have done for me, so he and I decided to do it and we had a blast."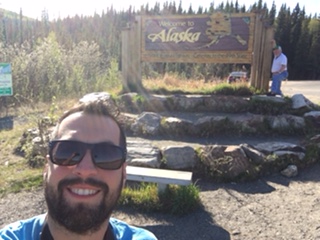 Father and son Hornish drove from Ohio to Chicago, flew to Edmonton, Alberta, Canada, rented an RV and over the next 10 days were constantly on the go.
"The funny thing about it is that you think that this is a vacation and Sam's not turning that many miles since he's not racing, but from one Wednesday to the next Wednesday, we drove 4,300 miles," Sam Jr. said. "And before that, I drove almost 1,000 miles to get to my dad and pick him up and then to go to the airport to fly out. Then I did the same getting back to North Carolina. The way I looked at it, by the time the month of May was over, I'd driven 10,000 miles.
"Sometimes, you have to go out and do some of the things other people want to do. You can't just chase your own dreams all the time."
Along the path of their journey, father and son — both sporting beards — saw all of the best that nature had to offer, including countless moose, elk, deer, black bears, mountain goats, big horn sheep and more.
Oh yes, and one other thing, Hornish said with a laugh: "I didn't know there was so many trees in the world!"
Their trusty RV was definitely up to the task. While a good portion of the journey was on paved four-lane roads, they also had to deal with extremely rough terrain as well.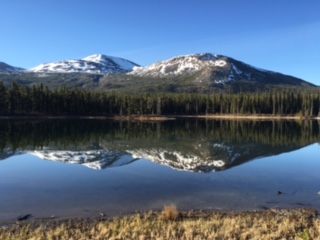 "The last 50 kilometers on the road to Alaska, the road is nothing but potholes," Hornish said. "If you go down to 30 kilometers an hour, it's the roughest ride you're going to feel, so you have to go like 50 and just skip across the top of all the bumps."
Hornish had done a great deal of preparation and planning for the trip, but ran into a few surprises along the way.
"The Alaska Highway starts in Dawson Creek, B.C., and goes to Delta Junction, Alaska, which is about 1,422 miles," he said. "We also got to about 50 to 75 kilometers from the Arctic Circle.
"All the trucks that are going to the Alaska Pipeline all stopped to re-tie down their load because of how bumpy it's going to be. There's signs there that say, 'Travel at your own risk.' And here I am, I've got this little RV and the road we were on to get it to that point was like unbelievable, like 1,000-foot drop-offs and not a ton of a lot of guardrail.
"You would think in a lot of ways, to me, looking at it, it would remind you of being in South America and some of the roads they have down there. We drove all around Alaska, went to Fairbanks, Anchorage and all that it had to offer. I'm sure we could have spent three weeks doing it."
Along the way, the Hornishes also were witness to the devastation of the massive Fort McMurray fire in northeastern Alberta.
"With all the fires they were having in Fort McMurray, there was a place heading back to Alberta that was burned up on both sides of the road for about 15 miles," the younger Hornish said. "It wasn't like that when we drove through there on our way to Alaska.
"We got back about 36 hours before we had to turn in the RV and get on the plane, and all of a sudden there was this kind of fog rolling in – when it was actually smoke (from the fires).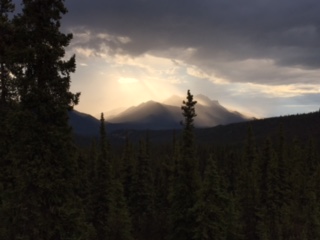 "You could see how quickly it happened. You get this total devastation when, seven days earlier, it was lush and green and beautiful."
Hornish enjoyed the trip with his father so much that he gave very little thought to racing – although he admits he was bummed out that he missed the NASCAR Sprint Cup race in Dover on TV because he was in the Yukon Territory – where there was no TV, phones or internet service.
Other than looking forward to returning to Indy for the 100th 500, Hornish, who turns 37 on July 2, barely thought about racing while on the trip. But he hasn't given up on getting back behind the wheel again, he said.
"I'm hoping to do a little bit of racing this year, but to be honest with you, I want to do it the right way, to do it in good equipment," said Hornish, who last raced in 2015 with Richard Petty Motorsports in the NASCAR Sprint Cup Series. "Last year was so frustrating, knowing it was going to take a miracle to win a race.
"I'd worked so hard to stay in racing and to give myself the opportunity to almost win a championship (finished second in the Xfinity Series in 2013)."
And while "I'm just at a point where it's about spending time with my wife and my kids and trying to do things for other people that helped me to achieve my goals," Hornish still has the itch to drive again.
He's looked into returning to NASCAR, may do some competitive go-kart racing and also has interest in endurance and sports car racing.
"I feel very fortunate that I've gotten the opportunity to run the Indianapolis 500, the Daytona 500, the 24 Hours of Daytona," Hornish said. "So, I'd like to do a little more of road-racing stuff.
"That's what I primarily did up until I went to Indy cars. Everybody looked at me just as an oval-only guy. I'd like the opportunity to work on my road course craft a little bit more."
After nearly 10,000 miles on a road course of a different kind, with lots of bumpy roadway and hundreds of turns, that very well may have been the best preparation for Hornish to indeed climb back into his firesuit and get back behind the wheel very soon.
Follow @JerryBonkowski