Drivers often find any way they can to keep scratching that itch to be at a race track if they're not driving. Coaching and spotting are two of the ways. South African driver Stephen Simpson manages to do all three depending on the weekend.
He's the full-time driver of the No. 85 JDC/Miller Motorsports Oreca FLM09 in the IMSA WeatherTech SportsCar Championship, but he entered the Detroit race last weekend off spotting for JR Hildebrand's No. 6 Preferred Freezer Fuzzy's Vodka Chevrolet in the 100th Indianapolis 500. The driver of the No. 6 car ultimately finished in the same position.
You often hear stories about how drivers make it through the race, but not as many about how spotters view it from the spotter's stand high atop the Indianapolis Motor Speedway in Turn 1.
We caught up with Simpson in Detroit to get his take on what it took to spot for this year's race:
"JR is a good friend of mine, so spotting for him was great," Simpson told NBC Sports. "I really working with him and spotting for him for the whole month. It's something I really enjoyed doing. If I'm not going to be driving the car myself, which is still on my 'to-do' list at some point.
"To me, spotting is real enjoyable. I love learning from the teams and the other drivers and just being a part of the whole program. I think I've been spotting for four or five years before that. I've spotted for Alex Tagliani, Takuma Sato and Josef Newgarden a couple years back. So yeah, I've been involved in it for the last couple years and just love being a part of the 500."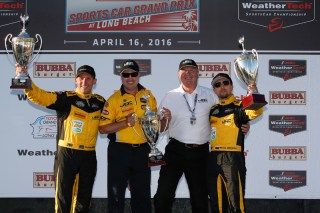 For Simpson, the dream of driving the Indy 500 after moving back from the spotter's stand could be achieved. As he related, the driver he stood next to last year, Stefan Wilson, moved into the driver's seat this year.
"Some of the guys have been spotting for a very long time and they have their ways," Simpson explains. "As far as I'm concerned, I just stick to myself and do my thing.
"What has been good to see over the last couple years, I remember last year for the race, I was standing up in Turn 1 and spotting and standing next to Stefan Wilson, who was spotting for his brother and then the following year, he's in the race.
"A couple years ago, I was sitting next to James Davison in Turn 3 and having long conversations about wanting to be in that race at some point, and then it was great to see him get a couple of opportunities, too. It's different but enjoyable up there."
Hildebrand, in the third Ed Carpenter Racing entry, was in top-five contention late before contacting Helio Castroneves' left rear wheel pod. But it didn't necessarily take the Californian out of the race.
"JR was doing a great job. The first couple of pit stops, the guys were making changes on the setup. Then, with about 100 laps to go, he didn't want any changes, he was really happy with the car," Simpson said. "The track started getting hotter and his car started coming in a little bit more than some of the others. Yeah, the second half of the race, he was strong and only getting stronger. With about 20-30 laps to go, we all felt that we actually had a genuine chance of winning this race."
"I was watching in my binoculars and I think it was just one of those things. I don't think he was checked up at all by Helio. I think from speaking to JR and watching the race, when the guys come out of Turn 4 and go to the middle of the track, the driver behind that is wanting to make the move is trying to decide whether to go high or inside or outside, and I think maybe JR was initially thinking about going to go outside and then went inside and then unfortunately clipped Helio. It was just a minor little incident that unfortunately ruined one of their races."
The panoramic view of seeing more than 350,000 people present – IMS doesn't release attendance numbers but that was the estimate – is something Simpson will never forget.
"It's fantastic. Race day this year, I went up to the spotter's stand nice and early. I was up there about 10 a.m. I just wanted to be up there and watch everything happen," he said.
"It was just great. Before the race started, there was literally not an empty seat open. And then to look down at Turns 3 and 4, just to see a sea of people, it was great, it was fantastic."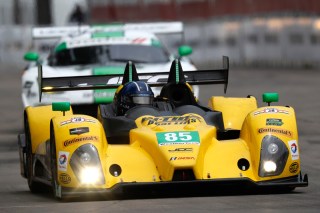 Simpson's Detroit weekend didn't go according to plan in the PC car he shared with Misha Goikhberg. Goikhberg had nowhere to go in the Saturday morning warmup when a Mazda spun in front of him, which meant damage to the No. 85 JDC/Miller car was too substantive to be repaired before the race.
The team sourced a backup chassis from BAR1 Motorsports to weld that chassis and part of the JDC/Miller car together, with the JDC/Miller car's electronic updates paired with the new BAR1 tub. It was a heroic effort to put the "Frankencar" together – more info on the whole process here can be found via Sportscar365 – and it didn't drive right most of the race when it was on track.
That being said, the team made the minimum drive time to score points and are just nine back of championship leaders Renger van der Zande and Alex Popow. If they win the title, they can look back to this race as how they stayed in contention.