The month of May was a special one for Bryan Herta this year – his driver, Alexander Rossi captured the 100th Indianapolis 500 presented by PennGrade Motor Oil in the No. 98 NAPA Auto Parts/Curb Honda for Andretti-Herta Autosport with Curb-Agajanian.
The win came five years to the day, of course, after Herta's then-driver Dan Wheldon won the 100th anniversary running of the race in 2011.
The poignancy is obvious.
This was a special month for Herta, as well as Wheldon's other teammates from his time at Andretti Green Racing, Dario Franchitti and Tony Kanaan and his then primary teammate at Target Chip Ganassi Racing, Scott Dixon, all gathered at Honda hospitality at IMS to celebrate the life of Wheldon as the new book Lionheart: Remembering Dan Wheldon, authored by Jeff Olson and Andy Hallbery, was launched at the Indianapolis Motor Speedway.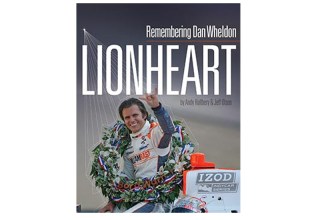 The book is a different bio reflection than most – rather than Olson and Hallbery telling the story themselves, they left it to Wheldon's closest friends, teammates and confidantes to pass on the best parts of Wheldon's life.
In the 200-plus pages, more than 50 individuals have come together to form a mix of laughs, tears and memories that are unlike most books you'll read.
Here's a quick excerpt from Herta's chapter, to set the scene for his six pages:
—
"The moment I've met people for the first time isn't something I usually remember, but I remember everything about the first time I met Dan Wheldon. It was at the Indianapolis Motor Speedway in 2003, and it was in the Andretti Green Racing garages. Dan had been brought in as the team's most recent driver. He was the new kid on the team. Honda had just moved from Champ Car to the Indy Racing League, and they needed someone to pound out tons of test miles all winter long.
"I don't think our teammates, Dario Franchitti and Tony Kanaan, had a lot of interest in doing that, so Dan came in and did that for the team. He arrived that season and was expected to just race sparingly while testing. But Dario's dubious motorcycling skills led him to crash his bike in Scotland after the second race of the season, so Michael Andretti called me and said, "Hey we're going to need somebody to sub for Dario."
"At the time, it was only supposed to have been a couple of races. Michael did a deal for Robby Gordon to drive Dario's car in the Indianapolis 500, and they asked me to come in and do some testing during the month of May at other tracks. I flew into Indy and came to the garages. I knew Tony and Robby very well, but I didn't know Dan, so we had to be introduced.
"Here was this kid who was just full of bravado. He was confident in himself and what he was doing. He made an immediate impression on me. You'll hear other people say this: There was something about Dan. When you talked to him or interacted with him, he made a real connection with you. It didn't matter who you were. If you were a fan who met him for 20 seconds or if you were one of his good friends, he made a connection with you.
"It was real and genuine. He could make you feel like you had just made a real connection with a person. That was my initial experience with him. He was very animated and sure of himself, but he was also very real."
—
When you look at the names who have contributed here: 2009 World Champion Jenson Button comes up along with past F1 drivers Rubens Barrichello and Mark Webber, as do the band of teammates, in Franchitti, Andretti, Kanaan and Herta, then his IndyCar rivals, Helio Castroneves, Sam Hornish Jr., even Danica Patrick, then NASCAR stars such as Jimmie Johnson and Dale Earnhardt Jr., plus many, many others, you see the great lengths Olson and Hallbery went to to put this together.
As has been said elsewhere, Wheldon wouldn't have just wanted a book and appreciated it – but he'd want it to be oh so perfect, oh so right.
Lionheart is that, and then some.
More information on the book and the book itself is available here for purchase via lionheartbook.com, with additional information available on the book's Facebook page.