Formula 1 is currently faced with a crucial juncture, carefully balancing the past and the future. While new hybrid technology has now been used for over two seasons now, there remains a call to return to the 'good old days' of fire-breathing, ear-splitting V12 engines and fearsome cars.
The push for modernity in F1 is one that the sport's bosses – including 85-year-old CEO Bernie Ecclestone – consider carefully. Great progress has been made in recent years thanks to the live timing app that gives viewers enormous amounts of data and information, while F1's official website and Twitter account have become invaluable outlets to anyone who follows the sport.
The big question is 'what next?' What will be the next big technology that changes the way in which we consume both F1 and motorsports as a whole?
It may well be virtual reality.
F1 board member Sir Martin Sorrell recently spoke at length about the developments being made with virtual reality (VR) and how they could be utilised in the future.
"Virtual reality for Formula 1 could be fantastic – driving the car!" Sorrell told the official F1 website.
"In the Ridley Scott film 'The Martian' you can do that. I have lifted off in the space craft from the surface of Mars, walked in space and looked down into deep space and got terrified, with the headphones and the goggles.
"The technology is already incredible and will improve massively in the next few years. Think about what you could do."
While it remains a consideration for F1, VR is already making a splash in motorsport courtesy of F1's electric-powered cousin: Formula E.
Back in April, I had the opportunity to try out VR for the very first time in Paris over the ePrix weekend that saw Formula E race in the shadow of the Eiffel Tower. As a self-confessed geek with an interest in video games, where VR tech is already widely used, I was curious to see how it would be implemented when enhancing my experience watching a race, as well as being used to go along with a real-time, real-life event such as Formula E.
One of the key figures involved in bringing VR to Formula E is no stranger to motorsport. Oliver Weingarten worked as the secretary general of the Formula One Teams' Association (FOTA) from 2011 until its closure in 2014, and also held a similar role with a similar organisation for Formula E during its first season. Now, he is the sports rights and partnership advisor at Virtually Live.
"Virtually Live is a virtual reality start up company based in San Francisco with offices around the world," Weingarten explains.
"We've been live testing with Formula E to create an experience for fans unable to attend the race, to still be able to experience what it would have been like if they had attended. And that is by giving them an immersive and social virtual reality experience.
"The testing that you've seen here in Paris and in Long Beach, where we have modelled the circuits and the cars and ingested the live data direct from Formula E, has enabled us to provide this experience.
"You can choose any position around the track, you can choose any driver's car, you can sit in the car, you can stand alongside the car.
"Additionally within our modelled VIP experience replicating  the Emotion club, you can have a social experience. So if your friends are located all across the world and you want to have an appointment to view and watch at the same time, you can spend time together to socialise and watch the race in a virtual environment."
It certainly sounds impressive, but what about when we put it to the test?
The demo I tried out used the HTC Vive VR device (although both its competitors, the Oculus Rift and the PlayStation VR, will be supported by Virtually Live). It works by putting on a large headset and holding a lightweight controller in one hand. With these in place, I was now in the new Formula E virtual reality.
At first, my eyes adjusted as they do coming out of the dark into bright light – but I quickly found my bearings. As I moved around and turned my head, the virtual world moved with it. I was standing in the middle of a Formula E hospitality unit with a variety of screens on the walls: one had race footage (this demo was built around the Long Beach ePrix), others had a track map and live timing. Using the pointer, I was bringing them up in front of my eyes, offering up to date information. By clicking on the track map, I could then choose which driver I wanted to ride on-board as the race was taking place.
It was at this point that the demo really blew my mind.
Using the trigger, I clicked to ride on board Jerome d'Ambrosio's car, modelled digitally using the live data provided by Formula E to get his car position, speed, movement etc. "Formula E provides us with the circuit drawings etc., and we ingest the GPS data live so that we can plot the cars going around the track on a live basis and enable the VR experience," Weingarten explains.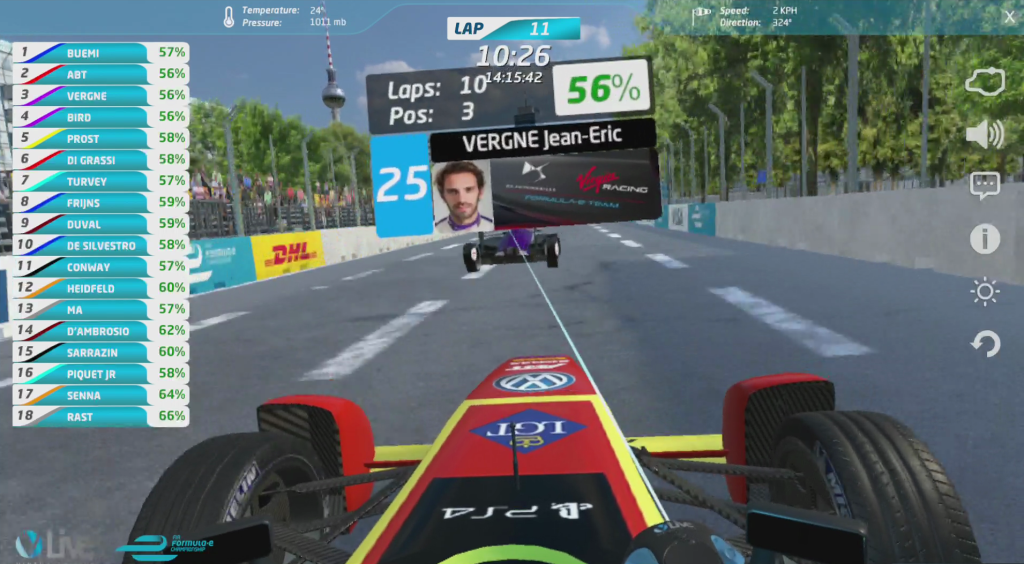 Suddenly, I find myself hovering above d'Ambrosio's car, in a similar position to the T-cam used on most single-seaters. But unlike the fixed place of the camera, I'm able to move around freely. I turn my head left, and I can see everything to the side of the car (a spotter's dream – think of this like the 360º cam used in IndyCar, only with far more freedom). I turn my whole body around, and I'm riding backwards, looking at the cars chasing behind. I was even able to lower myself down into the driver's position in the cockpit, giving me an eye-line view of the race.
I wasn't restricted to just a single car either. While still riding on-board with d'Ambrosio, all I had to do was use the pointer to click on the car behind – and now I'm on board with Sebastien Buemi. I bring up the track map again simply by looking upwards and using the pointer, and I'm able to pick any car on-track to ride with. Clicking another button brings up race audio, available via headphones you can also wear.
What Virtually Live is trying to achieve is giving fans who cannot be at a track the next-best thing. This is done successfully, for you don't have to run on board with a driver. Again using the pointer, I was able to select a corner I wanted to 'sit' at, from where I could watch the race play out. Much as I would at a race track, I can change my view simply by moving around. If I want to go back on-board, I just pick a driver. It's all instantaneous – there's no lag or delay, even on the demo.
With the race demo completed, I clicked a button and returned once again to the hospitality unit where I started. There, I could find the championship standings and the race results, and all other essential information. I lifted off the headset, and bang – I'm back in the real world, a conference room in a Parisian hotel on a chilly April day. I'd been in sunny Long Beach just seconds earlier…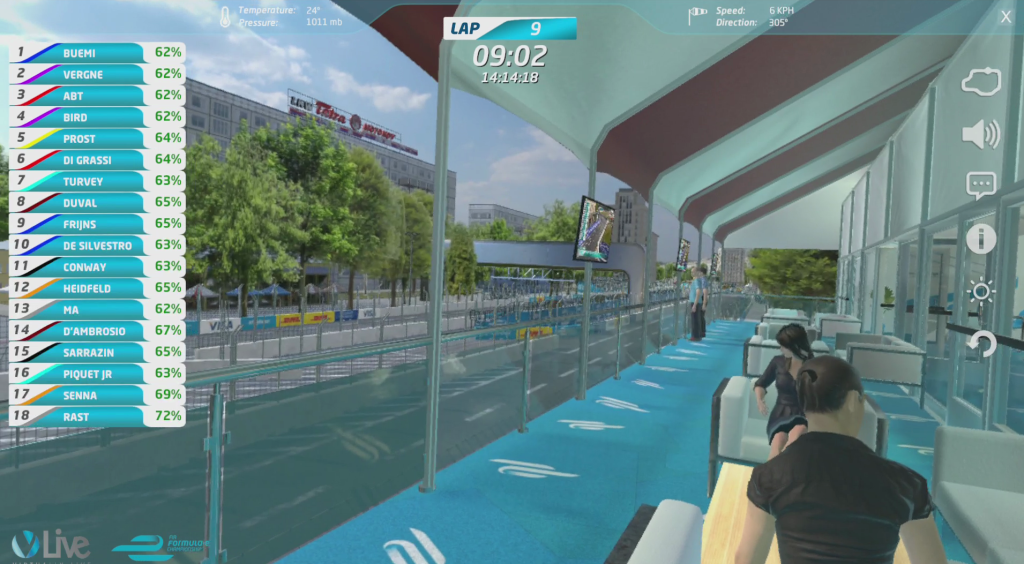 One thing that must be stressed is that, much as virtual lives do not replace our real ones, VR technology is not a replacement for physically going to a race track and witnessing a race, and Weingarten is keen to emphasize this.
Motorsport has, to me, always been a highly sensory experience: the sights, the smells, the sounds (even Formula E cars!). Virtual reality cannot replicate this. Much as video game models of racing cars aren't quite as pretty as the real thing, you're aware when using the device that it is a virtual world. That's not a bad thing; it's just a disclaimer worth making.
What this instead offers is an alternative to the regular viewing experience. Since becoming involved in motorsport, there are few opportunities I get to sit down and truly enjoy a race like I once did, not worrying about reports, live tweeting or filing copy. But when I do, I almost feel compelled to go back into 'work mode' to feel more involved and attached to the race. It is something I want to consume and be take all of my attention. Particularly in a drab race, I may start looking on my phone or check some emails, taking my attention away. I am sure that all fans are guilty of the same thing.
There is no chance of that with virtual reality though. Bored of the race feed? Hop on-board with one of the drivers; go and watch the race from one of the corners; hang out with your mates in the Emotion club. It is a true 'experience' that is more than just one-way.
So why Formula E?
"One word: innovative," Weingarten says. "They are a truly innovative series. We are an innovative company, so there was a nice synergy there to go out and collaborate with them.
"It's perfectly tailored to motorsport. But it's not just motorsport, we're looking at a whole raft of other sports. We are a data driven company. Sports use a lot of data tracking, so we're open to lots of discussions and in fact I think it's a really exciting, innovative time for sport at the moment.
"Broadcasters like it because it is a complementary experience. Broadcasters need to innovate, they need to retain subscriptions. They know that fans consume content in different ways now. You just have to look at the millennials. If you look at the demographic for Formula E, that is why virtual reality is so well suited to it."
The word 'millennial' gets a lot of criticism, yet it is a nicely-loaded and rather accurate word to describe a up-and-coming generation, of which I'd consider myself to be a part of at the age of 21. Young people today no longer are satisfied just to watch a race on TV – there has to be more going with it to enhance the experience. This is what virtual reality can achieve with motorsports.
I consider myself lucky to have been born at a time when new technology truly seemed 'new': mobile phones were still bricks, computers barely portable and video games just about becoming 3D when I was born. For kids growing up today, there is a risk it is all taken for granted. Big breakthroughs become less and less common. 'Upgrades' to phones are an extra 0.1 megapixel camera or a few grams off the weight as opposed to being true overhauls. The boundaries of technology appear to have been reached.
And yet this is a long way from being true. Virtual reality is the future, and is one of the most mind-blowing pieces of technology I have tried out in years. The majority of tech that we use – phones, laptops, tablets – primarily offer a service as opposed to an experience. They are largely one way: we tell it to do something, it does it. Virtual reality is all-encompassing, a true experience that reacts to move than just your right thumb scrolling up and down – and because of that, it oddly feels more real despite being virtual.
It is impossible to predict accurately how we watch motorsport in years to come – but I would say with some confidence that virtual reality will be playing a big part in it.