FORT WORTH – It's been two weeks since Alexander Rossi's life changed.
Winning the 100th Indianapolis 500 as a rookie can do that.  In those two weeks, the 24-year-old driver embarked a week-long media blitz across the country from Indy to New York City, Dallas and then to Michigan.
After two grueling races at Belle Isle, Rossi left fifth in the Verizon IndyCar Series point standings.
Then it was back to Texas for yet another race, Rossi's first on what he calls his favorite of the three ovals he's driven on so far. There'll be more interviews, cameras and face time for the kid from California who hadn't wiggled into an IndyCar before March.
Bryan Herta, Rossi's co-owner and driver coach, is in awe of how Rossi has handled the spotlight cast on him.
"I don't know how you prepare for that," Herta said Friday at TMS. "I continue to be impressed by how Alexander has risen to the challenge. He fully understands that winning the Indianapolis 500 is a tremendous accomplishment, it's also a tremendous responsibility. He's a 500 champion now and he's a representative of the series and the sport, of that race. I love that he gets it."
Herta first broke into open-wheel racing in the Indy Lights Series in 1992 at the age of 22. His first start in CART and the Indianapolis 500 came two years later. Now at 46, Herta believes he wouldn't have been ready for the scrutiny Rossi's been under.
"He is so much more prepared, professional than I was when I came into it," Herta said. "I think that's because the junior series, all the experience that he's had, they prepare these guys so much more throughly than when I (raced). When I came into IndyCar, no one expected anything for the first year or two. You're just trying to figure it out."
Herta didn't win his first CART race until 1998, his fourth full-time and fifth overall season in the series. After five races in Formula One in 2015, Rossi's first IndyCar win came in just his sixth start.
"Now, these guys are so much better prepared, they're expected to make an impact right away and start delivering."
Herta, who joined forces with Andretti Autosport this year, has also been busy "catching up" since the Indy 500. That's involved preparing for the Detroit and Texas races and also dealing with the positive results of Rossi delivering early. Prior to Rossi's win, the No. 98 Honda didn't have sponsorship secured for Saturday's Firestone 600.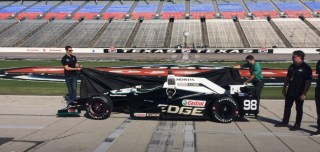 Early Friday morning, Andretti Herta Autosport revealed a new Castrol Edge paint scheme for Saturday's Firestone 600, a direct result of the excitement surrounding Rossi's win.
But as Herta says, "time doesn't stand still" for the winner of the Indianapolis 500.
"We have to keep marching," Herta said. "We're fifth in the championship. Try to savor a little bit, but really, very quickly, your focus turns to, 'okay, now what?'"
The remaining eight races of the season give Andretti-Herta Autosport eight chances to come up with the best possible answer.