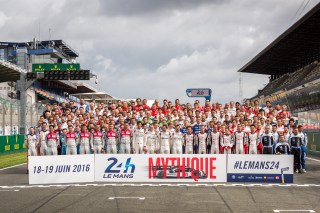 Before they begin free practice and qualifying Wednesday and Thursday for the 84th Le Mans 24 Hours, many of the 180 drivers entered gathered to say "cheese" for the race field's official photo.
The 180 drivers will pilot 60 cars in the premier endurance race, including IndyCar drivers Scott Dixon, Sebastien Bourdais and Ryan Briscoe, who will be driving for Team Chip Ganassi.
The actual event, the third round of the 2016 FIA World Endurance Championship, takes place Saturday and Sunday.
Follow @JerryBonkowski