While France is the host country and Europe the host continent for the 24 Hours of Le Mans, it felt as though this year two other continents stole the headlines and dominated the proceedings.
It was the year of North America and Japan at Le Mans, for both positive and negative reasons.
NORTH AMERICA'S 2016 ASSAULT
The North American invasion occurred first. A boatload of teams – the phalanx of Fords, the pair of factory Corvettes, the talented Ferrari privateer teams, and the handful of LMP2 squads – and their respective crews, staff and PR reps, made a greater impact on this year's Le Mans than we'd been used to seeing in recent years.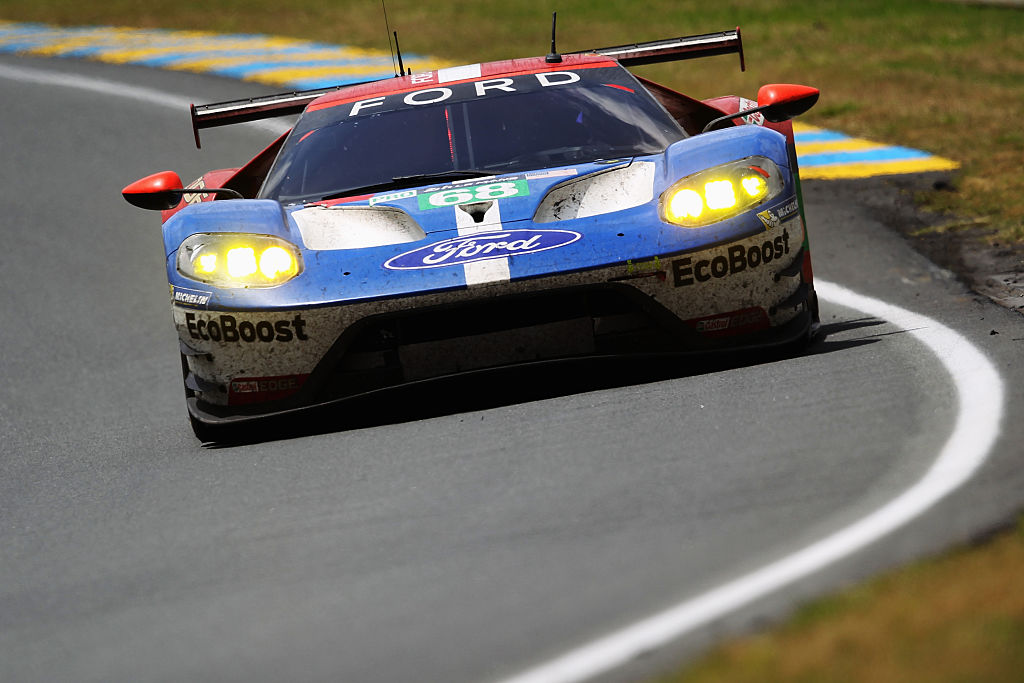 Ford unapologetically came in to this year's Le Mans declaring its intention to reprise its 1966 1-2-3 finish with the simply sinister new Ford GT, a car that dropped as many jaws for its performance as its looks.
Early in the race week signs looked ominous that the Fords hadn't shown their full hand at the Test Day, which mirrored concerns from the opening two FIA World Endurance Championship races where they hadn't fully unleashed their potential either. The second the first 3:51 lap time was thrown down, the words "uh oh" were likely uttered countless times.
Not that they were the only manufacturer that appeared to snooker the rules makers. Ferrari revealed its pace ability of its new turbocharged 488 GTE at the same time. It left the triumvirate of Corvette, Aston Martin and Porsche befuddled, bemused and, to a certain degree, angry, with what was happening.
Not even an unprecedented Balance of Performance change on the Friday seemed to make the difference. The Fords and Ferraris had it in hand from the off – they always did – and barring reliability pitfalls they had their race set in GTE-Pro from the off. Brad Pitt being there with A.J. Baime's "Go Like Hell: Ford, Ferrari and Their Battle for Speed and Glory at Le Mans" book as a backdrop seemed all too convenient…
Still, these teams and manufacturers all had a race to run, and putting BoP aside for a moment, Le Mans is still a race of human drama, determination, perseverance and emotion, to match the efforts of the cars on track.
The Fords still had to run reliably for 24 hours. Barring a star-crossed effort for the No. 67 Ford Team UK entry, they did. And five months ago at the Rolex 24 at Daytona, you wouldn't have written that in as a sure bet.
That speaks to the tireless devotion and dedication of their crew, many of whom were new to Le Mans for the first time, who simply got on with the job in the face of the BoP drama and built the best, most reliable cars they could. Say what you will about Ford corporate and their monetary investment if you want, but you cannot not appreciate the efforts of those who've sunk so many man and woman hours into the project.
Seeing those from IndyCar afforded a chance to go over to Le Mans with IndyCar having mercifully allowed a break in the schedule this year – Sebastien Bourdais, Scott Dixon and Chip Ganassi Racing managing director Mike Hull in particular – was a welcome opportunity for some of this generation's greatest talents to showcase their ability on a worldwide stage. Dixon promptly set a new track record in his first trip to Le Mans. For Bourdais, winning in his hometown of Le Mans must be an especially sweet moment, and it's arguably the best story of the Ford winning at Le Mans narrative 50 years later.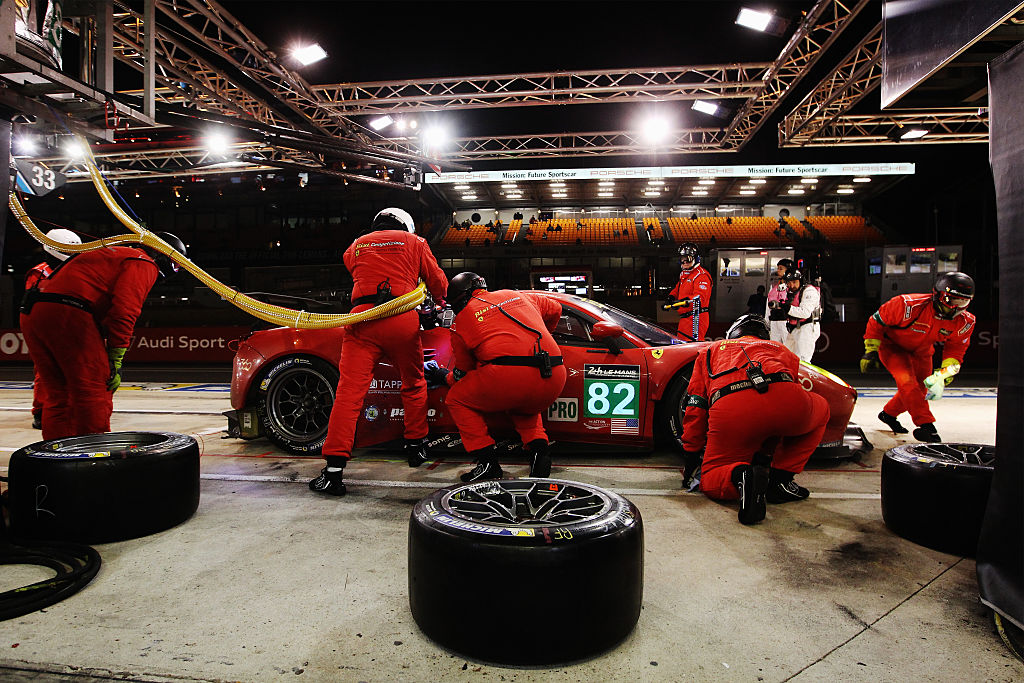 Ferrari put up a most valiant fight courtesy of Risi Competizione, the outstanding Houston privateer team who's flown the flag for Ferrari for so many years. In Risi's first Le Mans in six years, they simply didn't miss a beat, and the trio of Giancarlo Fisichella, Toni Vilander and – it must be said – the surprisingly clean Matteo Malucelli drove a near faultless race in the team's No. 82 car.
The shame here is that we were robbed of Ford winning the race where the rule makers had no impact, where it could have been a Ford vs. Ferrari, vs. Corvette, vs. Aston Martin, vs. Porsche showdown. The reasoning was a mash-up of BoP, different points in the manufacturers' cycles for their production cars, and the variation between cars built for the new 2016 regulations and those that were updated from 2015. The turbo cars had a huge advantage from the off and the fact the rule makers didn't peg them back further was the disappointment. A Ford win might have meant more had it been in a proper duel with more than one other manufacturer.
The other American teams did what they could.
Risi, as noted, finished second in spite of a curious and controversial late-race penalty assessed inside the final 20 minutes for one side of its leader lights not being illuminated.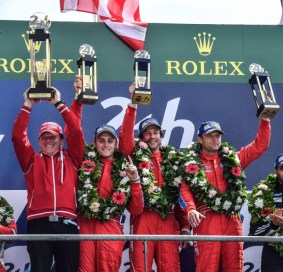 Corvette Racing's Le Mans was a tough one. The team never had the pace – not through any fault of its own – but it wasn't in its usual challenging for win position. That came down primarily to the BoP. Tommy Milner was trying and you can't fault his effort prior to his accident in the morning hours.
Giacomo Mattioli's Scuderia Corsa, a team that didn't even exist five years ago, has now won Le Mans in its second crack. Bill Sweedler has become one of sports car racing's gentlemen driver greats, and his tireless dedication and consistent racecraft has been rewarded – he and NBCSN IndyCar analyst Townsend Bell now have won Daytona, Sebring and Le Mans together as a unit. Meanwhile Jeff Segal is one of sports car racing's most underrated stars and his impact to Ferrari's development of its 458 and 488 models cannot be understated. Seeing them win in GTE-Am was simply brilliant.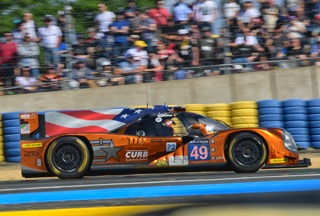 Michael Shank Racing? I've written this before, but it's hard not to root for them, even in an impartial role. Continuing with the Ohio theme of this weekend – the Cleveland Cavaliers having won their first NBA title late Sunday night – Shank is the "everyman" you could see in a local grocery store who's a racing lifer, whose crew has been so dedicated to him, who in Ozz Negri and John Pew have developed such a great working chemistry and fan following, and who finally fulfilled his dream of taking his team from Pataskala, Ohio to Le Mans. That Negri, Pew and factory-ace-in-waiting Laurens Vanthoor got a ninth in class, 14th overall result after a flawless drive was merely the cherry on top.
Extreme Speed Motorsports' pair of outstanding liveried Paul Mitchell Ligier JS P2 Nissans didn't have the result either desired but brought a dogged determination to make the finish with both cars.
Krohn Racing was much the same, Tracy Krohn having dedicated more than a decade to Le Mans as he and longtime co-driver Nic Jonsson set a record for most consecutive Le Mans starts as co-drivers together.
That doesn't even get into the rest of the American drivers who raced – of note, Gustavo Menezes won on debut in LMP2 – but it was clear America had a massive impact on this year's race.
Of course, overall, so did Japan.
THE LAND OF THE RISING SUN SEES WIN HOPES SET SUDDENLY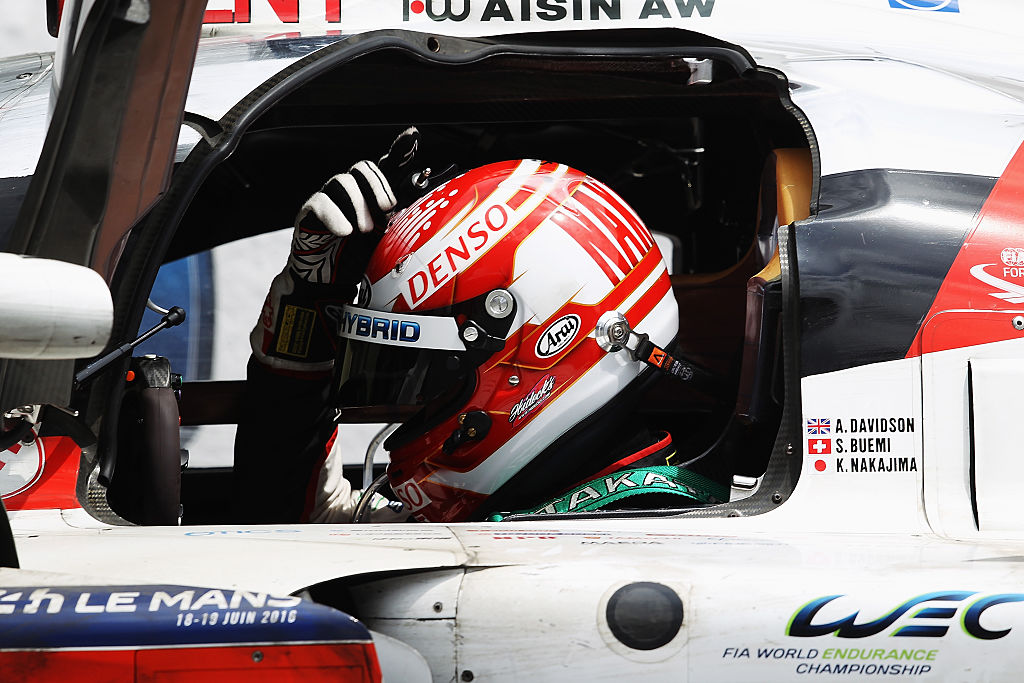 Japan is a country that's known for its resiliency, its bravery, its fighting spirit. It's a culture where niceties are not only embraced, but also expected. It's a country that has given so much to the motorsports over the years with several manufacturers (Toyota, Honda, Mazda, Nissan).
And this year, this race, was meant to be Toyota's. It was meant to be for Japan.
It wasn't.
Ford's dominance in GTE-Pro was forecast. Same for the Oreca 05/Alpine A460 chassis in LMP2. The venerable Ferrari F458 Italia had the edge in GTE-Am.
LMP1, however, was a wide-open game. Porsche updated its 2015 challenger. Toyota came at it with a new car. Audi brought a completely new car. The thinking pre-race was Rebellion Racing could score a shock overall podium with the hybrids hitting reliability pitfalls.
Toyota – the blend that was the best of both worlds – moved from lurker to leader in the early hours and asserted itself as the manufacturer to beat.
Its two cars fought hard and drove quickly. Mike Conway had arguably his best stints yet in LMP1 and had positioned the marque's No. 6 Toyota TS050 Hybrid in position to win. That was then extended by the efforts of Stephane Sarrazin and Kamui Kobayashi, although a late spin for Kobayashi and a subsequent trip to the garage cost the car three laps.
It didn't seem like much at the time but as it turned out, the loss of the second car from win contention would prove problematic.
World Champions Anthony Davidson and Sebastien Buemi – two drivers who like their third driver, Kazuki Nakajima, never had the right timing or opportunities in F1 – were set to secure a famous Le Mans win for Toyota in the No. 5 car.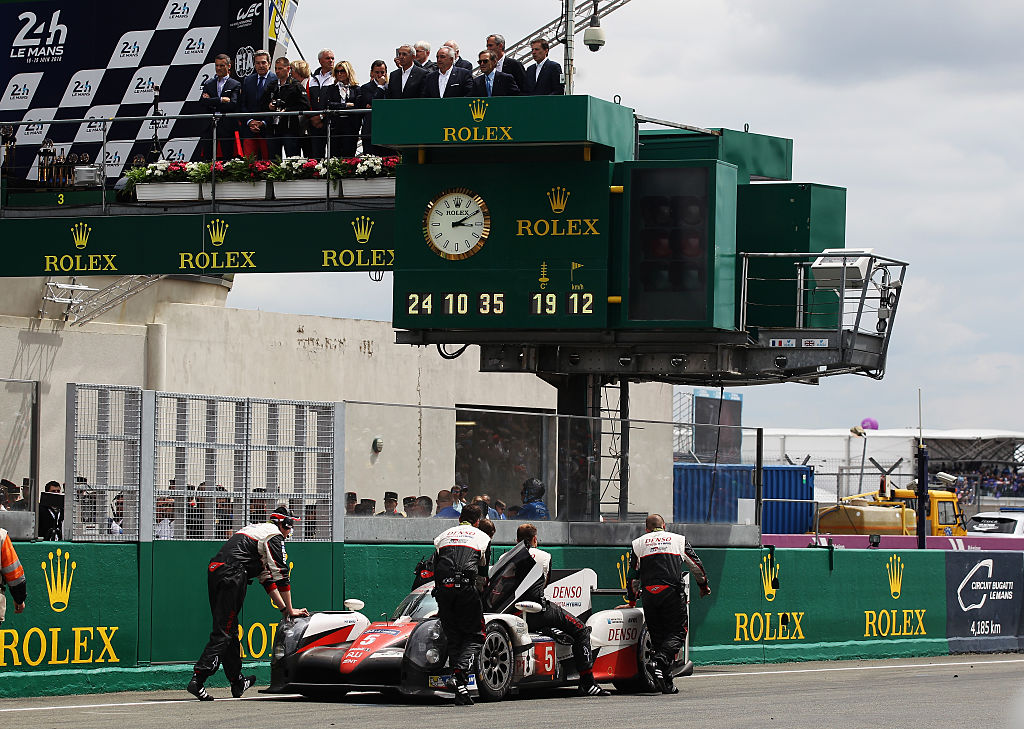 But inside the final 10 minutes, the land of the rising sun saw its win hopes set as Nakajima ground to a halt with a loss of power. It simply didn't seem real.
It was the cruelest of blows. You needed only to look at the faces of those in the Toyota garage to see the sheer shock.
Porsche won as the Toyota stopped. It was Toyota, though, that won hearts and will live on as the lasting memory of this year's Le Mans.
Watching from home in North America as opposed to being on site (I have been fortunate to go to Le Mans four times), my heart was in my throat as the final act built to its crescendo. I – and I'm sure many others – had to rewrite most of the main story as Toyota's loss was sealed, Porsche's shock win secured.
It took a bit of time to reflect undoubtedly but I was left thinking about what the win for Toyota would have meant to Japan, a country that's been rocked in recent years by natural disasters and who has only had one Le Mans winner in its history – Mazda, 25 years ago.
Mazda, which has long used the marketing line of being the only Japanese manufacturer to win at Le Mans, and whose presence in both North America and Japan is obvious, couldn't have been classier in watching Toyota's heartbreak:
Porsche and Audi were both incredibly gracious, themselves.
Seeing the outpouring of emotion for Toyota in the wake of their loss was the ultimate takeaway from the race, even more than Ford's win 50 years later.
Because it felt more real, not something you could forecast.
Le Mans is an amazing, yet cruel, event. Emotions ebb and flow throughout the 24 hours and the week leading up to it.
Le Mans creates a mix of agony and ecstasy regardless of where you watch it from.
Le Mans, 2016, has done that once again in an incredible, indelible way.