After nearly a full month's hiatus, the Mazda Road to Indy resumes in full force this weekend at Road America with a six-pack of races at beautiful Road America in Elkhart Lake, Wis.
It's the fourth such "six-pack" of the season after all of the Indy Lights Presented by Cooper Tires, Pro Mazda Championship Presented by Cooper Tires and Cooper Tires USF2000 Championship Powered by Mazda had doubleheaders at St. Petersburg, Barber Motorsports Park and the Indianapolis Motor Speedway road course.
Adding to the craziness at Road America is that five of the six races will take place on one day, on Saturday. The only exception is the Indy Lights second race, which is Sunday.
That basically means if you have any sort of problem in the first race, your team is going to have a mad scramble for the second race.
Here's some of the story lines heading into this weekend:
Indy Lights Presented by Cooper Tires
As the only series that has its races spread over two days, there's a little more room for error for Indy Lights, which surprisingly hasn't raced at Road America since 1990 – a year in which most of the Indy Lights field wasn't even born yet.
Of the 14 drivers entered, six do have past Road America experience, all in the Cooper Tires USF2000 Championship Powered by Mazda:
Zach Veach and Felix Serralles in 2010
Veach and Juan Piedrahita in 2011
Neil Alberico, Shelby Blackstock and Dalton Kellett in 2012
Additionally, 2015 Indy Lights champion Spencer Pigot still holds the USF2000 Road America qualifying record.
Shifting to current day, and the battle heading into the weekend is undoubtedly the one between points leader Ed Jones of Carlin and Dean Stoneman of Andretti Autosport.
Jones holds a 29-point lead over Stoneman but Stoneman is riding the hot hand of back-to-back wins and four straight podium finishes. Another win or two here could well position the rookie Englishman ahead of the sophomore Englishman and Jones will be keen to avoid that.
Interestingly all four of their teammates have past race experience here. In Jones' case, it's Serralles and Alberico while Stoneman can draw on tips from Blackstock and Kellett. If experience is to count for anything even though the cars are different, bigger and faster this time around, look out for those four drivers to have good weekends.
Belardi Auto Racing is also determined going into this weekend. Brian Belardi is from nearby Grafton and he actually will have two of the more experienced drivers in the field, in Veach and Indy Lights debutante James French.
How, you say, is French experienced despite this being his first Indy Lights start? The Sheboygan native has logged thousands of laps at the track in vintage machinery and sports cars, and after testing an Indy Lights car at Circuit of The Americas last fall he'll step into the No. 14 Dallara IL-15 Mazda usually driven by Felix Rosenqvist.
The absence of Rosenqvist is a shame as the talented Swede would have likely done well at Road America, but is tied up with a European racing commitment this weekend. But at sixth place in the points standings, 65 back of Jones, he was facing an uphill climb back in the title race and so he'll be out this weekend.
Rosenqvist isn't the only notable absence this weekend; so too is RC Enerson, whose No. 7 Lucas Oil/Curb Records Dallara IL-15 Mazda won't be making the trip to Road America.
Enerson's absence, along with the fourth Schmidt Peterson Motorsports car, leaves that team with just two cars for Santiago Urrutia and Andre Negrao this weekend. Neither has race experience and without Enerson's veteran guiding, it may be a tougher weekend for them.
Of the remaining four entries from Juncos Racing and Team Pelfrey, only Pelfrey's Juan Piedrahita has past race experience. Piedrahita's new engine at the Freedom 100 gave him a new lease on life; he was in win contention before being bumped back from second to eighth on the final lap.
His teammate's an intriguing story this weekend, as Garett Grist steps up from Pro Mazda to Indy Lights in the No. 3 car previously driven by Scott Hargrove. The young Canadian was a star on the natural terrain road courses in Pro Mazda and even though he's new to the series this weekend, could surprise with a result or two in the Buy Gap Guard/Lander Property Management/Mac Tools entry.
Juncos' pair of Kyle Kaiser and Zachary Claman De Melo almost enter under the radar since neither has race experience or a huge run of form at the moment. Kaiser's impressive start to the season has gone away a bit with finishes of sixth or worse in four of the last five races, and a rare 2015 type mistake occurring on the first lap at the Freedom 100. The cool Californian needs a bounce back this weekend in a big way, entering fourth in points and locked in a three-way battle for third (Urrutia 146, Kaiser 144, Serralles 140).
Pro Mazda Championship Presented by Cooper Tires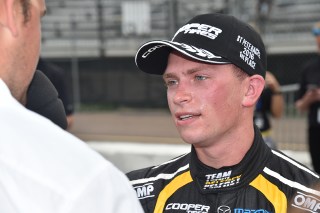 There's not a ton to report in the Pro Mazda ranks heading into this weekend outside of Team Pelfrey, which has one dominator, one hometown boy and one new driver in its three cars, as well as an ownership change.
Pato O'Ward has won six of the seven races to date for Dale Pelfrey's team and leads teammate Aaron Telitz by 55 points (221-166). Telitz, out of Birchwood, Wis. who drives the Rice Lake Weighing Systems entry, is the unquestioned hometown favorite and will no doubt carry that pressure on his shoulders this weekend.
Meanwhile the other news of note on the driver front here is TJ Fischer's debut in the third car, the No. 81 car. Fischer ran the opening USF2000 races through the IMS road course and has moved up to Pro Mazda starting with this weekend.
On the team side, Dale Pelfrey has taken over team ownership of the entire Team Pelfrey organization in the interim since Indy. Nigel Tuckey had ran the Pro Mazda, USF2000 and F1600 Pelfrey programs but no longer does.
The remaining entries will look to spoil the Pelfrey party at the top of the podium. Juncos Racing has come close with each of its four drivers – Garett Grist, Will Owen, Nicolas Dapero and Jake Parsons – having scored at least one podium this year. But with Grist moving up to Indy Lights, it's just three drivers now at Juncos.
The Cape Motorsports with Wayne Taylor Racing pair of Nico Jamin and Jake Eidson look for a bit of form to match their ability; Jamin tested Eidson's car recently at Mid-Ohio and found a bit of pace, so that may translate this weekend.
Cooper Tires USF2000 Championship Powered by Mazda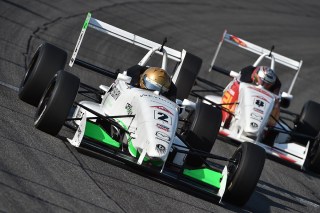 Following Pabst Racing's sweep at St. Petersburg, Cape Motorsports with Wayne Taylor Racing has responded in a big way with the last five wins on the trot in USF2000.
And the question now begins about the mind games within the team. Does the win for Anthony Martin did at Lucas Oil Raceway last month after a late-race pass of Parker Thompson propel the Australian onto a hot streak? Or can the Canadian rebound and shake off the frustration there? Thompson leads Martin by 26 points entering the weekend.
Those two lead what will be a four-car Cape team at Road America, with Nikita Lastochkin set to return after sitting out at at Lucas Oil Raceway, and with Jordan Cane joining after moving over from Team Pelfrey. The young English teenager has tested at Road America.
Drivers hopeful of making inroads are the remainder of the top five drivers in points, Jordan Lloyd (Pabst), Victor Franzoni (ArmsUp Motorsports) and Yufeng Luo (Pabst). Both Pabst (Oconomowoc) and ArmsUp (Sheboygan Falls) have this as their home race and have logged quite a bit of laps at the circuit over the years, so they could have a leg up.
Max Hanratty of Hartland, Wis., who now lives in Milwaukee, flies the flag as Wisconsin's hometown driver within the series.
Additionally, the new Tatuus USF-17 will test on Monday at the track. The car was revealed at IMS last month.