When drivers or teams get the opportunity to race at their home track, there's plenty of extra motivation that comes with it.
For Aaron Telitz, getting the opportunity to return to a track where he grew up racing, Road America, but in the Pro Mazda Championship Presented by Cooper Tires series – the second rung of three on the Mazda Road to Indy ladder – was something he was looking forward to all year.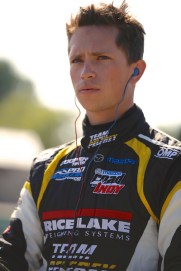 He had an estimated 70 family and friends, including a number of college buddies, all planning to be in attendance.
Once on track, he promptly devoured the competition in the pair of 40-minute races at a rate of destruction on par with eating a Johnsonville double brat from St. John the Baptist concession stand, or downing two Spotted Cows at Siebkens just down the road.
The 24-year-old native of Birchwood, Wis., near the slightly bigger town of Rice Lake, had Road America in his veins from growing up. He'd raced there in Skip Barber National cars but had been away from racing there for several years before returning this year.
"The Skip Barber cars, it's like Talladega here, you can pass back and forth like twice on the front and back straightaway," Telitz told NBC Sports post-race.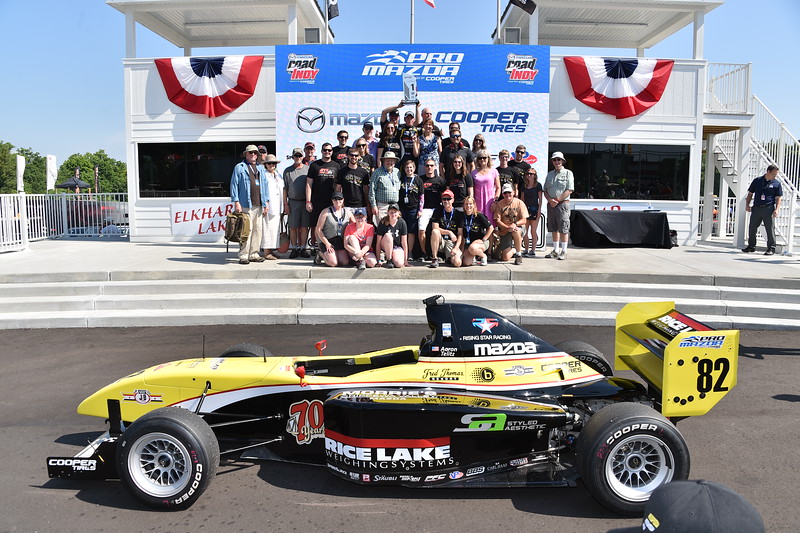 Telitz was in need of a good weekend, too. With Team Pelfrey teammate Pato O'Ward having controlled the opening seven races of the season, winning six of them, Telitz was more than due to break the run of form delivered by the 17-year-old Mexican.
He then delivered a near perfect weekend in the No. 82 Rice Lake Weighing Systems entry for Team Pelfrey.
From pole in both Saturday races, Telitz led every lap and swept the two races – a total of 37 combined laps (18 in race one, 19 in race two) controlled around the 4.014-mile road course. He also set the fastest race lap in the second race, but wasn't able to do the same in the first race.
With O'Ward off the podium in both races, Telitz also closed the points gap from 55 entering the weekend down to 28 leaving it.
The first race, Telitz could thank a great start and then ability to hold on for the remainder of the race.
"It was a good start. My car was great early on," Telitz said. "The first few laps, I pulled out a big gap while they were battling, which helped me. Then about halfway through the race, my car got crazy loose, I was just sliding everywhere. I was just holding on, hoping that no one was going to catch me because I knew I wasn't going very fast. It was just all about managing it from there, a little bit of nerves, I went a little bit slow just to bring it home."
The second race was much hotter, following several other sessions and races on track, and Telitz trusted Team Pelfrey's Tom Knapp to make the right setup changes.
Additionally, Telitz and I wound up being guest analysts in the IndyCar Radio booth for the first of two Indy Lights Presented by Cooper Tires races, which gave Telitz an opportunity to see how the track evolved from that vantage point.
"We made quite a bit of changes and the track got different and we just happened to nail it," he explained. "My car was awesome on the cold tire laps, I could put the car anywhere I wanted to put it and put a huge gap on everyone and we just went off from there.
"I was able to watch that and see that the track had gotten hotter, hot as it had been all weekend and watching how much each was sliding around or Shelby Blackstock spinning out. So I could see their cars were really loose and it was getting greasy out there. So I went out and told Tom Knapp that and we made some adjustments for it potentially being a greasy track and I think we nailed it.
"Tom Knapp is a genius. It's crazy how good he is at making the cars fast. Our cars are just incredible everywhere we go. The yellow car has been in victory lane all the time and it's all due to Tom Knapp. He's just crazy good with the cars. They're fast, they take the corners well, he just does everything great."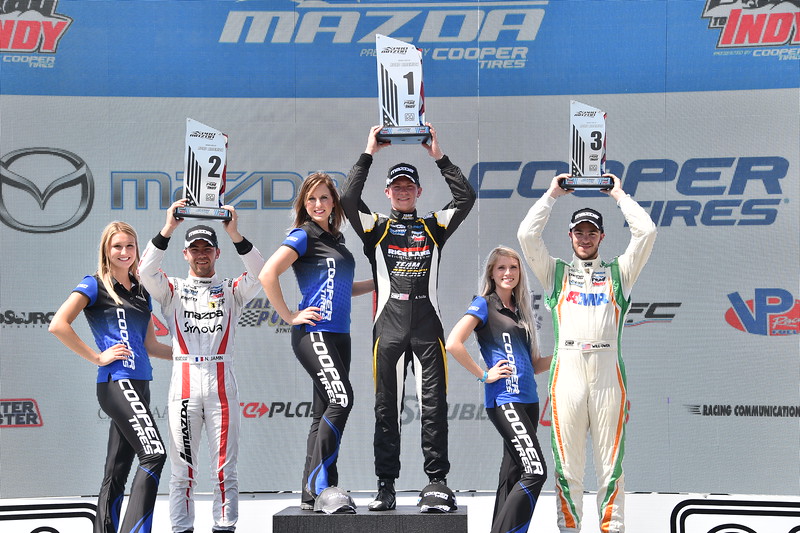 But Telitz shouldn't sell himself short, either, because he did everything great this weekend at a weekend where the pressure was at its highest.
"I don't know if the car is the best it's been. I don't think that was it," he said. "It's more that I just know the track real well and have run a bunch of laps here. So, I think that's an advantage over those that haven't driven here and don't know it's characteristics. So that was a big bonus.
"And having Pato struggle was good for me in the points, obviously, but as a team it would have been cool to see him sitting here (on the podium) as well."