There were a couple "dream weekends" achieved by home teams or drivers at Elkhart Lake's Road America this past weekend, and one of them was by the Saukville, Wis.-based RealTime Racing team in Pirelli World Challenge GT.
RealTime's long been one of the established, gold standard teams in World Challenge courtesy of performances by owner and driver Peter "PD" Cunningham, a seven-time series champion.
But the team's fortunes haven't been great since advancing into GT midway through 2014 and debuting the new Acura TLX-GT, a purely developmental project that was a four-wheel drive car and the last of the non-FIA GT3-spec creations allowed within PWC GT.
The car underwent a further change this year back to a rear-wheel drive car for a one-year extended stay before Acura makes its next move, to the new NSX GT3, in 2017. The scale, series and volume of programs for the NSX has not been announced.
Anyway, the Acura TLX-GT won its first race at St. Petersburg in 2015, courtesy of Ryan Eversley nailing the pole in tricky conditions and then controlling the race on Saturday.
They hadn't quite been on form since, quite to that level.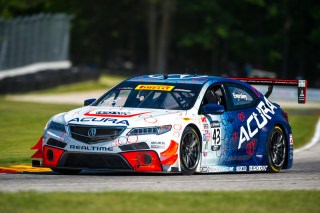 But this weekend saw the Acura suit the 4.014-mile Road America track quite well, given the number of longer straights. Despite a pre-race boost reduction (from 6,000 to 7,000 rpm – a mistake I didn't realize I made when I initially typed 4,000 in my pre-race preview), they were still one of the top cars for the circuit, as the Bentleys and Nissans also were – perhaps as expected.
The dreaded Balance of Performance was a talking point in the paddock.
Nonetheless though, everyone involved with RealTime Racing still had to deliver on home soil.
Courtesy of both his crew's preparation of the car and then Eversley's own drives Saturday and Sunday, they did.
The Saturday win was a RealTime 1-2 finish, with Cunningham securing his first series podium since ending second in GTS at the Houston season finale in 2013.
Said the Georgia resident who has spent quite a lot of time in Wisconsin, "I got a good start and Adderly (Fong) and I went into turn one side-by-side. I think the Acura TLX-GT V-6 had a little bit more in the straight and I grabbed the lead.  He tried a big maneuver in Turn 5 and almost took us both out. But I was able to get away at that point.  After PD (Cunningham) was in second, I knew I wouldn't have any trouble with anyone else like that. I was trying not to have Mr. Road America himself catch me.
"I have always enjoyed coming to this track and I won last year in Honda in another series. So to get the win in RealTime Racing's background is very special. I have been here almost all month doing a variety of things so it is like a second home to me. We did a two-day test here two weeks ago and really learned a lot about the Acura.  I can't say enough about the HPD and Acura folks for their assistance with our team."
He added after Sunday's win, "Our Acura is very fast in a straight line but, when we get behind people, we lose a lot of front grip.  You saw that Peter (Cunningham) was fast yesterday when he was out by himself.  But today he was stuck behind guys at the start and that hampered his pace.  That was my goal for me was to be fast at the start and run in the clean air."
Honda Racing/HPD's "Trackside" videos from the weekend chronicled both wins, and are linked below: