Both Garett Grist and James French delivered solid debut weekends in the Indy Lights Presented by Cooper Tires at Road America, even if both drivers felt they left a bit on the table in the two races.
Grist stepped up from the Pro Mazda Championship Presented by Cooper Tires ranks, and took over the No. 3 Team Pelfrey Dallara IL-15 Mazda that had been driven by Scott Hargrove, while French stepped into the renumbered No. 45 Belardi Auto Racing entry usually driven by Felix Rosenqvist.
Grist, the 22-year-old Canadian, had never been to the 4.014-mile permanent road course before and the Gary Neal-led team hadn't tested, which made it a case where Grist's eighth place qualifying effort driving the Buy Gap Guard/Lander Property Management/Mac Tools entry in the 14-car field on Friday was particularly impressive.
French hadn't run an Indy Lights car since a test at Circuit of The Americas in November; however, track experience for the 23-year-old Sheboygan native undoubtedly paid dividends throughout the weekend.
Combined they had four out of a possible four top-10 finishes. Grist was seventh and 10th, with French eighth in both races.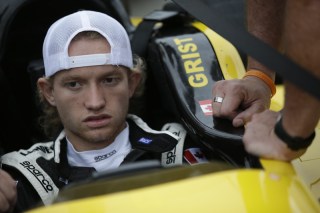 "I ran into the back of the guy ahead of me. I was just so much faster that I didn't think they'd brake that early," Grist told NBC Sports Sunday after making a mistake when he damaged his front wing going into Turn 14.
"We were the fastest car on rain tires. (Ed) Jones and (Dean) Stoneman went to dries and then they were first and second quickest. But other than that, I was consistently the fastest car on the track by a lot. I did my best lap without push-to-pass and we were the quickest on wets. So it was just a bad mistake on my part.
"We definitely had a podium car there for sure, coming from eighth, but a silly rookie mistake that I shouldn't make at this point.
"But I'm really happy with my first weekend. We had so much pace, we were so fast, so that's a positive. As a first weekend, it was a learning weekend, and I'll take it."
French was more methodical in both races and blamed himself for not readjusting the engine mapping on his car back from wet to dry conditions in Sunday's second races. Otherwise, he said he "had a blast."
"When it was consistent, I felt pretty comfortable," French told NBC Sports. "I knew what to expect from the rain at least, but when it transitioned to dry, I found myself a little lost. I made the mistake of not going back to the dry fuel map, so I lost a little bit of time there.
"It was definitely a big learning curve, but I learned so much throughout the experience. Managing tires I kind of struggled with, when they're not looking so good. That was definitely the difficult part. In full dry conditions I knew what to do. But finding somewhere in between and following the grip, I kinda struggled. Overall though, I had a blast."
Grist's next start will be on home soil in Toronto, as he wasn't scheduled to race the Iowa Speedway oval.
French hopes to return for at least one and perhaps two more race weekends later this year. Brian Belardi told IndyCar Radio's Rob Howden this weekend he expects Rosenqvist back for Toronto.
French has race weekends three and four of eight in a row the next two weeks, back in his usual Performance Tech Motorsports Oreca FLM09 Prototype Challenge class at Watkins Glen International, then at Canadian Tire Motorsport Park in the IMSA WeatherTech SportsCar Championship.