JACKSONVILLE, N.C. – Red Bull Global Rallycross kicks off its fourth race weekend, and Rounds 6 of 7 of its season, this weekend at the MCAS New River in Jacksonville.
Quick thoughts on New River itself and the setup of the event will follow below before Friday's activities:
—
With the Las Vegas week between Red Bull GRC and the SEMA Show my only past reference last year, my first thoughts about coming here is that it's good to be here for just a GRC-only event – where time isn't split two ways between the two events.
This is a big weekend for the series and initial thoughts are that with it being on the same weekend as last year, there is a bit of awareness among Marine personnel and in the area that the event is happening.
Sunday is open to the public and free of charge. Saturday is also free, but only open to DoD holders and their sponsored guests.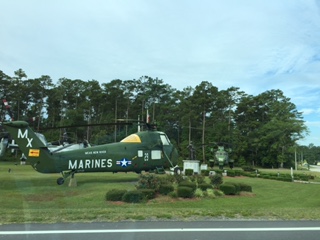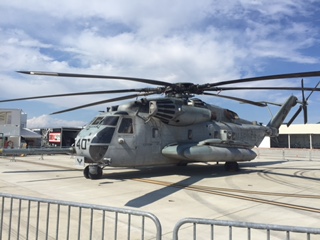 —
A couple interesting story lines going into the weekend are Volkswagen's reliability, after its challenging weekend in Daytona albeit one that ended with a 1-2 finish on Sunday for the Volkswagen Andretti Rallycross team, and the return of the Subaru Rally Team USA for the first time this year.
Our weekend race preview is linked here.
—
BF Goodrich brings an impressive setup to the races with its tire engineers, technicians and other staff. BFG has joined the series this year.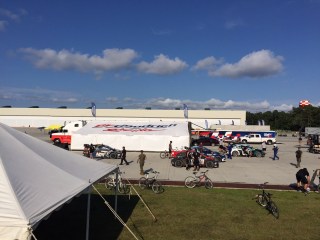 —
Had a quick walk through of the Honda Red Bull Olsbergs MSE setup and display on Thursday. What a setup. A former F1 transporter houses a portion of the OMSE team, which has three of its Honda Civic Coupes – the two GRC Supercars for Joni Wiman and Sebastian Eriksson plus a test/show car which is housed alongside.
Then there's the three GRC Lites cars – branded as Olsbergs MSE X Forces – for defending class champion Oliver Eriksson, Miki Weckstrom and Cole Keatts.
It's not that the other setups are bad – they're not – it's just they're traditional and you can see that Andreas Eriksson leaves no stone unturned over at the OMSE setup.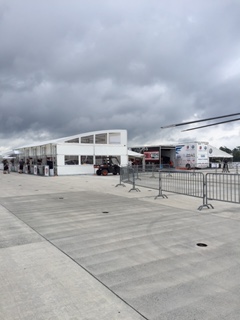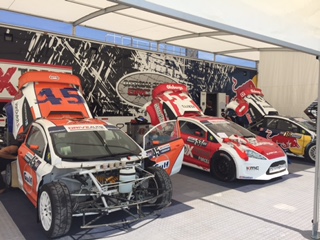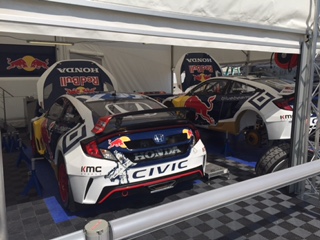 —
Another crazy cool, gnarly setup? That would be the one at SH Rallycross/DRR, which has a custom inside to its transporter for Jeff Ward's No. 07 MET-Rx Ford Fiesta ST, for the team owned by James "Sulli" Sullivan.
—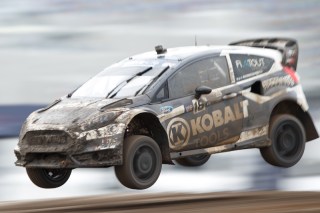 Red Bull GRC offered Marines and media ride-alongs yesterday in the 600-horsepower beasts. Thanks to a last-minute availability, one opened up for me as well in the later stages of the session – so big thanks to them for that.
It's quite nice to have a comparative point, having also had one at Las Vegas last year with Sebastian Eriksson, and Patrik Sandell in the No. 18 Kobalt Tools Ford Fiesta ST for Bryan Herta Rallysport (shown right at Daytona: Photo credit: Louis Yio) brought his A-game on Thursday.
It was good to know again how intense and violent the launches are, and with that as a reference, I knew to throw myself back in the seat on purpose before Sandell launched. That meant I knew how to feel and sit back in the seat when Sandell launched.
Again, the sub-2-second launch from 0-60 is insane!! It's just fantastic. You feel the walls and the tire barriers coming at you but again, because you're riding with a Swede, you know it'll be fun and authentic.
Here was the best part: on the second lap, we caught up to Austin Dyne's No. 14 AD Racing Ford. And then we got peppered with dirt. Hard.
I couldn't freaking see… and neither could Sandell.
And we kept going. Faster. Harder. More incredibly. And powered out.
I asked Sandell this morning how the heck he could see. "I couldn't! It's all feel."
All told, another incredible experience.
—
Austin Cindric is here, and despite being "close" to driving this weekend, the talented 17-year-old teenager won't be. It's about a four-hour drive for him from his North Carolina home to New River.
He'll be coaching and setting up with his OMSE colleagues from last year this weekend.
—
A street party kicked off the weekend on Thursday night, with a driver autograph session followed by a crew wing eating contest at Buffalo Wild Wings. Several Red Bull GRC cars were there as well.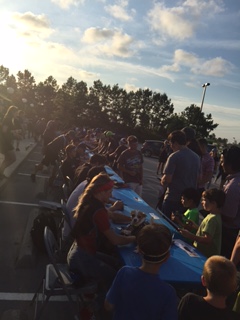 —
Friday is a practice and qualifying day. It's raining a bit, and will be intermittent throughout the day.
More to follow at the end of the day, today.