JACKSONVILLE, N.C. – Scott Speed dominated proceedings in the opening day of Red Bull Global Rallycross action at MCAS New River, and has secured the pole for the first of two races at this weekend's doubleheader round (Saturday, 5 p.m. ET, NBC).
The driver of the No. 41 Special Operations Warrior Foundation Volkswagen Beetle GRC led a Volkswagen Andretti Rallycross 1-2 in qualifying after also pacing practice earlier in the day. Tanner Foust in the No. 34 Rockstar Energy Drink Volkswagen is second.
Daytona Round 4 winner Steve Arpin is third in the No. 00 Jacob Company Ford Fiesta ST for Chip Ganassi Rallycross, however the likable driver suffered a late session mechanical issue that saw his car brought back to the paddock on a flatbed. Joni Wiman and Sebastian Eriksson in the pair of Honda Red Bull Olsbergs MSE Civic Coupes were fourth and fifth with Austin Dyne completing the fast six in his AD Racing Ford.
It was an abnormal day for Patrik Sandell, the usual pacesetting Swede stuck back in seventh in his No. 18 Kobalt Tools Ford for Bryan Herta Rallysport.
Conner Martell of DirtFish Motorsports has the GRC Lites pole for the first race of its two races. Oliver Eriksson is second ahead of Alex Keyes.
In other thoughts from the day at New River:
—
Spoke with a few U.S. Marines for a post later this weekend. In brief, the Marines are thrilled Red Bull GRC is back for an encore at New River after a successful debut event last year.
—
Also caught up with Oliver Eriksson, the GRC Lites points leader of Olsbergs MSE X Forces. The 17-year-old is enjoying a good start to his 2016 season after winning last year's division title.
—
Craziest thing I noted today, also on an Olsbergs MSE front? The Hondas have a crazy lean on the right rear BFGoodrich tire through the kink, Turn 1, compared to the remainder of the Supercars. Both Wiman and Sebastian Eriksson are almost tilted at a 45-degree angle on the right rear tire and it's spectacular to watch; it's also completely counter to how the Fords, Volkswagens and Subarus look through there. With this being a predominately left-hand turn track, the load will be heaviest on the right side BFGs this weekend.
—
Jeff Ward of SH Rallycross/DRR in his No. 07 MET-Rx Ford said he was closer to the pace in qualifying than he has been, albeit still back in eighth. Ward says he races better than he qualifies so he'll be hoping to improve on Saturday. Ward sustained some cosmetic right front damage after landing hard on a jump earlier in the day, but the crew fixed it and got him back out for qualifying.
—
Watched the action from three different grandstand vantage points today, one outside the final double apex left-hander, one right at start/finish (this is for VIP guests only) and one at the kink. All three offer really good viewing opportunities and will be a treat for Marines, fans or VIP guests who will be in attendance.
You can view the stand views in order, below.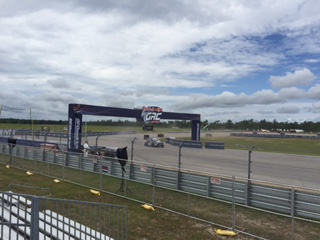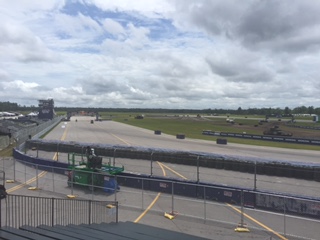 More tomorrow.