There wasn't a sense coming out of MCAS New River in 2015 that Scott Speed would be poised for an epic run to his first Red Bull Global Rallycross title, because for the second time in three points-paying races, the driver of the No. 41 Volkswagen Andretti Rallycross Volkswagen Beetle GRC had failed to advance out of the Last Chance Qualifier.
Speed then promptly went on a roll the final eight rounds of 2015 with two wins and seven podiums the rest of the way, to secure the title.
Coming out of MCAS New River a year later, Speed's banked his first final round win of the year a couple races earlier and has restarted his championship defense bid.
The driver of the newly adorned Special Operations Warrior Foundation Beetle needed a big weekend at New River following a nightmare weekend in Daytona where between two engines lost, a fire, and a switch to a backup car for the second race, he was lucky to make it out in one piece.
But a second place in the second of two Daytona races, only behind teammate Tanner Foust, Speed was back on the podium and ready for a similar 2015-esque second half surge.
Foust described how Speed's switch to a backup car for Daytona came to be.
"Our car is really a test car and it was never intended to be used an actual race car or backup car," Foust told NBC Sports. "The organizers formed some penalties for using a backup car on the second car of doubleheader back at Phoenix when another team did. So Scott got a three-spot penalty in qualifying, which I knew was going to happen, so first or second didn't matter I'd get pole either way.
"It was great to have that, but hopefully we don't need to use it again. In general, it's not a good policy to rely on a backup car."
Speed's New River weekend featured more of the same gremlins, and he could have been excused for having a case of deja vu.
He was flying in practice and qualifying on Friday and secured the pole for Saturday.
"Considering the weekend we came off of from Daytona, today was a success for the No. 41 crew," Speed said at end of day on Friday. "We have known we were quick and today we really showed how much speed is behind these Beetle GRCs."
But engine issues on Saturday morning meant Speed couldn't run in the heats or semifinals, instead needing a win in the LCQ to advance to the final.
Of course, the final would become a major story of its own after devastating rain swept through the base prior to the final.
No one had any prior running in wet conditions and the track was soaked, thus making for a muddy and chaotic final 10-lap event.
Speed started seventh but courtesy of a rocket start (below), made it up to second by Turn 2, although settled in behind Foust shortly thereafter.
Then respective battles with both Chip Ganassi Rallycross Ford Fiesta STs followed; Speed and Steve Arpin had a good scrap, and so too did Speed and Brian Deegan in the final laps.
It all came down to the final lap, with Deegan needing to take the Joker lap – which didn't gain him a time advantage – on the final lap of the race. Speed took the normal line through the jump and into the final double-apex left-hander, and proceeded to waltz through to his first win of the year.
"I made up a lot at the start, then we were just cruising around," Speed told NBC Sports post-race. "I just tried to keep a good position. A race like this it is easy to end up crashed!
"Deegan used the grass, but it was legal, we made up all the time we lost. We took the joker early, and used to our advantage in the last lap, last corner."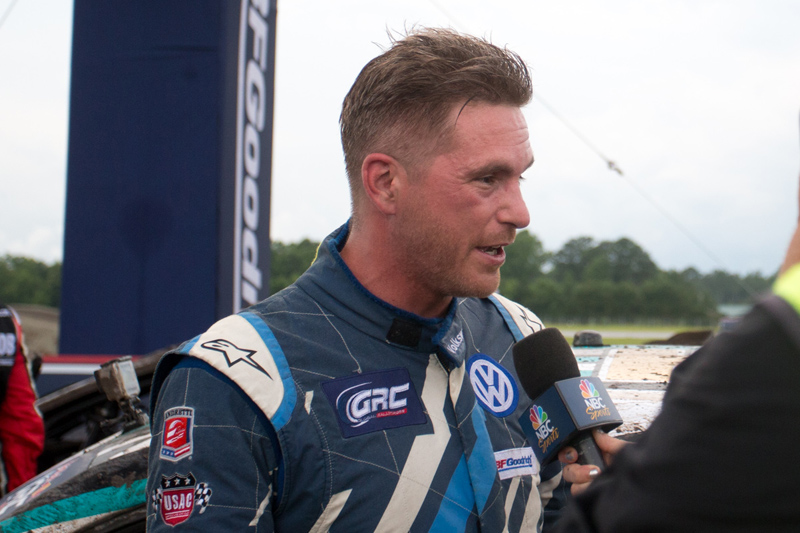 Speed's final round win was the fourth in six Red Bull GRC finals for the Andretti team, with Tanner Foust having won three of the first five.
With points temporarily suspended until Red Bull GRC determines the next round of the season – Sunday's second final at New River was canceled due to rain and unsafe track conditions – points are up-to-date following Saturday's races.
Foust leads on 295 with Arpin at 286 and Speed now just 16 points back, at 279. Speed entered the New River weekend 39 points behind Foust.
He's had his first round of luck turn around this past weekend and will look for more in the second half of the season.
"It is huge… but I still think we have more good luck coming our way," Speed said. "Our car and team is amazing. And we are so fast."