Pirelli has outlined its new 2017 tire test calendar for the remainder of the year, which will start with next week's two-day in-season test at Silverstone (July 12 and 13).
Modified 2015 chassis from Ferrari, Red Bull and Mercedes will conduct the testing over 10 sessions that comprise 24 days of Pirelli's new-for-2017 wider, bigger tires.
There's four days in August, owing primarily to F1's summer shutdown, with seven in September, five in October and eight in November. The final three-day test in Abu Dhabi in November will follow the season-ending Abu Dhabi Grand Prix and be a group test comprising all three chassis.
The full breakdown via Pirelli is linked below: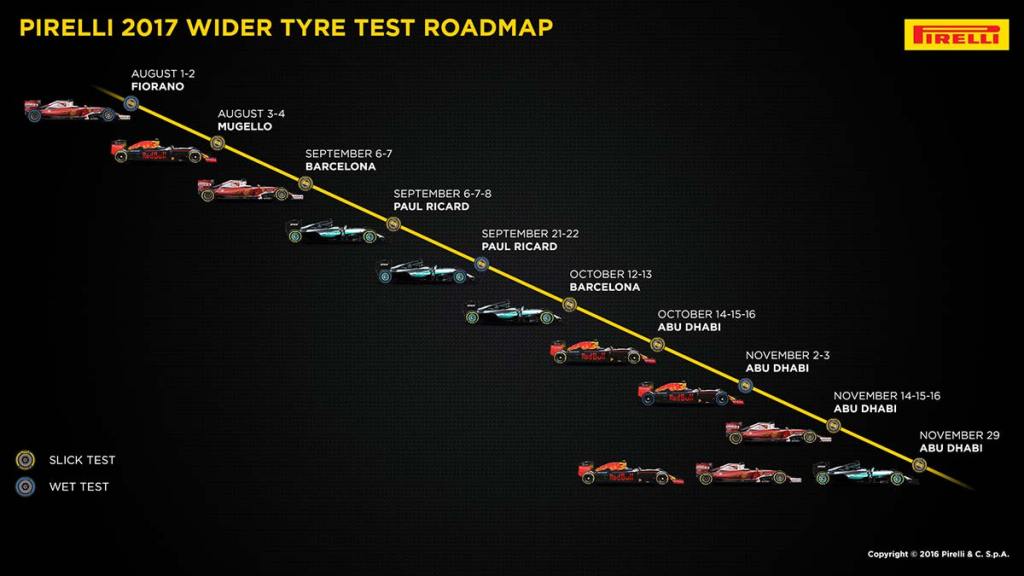 CALENDAR BY DATE
TEST ON MULE CARS – 2017 SIZES
Session    Date            Test Days    Circuit            Car (s)         Tyres kind
1               Aug 1-2              2            Fiorano          FER             Wets
2              Aug 3-4             2            Mugello          RBR             Slicks
3              Sep 6-7              2            Barcelona      FER              Slicks
4              Sep 6-7-8          3            Paul Ricard    MGP             Slicks
5              Sep 21-22           2            Paul Ricard    MGP             Wets
6              Oct 12-13            2            Barcelona      MGP             Slicks
7              Oct 14-15-16       3            Abu Dhabi     RBR              Slicks
8              Nov 2-3              2           Abu Dhabi      RBR             Wets
9              Nov 14-15-16      3            Abu Dhabi      FER             Slicks
10            Nov-29               3           Abu Dhabi      ALL              Final valid
And here's the breakdown for testing the rest of this month:
12-13  July*        Silverstone        Mercedes      slicks
16      July          Fiorano             Ferrari           intermediates and full wets
18-19 July          Vallelunga         Red Bull        slicks
*during the official in-season test that is happening at the same time with all the teams.Follow @TonyDiZinno