JOLIET, Illinois – In a sense, Tim Wilkerson is drag racing version's of The Little Engine That Could.
Only Wilkerson's engine is packed with about 10,000 horsepower.
And now, in his 21st season of racing a Funny Car in NHRA competition, the Springfield, Illinois native is having the time of his life.
Although he's had a very loyal sponsor for the past 15 years – Levi, Ray & Shoup – the Springfield, Illinois native doesn't have a huge team, admittedly doesn't have the kind of budget that other teams like John Force has, and is known as a dedicated racer who gets the most out of what he has.
For example: When Wilkerson won at Phoenix earlier this year, he was piloting a Funny Car that was built – and had been in use – since 2009.
"It had over 600 runs on it," Wilkerson said Thursday during a media preview of this weekend's K&N Route 66 NHRA Nationals at Route 66 Raceway in suburban Chicago.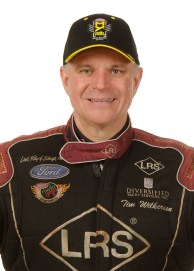 It was that old car and that first win of 2016 that began a significant transformation for Wilkerson and his fortune this season. He ordered a new car from renowned builder Murf McKinney and had barely broken in the new ride when he won his second race of the season at Charlotte.
As a result, Wilkerson found himself atop the Funny Car point standings for several weeks.
The Little Engine That Could did – and in a big way.
"It's been a great year, no doubt about it," Wilkerson said.
Perseverance has been one of the key traits that have marked Wilkerson's 21 years in Funny Car racing. He also relishes being a drag racing version of David vs. Goliath on a 1,000-foot battlefield.
He isn't afraid to go head-to-head with the sport's biggest names, and as he's proven numerous times, not only holds his own but also can beat anyone at any given time.
"We try to work through it," Wilkerson said of being one of the smaller teams on the national event circuit. "We buy a lot of our parts from DSR (Don Schumacher Racing). That's been John's (Force) nemesis over the years.
"He'll (Force) tell you, 'Damn it, Wilkerson, you buy all that stuff and you're kicking my ass with it,' but that's what happens. His junk is our gold, there's no doubt about it.
"They're so used to having everything they have. Austin Coil (Force's longtime former crew chief) used to tell John, 'the reason Wilkerson does so well with what he has is because that's all he has. He doesn't have the availability like we do to experiment and try things and get off-base and get off-track. He works with the little pile of stuff he has and that's a benefit to him.'"
To that, Wilkerson proudly responded, "And (Coil) is absolutely right."
However, Wilkerson has struggled of late. He crashed at Topeka in May, then suffered an engine explosion at Bristol a few weeks later and has subsequently dropped from first to seventh place in the standings, 243 points behind series leader Ron Capps.
"Hopefully, we're done with all those issues," Wilkerson said. "Once we crashed (at Topeka), we were thrashing to survive more than anything.
"It was such a devastating blow to the team and we had to throw things together quickly. And then to have another mishap at Bristol, it's been tough."
After having last weekend off – he went fishing with his sons and his 91-year-old father – Wilkerson is hoping good luck returns to shine upon him and his team this weekend.
The venue is perfect for him: Route 66 Raceway is his home track and he's also a former past winner there (defeated John Force in 1999).
The NHRA begins the second half of the season this weekend, not to mention has just six more races for drivers to qualify for the six-race Countdown to the Championship playoff that begins after the U.S. Nationals in Indianapolis on Labor Day weekend.
Given the success he's had this season, and despite the recent run of bad luck, Wilkerson is bound and determined to win the Funny Car championship. He came close in 2008, losing in the final race of the season to Cruz Pedregon.
Now he's ready to go for it all and what he's done thus far in 2016 has provided plenty of conviction that, yes, he can finally earn that elusive title.
Once again, it's that Little Engine That Could confidence.
"I don't want to be a back-half car," Wilkerson said. "We're technologically challenged and crew man challenged – we have probably at least three men less than every crew out here – and we're a little bit economically challenged.
"But we don't come here to get beat. John (Force) knows that and the first thing he'll tell you is 'it's ridiculous how well you do with what you have.'
"But we come here with one vision: to win every dang race. I'm very cognizant of our chances to win a championship. We think we have a chance. And what a cherry it would be on top of the cake to beat these guys."
Follow @JerryBonkowski