In straight-up military terms, Red Bull Global Rallycross' trip to Marine Corps Air Station (MCAS) New River in Jacksonville, N.C. was not "mission accomplished" in terms of running all its on-track activity.
It was, however, a successful encore event to the series' first trip there last year on July 4 weekend.
And the vibe from the U.S. Marines stationed there or visiting the event gave off a feel that this is a welcome addition to the base activity, rather than an interruption to their daily proceedings and tasks.
One of the challenges for Red Bull GRC in growing as a racing series – in only its sixth year – is finding, developing and then establishing "foothold" events that can properly be promoted and set in fixed dates.
Los Angeles, the series' home base, has become one, and this year was a test to see if MCAS New River could do likewise.
"Overall I think they're doing the right thing with the schedule and prime markets. The one thing I'd like to see is repeatability. Let's make it a home, build a presence, and really start to make an identity," Chip Ganassi Rallycross' Steve Arpin told me pre-season.
"From a sales standpoint we need some repeatability."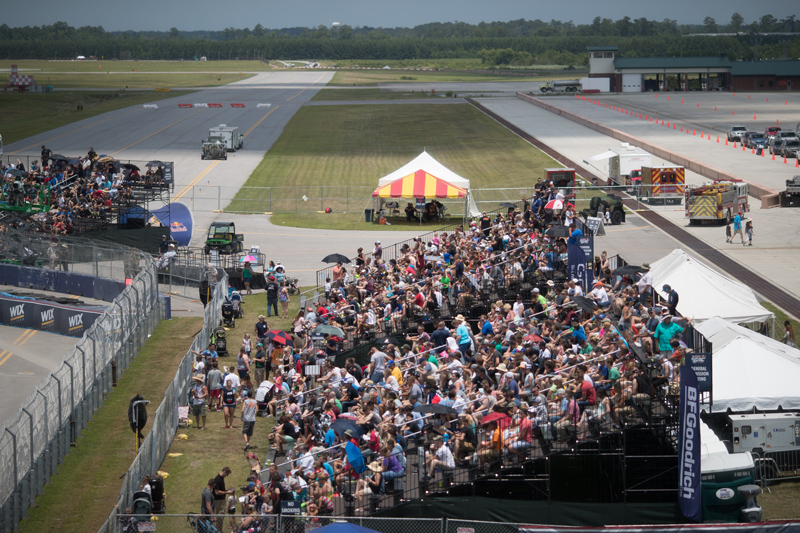 In only two years, it appears MCAS New River has become one of those "foothold" events.
There was plenty of discussion on the ground this weekend about "next year" – whether it was Marines who were already pumped up that the race was back this year, or drivers and teams who sought to make "next year" at the base a better event than this year.
Weather, inevitably, proved the struggle of the weekend – much has been the theme of Red Bull GRC this season.
From haboobs in Phoenix that caused Bryan Herta Rallysport to lose its tent setup, to the first round of rain in Dallas, to heavier rain and a Saturday delay in Daytona, to now biblical rain along with thunder and lightning in New River, this has not been an ideal year for weather.
A joke I even heard over the weekend was that GRC at one point unofficially stood for "Guaranteed Rain Championship," simply because rain was ubiquitous at GRC events.
The rain swept through before both Supercars finals on Saturday and Sunday and how GRC handled the two different days was fascinating to note.
Saturday was a full-on thrash for teams to make the grid for the final, ultimately doing so within a half hour of the end of the scheduled live broadcast on NBC. What followed was, without question, good TV – if expensive for the 10 cars in the final.
It was interesting to say the least – there wasn't so much as a recon lap before the 600-horsepower beasts were unleashed on the course – and the beating and banging that followed for the 10-lap final saw the dollar signs fly as fast as car body parts.
Volkswagen Andretti Rallycross' Scott Speed won as much by survival as outright pace, while Ganassi's Brian Deegan was desperately unlucky to not snap his five-year drought without a final win. The fact he ran the whole race with a broken turbo though, in hindsight, was epic.
Some competitors weren't as pleased post-race given the number of repairs that were forthcoming. As one team owner told me when I noted how relatively laid back a Red Bull GRC weekend is from a media standpoint, the owner laughed and said, "For you, sure. For our crew guys, not so much."
"It's unfortunate that we had the insane weather on Saturday, which really made it so no one in the field could display their true power and skill," Honda Red Bull Olsbergs MSE driver Sebastian Eriksson added.
Ironically enough, Red Bull GRC was presented with a near identical situation 24 hours later for Sunday's race.
Hard, heavy rain swept through, lightning was clearly visible in the distance, and the grandstands were emptied.
An impromptu driver's meeting followed on the pre-grid, with the decision ultimately that the second final wouldn't happen – which was a wise one.
The track was mud-soaked and had taken on even more water following the deluge.
Forgetting the damage that could have followed, in the interest of safety it was the right call to cancel this race and determine a backup plan for another day.
Was it a disappointment that the second race wasn't run? Sure it was.
But did it harm the weekend on the whole? Not so much.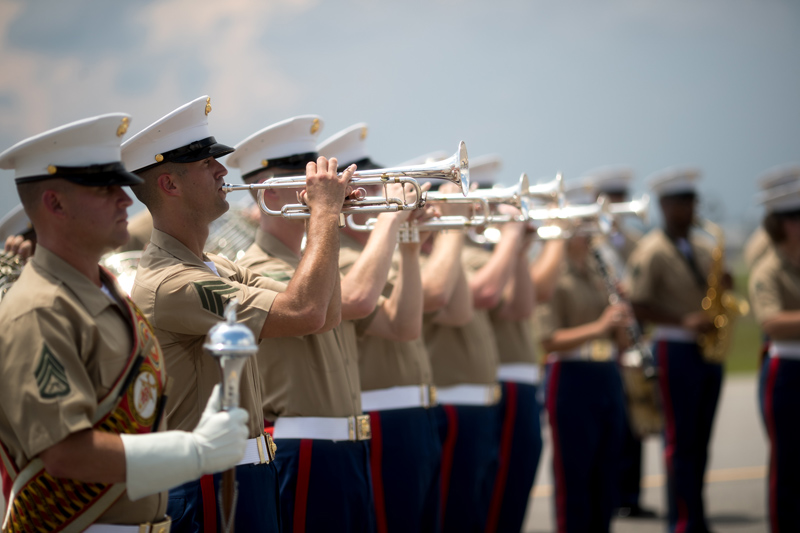 Leave it to Lance Corp. Ned Johnson of the MCAS New River Public Affairs' Office to explain why the racing is only a portion of why this event means so much to them, and why the Marine presence means so much to Red Bull GRC.
"There are so many cool aspects," he told NBC Sports this weekend. "For the Marines, the cool part is if you went to a NASCAR race, chances of meeting anyone is remote. Here they'll all know where everyone is, with drivers, mechanics all around and about. You can't get that anywhere else.
"It shows Red Bull GRC wants Marines to get something out of it. The racing is almost secondary because we get to meet the people who care about us."
And at the end of the day, this event is about them – Red Bull GRC is the entertainment race series that helps make their days a little brighter.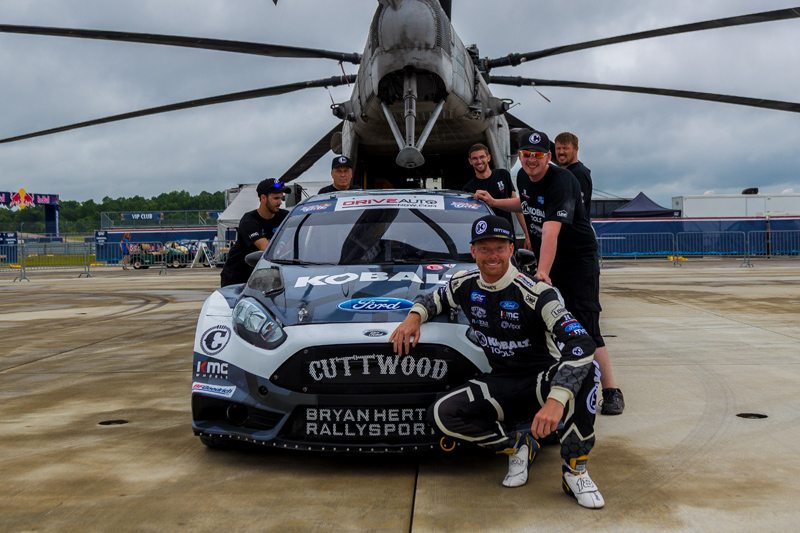 "It was fantastic to be able to race Fourth of July weekend on the military base," said Herta's Patrik Sandell. "They host a fantastic track and it's amazing that we can bring this event to them and show our sport. And it's been great to be able to see the interest from the military base."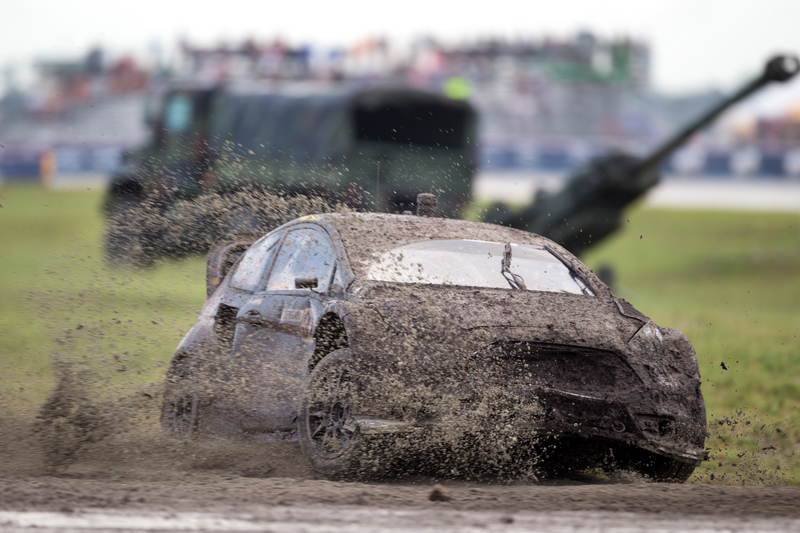 Added Deegan, himself the "general" of Metal Mulisha: "First of all, thanks to all of the military that supports us. It gives us the freedom to go race these cars — much respect for that. This is by far the biggest, baddest race of the whole year, around the coolest tanks and aircraft. Much respect and thank you!"
—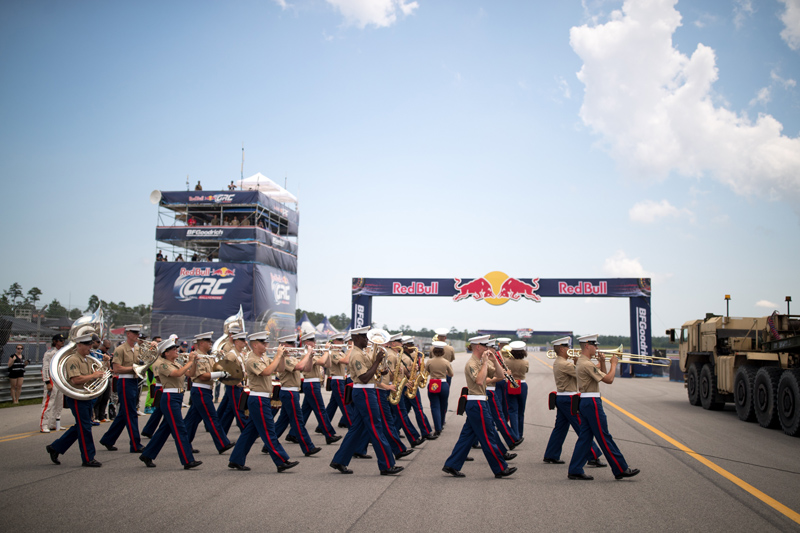 RED BULL GRC MCAS NEW RIVER CONTENT RECAP
First 2016 win puts Scott Speed's Red Bull GRC title defense back on track
Red Bull GRC: MCAS New River II race washed out
Red Bull GRC: MCAS New River event brings rallycross to U.S. Marines
Red Bull GRC: Speed wins chaotic, mud-soaked first race at New River
Red Bull GRC: Saturday at New River before Supercars, Lites finals
WATCH: Red Bull GRC at 5 p.m. ET on NBC, Saturday and Sunday
Red Bull GRC: Oliver Eriksson building off GRC Lites title defense
Red Bull GRC: Speed's pole highlights Friday at New River
Red Bull GRC: Ridealong, initial MCAS New River observations
Red Bull GRC: Patriotism, high speed highlight trip to MCAS New River