JOLIET, Illinois — Shawn Langdon has really been putting the Top in Top Fuel recently.
After a dismal 0-5 start, including not advancing past the first round until the sixth race of 2016, Langdon has been red-hot of late.
The 2013 NHRA Top Fuel champ comes into this weekend's K&N Route 66 NHRA Nationals at Route 66 Raceway riding a two-race winning streak.
But that's just part of a bigger story.
In addition to wins in the last two NHRA national events – Bristol, Tennessee and Norwalk, Ohio – Langdon is 14-4 in round victories over the last six races and has reached the semi-finals or finals in four of the last six NHRA national events.
What's more, he's jumped up to sixth in the Top Fuel point standings. And, even though he is 298 points behind series leader Doug Kalitta, Langdon is less than 20 points away from cracking the top-five in the Top Fuel ranks.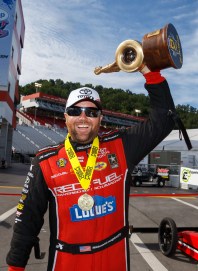 "It's unbelievable," Langdon said recently about his success of late. "From where we started at the beginning of the year with this Red Fuel Toyota team with all the changes that we made through the first couple of races – all the test sessions, this is what we worked for."
After the first five races, Langdon and the rest of his Don Schumacher Racing team had to reevaluate as things obviously weren't working.
"We kind of had to take a step back," Langdon admitted. "We started to progress the car and had a better car, but we just weren't getting the luck on Sunday. We just kept the mentality that we have to ride the waves.
"Drag racing is very streaky. You're going to have the highs and the lows, but you have to not get too down from the lows and not just soak in all the highs. You have to continue to work and that's what these guys have done."
Winning at Bristol and Norwalk capped off a run of four races in a row. Now, after a weekend off, this weekend's race is the start of the six-race run-up to the NHRA's six-race championship playoff, the Countdown to the Championship.
In other words, crunch time has started towards determining who will be the 2016 Top Fuel champ.
"We're reaping the benefits of all the hard work," Langdon said. "We're starting to see a little bit of luck go our way. When you have a good car like we do right now, it puts a little more pressure on the other teams.
"They have to start pushing their cars. So rather than seeing a good race at the finish line, we're starting to see teams smoke some tires and take some chances against us. It's a good feeling and I'm just happy to be a part of this team."
Follow @JerryBonkowski