NEWTON, Iowa – Iowa Speedway and INDYCAR officials have confirmed a two-year extension of the Iowa Corn 300, announced Saturday at Iowa Speedway.
"If you build it, they will keep coming," said Iowa Speedway president Jimmy Small. "We've extended our relationship for two years. We've secured dates and sponsorship through 2018 with Iowa Corn. Happy to announce this as part of a long-term strategy."
The race has quickly become a staple of the Verizon IndyCar Series schedule, as this year's Iowa Corn 300 is the 10th since the first IndyCar race here in 2007.
The race has changed back to a day race, not just for 2016, but Small confirmed for the next two years as well – dates of which were confirmed as July 9, 2017 and July 8, 2018.
"Consistency is what we are going for," Small explained. "Similar races, temperatures, everything around that race we want to keep going.
"[NASCAR] has a relatively new broadcast partner with NBCSN, so having them at Kentucky this weekend, we work closely with INDYCAR and NBCSN to how we've done in terms of attendance, fan feedback.
"We love night racing here. I hope this room is unanimous in liking that. But for this year, we made our best decision possible. We have the Sunday race; that really caps off the weekend of racing."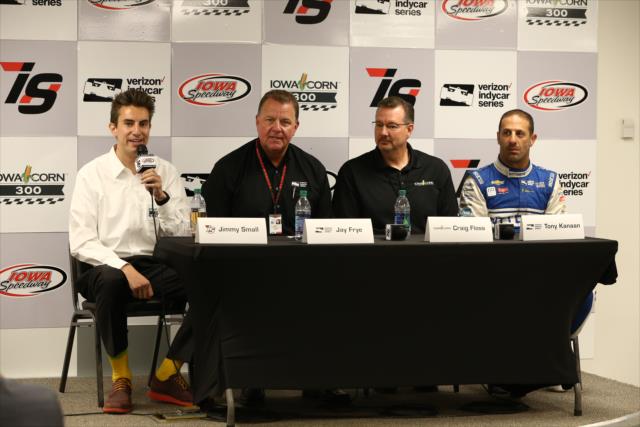 Jay Frye, INDYCAR president of competition and operations, Craig Floss, CEO, Iowa Corn Growers Association and Tony Kanaan, driver of the No. 10 NTT Data Chip Ganassi Racing Chevrolet, joined Small to make the announcement on Saturday.
Small and Frye briefly expanded on the announcement in separate breakouts.
"We don't comment on, or provide attendance numbers, but I'm very happy with our numbers for this year," Small said. "With great weather we should have a good walk-up.
"Robin [Miller] is here and has told me in the past and I hope I'm not speaking off the collar here, but he says it's his second favorite race of the year!
"I used to go to Kansas and Texas, but I've never seen a race like this. I get why this is so popular, doing for 10 years and now doing for two more."
Frye added of the afternoon start time, "The window now is unique. In late afternoon… it shouldn't be too bad heat wise, and people can do their thing for the day and then come home to watch. It will be interesting to see what happens."