NEWTON, Iowa – Josef Newgarden led 282 of 300 laps en route to his first win of the Verizon IndyCar Series season and third of his career in Sunday's Iowa Corn 300 in a thoroughly dominant and unbelievable performance.
The win comes not even a full month after his accident at Texas Motor Speedway on June 12, when he sustained a fractured right clavicle and a small fracture on his right hand after contact with Conor Daly.
But Newgarden, who pressed through at Road America to finish eighth after starting 20th, looked fully back on form today in what was easily the greatest of his three career wins – and now sits second in the championship standings.
"I think we had a car like that last year. Man, it's hard to not get emotional after these things! What a great car! " Newgarden said in victory lane.
"Fuzzy's Vodka…they enable us to do what we are doing here. Have a great team with Ed Carpenter Racing. Great team owner in Ed Carpenter. It is great, man. Best car I've ever had. Happy for my team. For my owner – he is a good dude. He takes good care of me. Just happy. This is so cool.
"Thanks to everyone in Iowa. I love this place. Love coming to Iowa. Love the fans here. Love running Indy cars around this place.  I hope we come back here for many, many years."
"That guy's awesome, and makes me look good," added engineer Jeremy Milless, who engineers the No. 21 Fuzzy's Vodka Chevrolet.
Milless played a big part in the victory, as did JR Hildebrand, who tested the Ed Carpenter Racing entry last week while Newgarden opted to rest his right hand.
Newgarden had most – if not all – to do with it today in a beatdown reminiscent of days of old in North American open-wheel racing.
Newgarden started second and made it past polesitter Simon Pagenaud on the first lap.
He then led all but 18 of the remaining laps – losing the lead only on pit stop sequences – in a flawless effort from both him and the Carpenter pit crew the rest of the race to win by 4.2828 seconds.
He'd lapped up to Pagenaud in second place at one point, and by the end of the race, only the top five stayed on the lead lap.
Will Power, Scott Dixon, Pagenaud, Mikhail Aleshin and Alexander Rossi completed the top six.
Power's run toward the front came late after the No. 12 Verizon Team Penske Chevrolet crew was fighting the setup on his car all day.
He made it past Dixon and Pagenaud in the waning stages and adds the runner-up finish to his back-to-back wins at Detroit race two and Road America.
Dixon got on the podium after a tough final practice, the team reverting back to its 2015 setup on the No. 9 Target Chip Ganassi Racing Chevrolet and sorting out his issues.
Pagenaud drove smartly for points while Aleshin banked his second top-five finish of the season, top Honda driver of the day in the No. 7 SMP Racing Schmidt Peterson Motorsports Honda.
Rossi was sixth after another impressive drive in the No. 98 Castrol Edge/Curb Honda, although he had one moment where he ran wide off Turn 2 and nearly collected Tony Kanaan in the process.
Kanaan, who didn't lead a lap despite leading both practice sessions, ended seventh after being caught out on a caution in the No. 10 NTT Data Chip Ganassi Racing Chevrolet, losing two laps.
Sebastien Bourdais and James Hinchcliffe drove from 16th and 22nd to eighth and ninth with Charlie Kimball recovering for a top-10 finish after dropping out of the top-15 early.
Helio Castroneves, who entered second in points, was another caught out on a caution and ended 13th. The same story was true for Graham Rahal who never had much luck and ended 16th. Newgarden's teammate and team owner Carpenter had a gearbox issue on a pit stop and ended 18th with Max Chilton, Juan Pablo Montoya, Conor Daly and Ryan Hunter-Reay rounding out the field.
Chilton spun but resumed, a tough ending after qualifying fourth, with Montoya and Hunter-Reay having engine issues (one Chevrolet, one Honda respectively) and Daly retiring due to handling.
Results are below: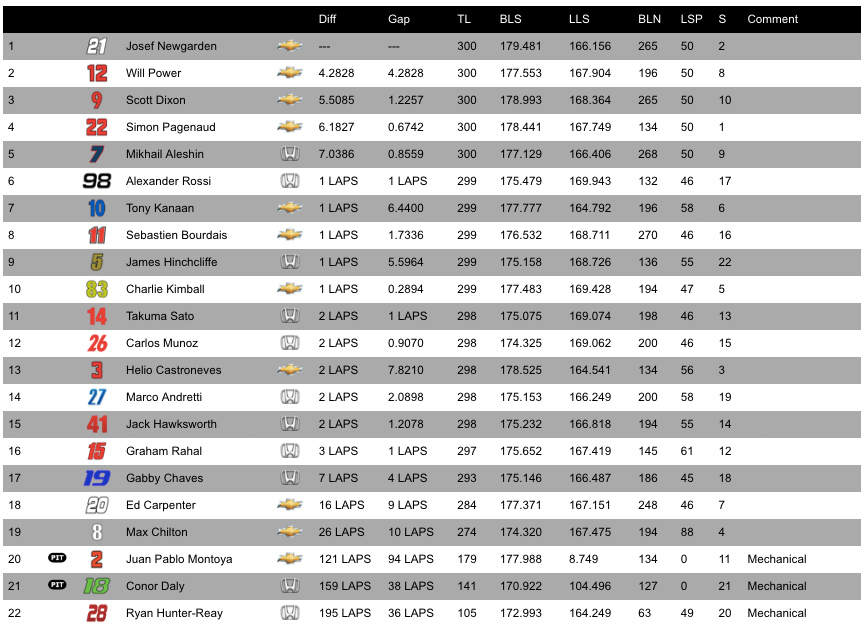 Pagenaud holds an unofficial 73-point lead, a net loss of one coming into the day, over Newgarden with this result.
The series heads to Toronto next week for the Honda Indy Toronto.