JOLIET, Illinois – Antron Brown took a big step towards repeating as NHRA Top Fuel champion with his win in Sunday's K&N Filters Route 66 NHRA Nationals at Route 66 Raceway.
Brown (3.777 seconds at 321.19 mph) earned his third win of the season, defeating J.R. Todd (3.798 seconds at 322.11 mph).
"We're loving it right now," Brown said. "We're starting to go in the right direction. We're peaking at the right time but we haven't peaked yet.
"We wanted to come here, come home with the win and are fortunate we made all the right calls, did all the right moves and hopefully there's a lot more for us to come and to our goal is to get better and better and better. That's what's going to set us up for the championship."
MORE: Results and standings from K&N Filters Route 66 NHRA Nationals
Brown ties Doug Kalitta for most visits to victory lane thus far in 2016, with each driver having won three races apiece in the first 13 national events of this year's 24-race season.
In addition, it was Brown's 57th career win in NHRA competition (41 in Top Fuel, 16 in Pro Stock Motorcycle), as well as his fifth win at Route 66 Raceway (3 in Top Fuel, 2 in PSM).
"This place is just really, really special to us," Brown said. "This is the boss's (Don Schumacher) hometown. There's lots of family and friends that come out here and you want to do well in front of them."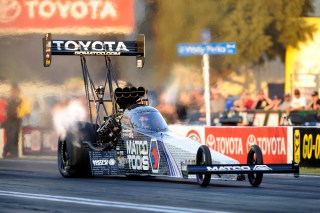 Brown also vaults past Kalitta into the top spot in the Top Fuel point standings, now having a razor-thin two-point edge over Kalitta, who lost in the quarterfinals to Brown's teammate, Tony Schumacher.
But perhaps the most spectacular stat of all: Brown has now won 32 national events in the last 5.5 seasons, twice as much as the next driver during that period (16 wins by Spencer Massey).
"We found new things that are making us better," Brown said. "We're on to something and we're just going to keep improving on that.
"You have to have that whole pie to make it happen. We're getting all our pieces together, hopefully we get the bake time right and we come out with a beautiful cake at the end that we can put some icing on and we can repeat what we did last year, hopefully."
Last but not least, this is the 56th time in its history that Don Schumacher Racing has doubled-up, earning wins in both Top Fuel and Funny Car (Jack Beckman) at the same event.
In addition, it's the sixth double-up that DSR has achieved at Route 66, as well as its third straight and fourth overall double-up this season.
There were a number of upsets in the first three rounds, particularly in the quarterfinals and semifinals:
* Brittany Force (4.327 seconds, 187.31 mph) was upset in the quarters by rising star Leah Pritchett (3.872/311.63). However, Pritchett (3.814/319.22) lost in the semifinals to Brown (3.762/324.05).
* Todd (3.771/324.28) upset Steve Torrence (3.785/313.58) in the quarterfinals, and then Todd (3.781/323.35) kept going in the semifinals, defeating eight-time Top Fuel champ Tony Schumacher (3.815/315.49).
Hard as it may seem to believe, Schumacher has now gone a complete year without a win, his last coming last year at Joliet, his hometown track.
* Doug Kalitta (3.806/320.05) saw his hopes of earning a fourth win of the season fall short when he lost to Schumacher (3.71/322.73) in the quarterfinals.
The NHRA enjoys next weekend off before returning to action July 22-24 with the Mopar Mile-High NHRA Nationals at Bandimere Speedway near Denver, Colorado.
Follow @JerryBonkowski