It's been a rough season so far for NHRA Funny Car legend John Force.
Through the first 13 races of the 24-race NHRA season, Force still has yet to win a race (it's been more than a year; his last win came at New Hampshire in June 2015).
In addition, thus far in 2016 he's lost five times in the first round of eliminations, lost four times in the quarterfinals, lost three times in the semifinals and lost in the only time he made it to the final round.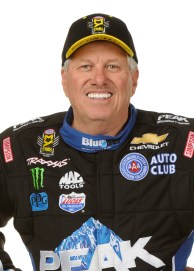 But Force isn't giving up.
"I'm not where I want to be," Force told NBCSports.com. "Man, right now, I have to win for PEAK, PPG and Chevrolet (his primary sponsors). It's not a good time for me to lose.
"I've gotta get my stuff together and I'm going to. I'll fix it and nobody knows this game better than me. I've been doing it a long time."
Following another first round loss Sunday in the final eliminations of the K&N Filters Route 66 NHRA Nationals in Joliet, Illinois, Force finds himself ninth in the Mellow Yello NHRA Funny Car point standings, 699 points behind series leader Ron Capps.
That's a margin of roughly just under five race wins worth of points. That's a mighty hard pill to swallow for a guy who has won 16 NHRA Funny Car championships and 143 national event wins.
While Force will still likely make the six-race Countdown to the Championship playoff – where he has a chance to make a big comeback and potentially still win the championship – things have been so rough that Force has taken to ask a higher power for help.
"I sat down at the Topeka race (May 20-22)," Force said. "My wife was there and my kids. Before the first round I said (with a dramatic pause), 'Lord, I need a little help today. I'm trying to make this Traxxas Shootout (a special exhibition race worth $100,000 to the winner) and I'm running out of time.
"I know you've got starvation in the world, you've got wars, you've got the needy, but I need a little help. You need to stop what you're doing and take a look at me.'
"My wife, who is very Catholic, says, 'You've got to be (kidding) me. I listened to your whole prayer and you offered nothing to Him, just save me. That's terrible.'
"Then my wife looked at me and said, God's truth, 'You should be struck by lightning for even asking that.'"
Well, apparently God was listening, but to Force's wife, not Force himself. As Force went to make his next run a few moments later, he quipped: "At half track, I was on fire," he said of a wreck that he was involved in.
Force is still praying for a season turnaround. He's even reached out to the spirits of several drag racers that have passed away, also asking for their help.
Those included late uncle Gene Beaver (who got Force into drag racing), former Top Fuel champion Gary Ormsby, legendary engine builder Keith Black and Funny Car team owner Joe Pisano. All four passed away in 1991 and each had a profound impact upon Force and his career.
Given his past success at Route 66, Force was hoping to once again leave there with a win – certainly not be a first-round knockout.
Still, Force will keep praying.
"There's just certain things that you're supposed to talk to the Lord about what can I do for you because you take care of me every day," he said.
"I pray for everything: 'Can you fix this, can you fix that?'
"It's just the nature of a guy like me that lives in fear all the time (of bad luck or lack of success)."
Follow @JerryBonkowski