Antron Brown is a two-time NHRA Top Fuel champ, including capturing last year's title. He revels in the success he's enjoyed in racing.
But when he's away from the hustle and bustle of the 24-race NHRA national event tour, Brown revels in the time he spends watching his own kids, young sons Anson and Adler and daughter Arianna, compete in Junior Dragsters — scaled down versions of the kind of Top Fuel dragster dear old dad drives.
But that's with a unique twist: instead of climbing in a race car, Brown serves as crew chief for his kids' driving exploits behind the wheel of Junior Dragsters.
"My kids love it," Brown told NBCSports.com. "My middle son, Anson, is the one that started the whole family into Junior Dragster racing.
"He loves every aspect of it. He breaks it down like a science. He's a true student of the sport. He watches it on TV and in-person, plays all the different apps and drag racing and door slammer games on his phone and iPad. He also just loves to come out to the track with me.
"I'm also his crew chief on the drag racing games. He comes up to me and says, 'Dad, make my stuff go faster, what have I got to do?'"
Most Wednesday evenings during the summer, Brown and family can be found at Lucas Oil Raceway in suburban Indianapolis – just a stone's throw from their home – racing their Junior Dragsters against all comers.
"We go out every Wednesday night for test and tune and have a blast," Brown said. "The cool part is I'm a one-man show. I try to get in there a little earlier than everyone else, set up and so once it starts, we can hit the track and get as many laps as we can get.
"LOR has always been a Junior Dragster-friendly track. That's what it takes, the Junior Dragster kids are the future of our sport. The kids are growing our sport, we're getting them involved and start them early.
"I have a blast with my kids in teaching them about mechanics as well as great life lessons. That's the main thing, is the life lessons they've learned: the agony of defeat and the triumph of winning. They learn that the work they put in is what they get out. Nothing just doesn't happen; they have to work hard. It's great life lessons, it's a joy to do it with them and see them go through it."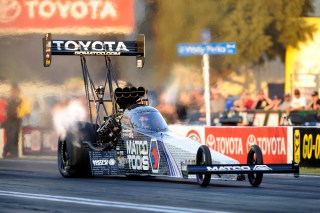 And two weekends ago, with the NHRA off, Brown and family went "on vacation" to – you guessed it – drag race at National Trail Raceway just east of Columbus, Ohio.
"Going with (Anson) to National Trail and spending time with my youngest son (Adler) and Arianna, our oldest daughter, it's a real family deal," Brown said. "As long as we're together, we're having fun.
"There's nothing like being out there at the Midwest Junior Super Series, which is the series we race. It's like the national series for Junior Dragster. It's a lot of fun."
Brown has spent the last two-plus decades as a drag racer, first in Pro Stock Motorcycle and then in Top Fuel. His kids are still relatively young, and competing with them in Junior Dragster competition helps make up for some of the long NHRA race weekends that he's away doing his job.
"You know what the coolest part of racing with your kids is?" Brown asked. "It's when you're helping out or working with them, it reminds you of the stuff you forgot to tell yourself or what you forget to do.
"When I'm out there with all my kids racing, it's just one of those cool, beautiful things. My son just turned 12 and came to me a couple weeks prior back and he said, 'Dad, you know what, I want to apologize.'
"I asked him what he had to apologize for and he said, 'You remember all those things you tried to teach me when I was young and I wasn't listening? I understand now what you were trying to teach me or when you pushed me.'
"When he told me that, it was like a soft spot came out of my heart and it's like he's got it, he gets it. And now, before me telling him about something, he's asking me about advice and going out and applying it to whatever he does, from racing to baseball, to soccer and basketball to life. I can see him growing from a young boy into a young man."
Follow @JerryBonkowski