Grimsby, Ontario's Garett Grist makes his return to the Indy Lights Presented by Cooper Tires championship this weekend after sitting out the Iowa Speedway oval, and with a big milestone he's hitting this weekend on home soil in Toronto:
The 21-year-old will start his 100th race this weekend as part of the Indy Lights doubleheader, driving the No. 3 Gap Guard/Lander Property Management/Mac Tools Dallara IL-15 Mazda for Team Pelfrey.
Grist is a four-year veteran of the Mazda Road to Indy and here's been his past results on the streets of Exhibition Place:
2015, Pro Mazda: 5th in race one, WON in race two
2013, USF2000: 22nd in race one, 6th in race two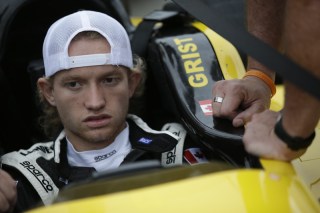 "I am really looking forward to this weekend," Grist said in an advance release. "It's always great to come home for your home race, and it's great that my friends and family are able to come out and watch. Winning last year was massive. This year I hope to do the same.
"It will be my second weekend in Indy Lights so I'm still new, but the pace we showed at Road America in my first weekend was great especially with myself and the team having never been there before. There is no reason we shouldn't be able to run at the front this weekend."
As noted, Grist was unlucky not to finish better than seventh and 10th in his Indy Lights debut weekend at Road America because he'd made a mistake in the second race. He felt pleased with his performance, though.