The usual six-pack of Mazda Road to Indy races are back in action this weekend at Toronto, and this also starts a run of each of the Indy Lights Presented by Cooper Tires, Pro Mazda Championship Presented by Cooper Tires and Cooper Tires USF2000 Championship Powered by Mazda series beginning their final seven races of the year.
Indy Lights has two races in Toronto, two at Mid-Ohio, one at Watkins Glen and two at Mazda Raceway Laguna Seca.
Then for Pro Mazda and USF2000, it's two in Toronto, with two Pro Mazda and three USF2000 at Mid-Ohio, then three Pro Mazda and two USF2000 at Mazda Raceway.
The beginning of the runs to each title and the respective Mazda Road to Indy advancement scholarships that come with them start this weekend at the series' lone race outside the United States. Each series has one race Saturday, one race Sunday, a far cry from Road America when both Pro Mazda and USF2000 ran twice on Saturday.
Canadians set to compete this weekend on home soil include: Garett Grist, Dalton Kellett and Zachary Claman De Melo in Indy Lights and Parker Thompson in USF2000.
—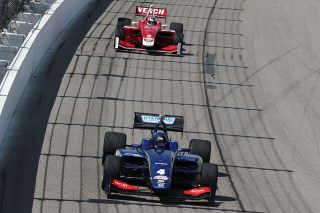 INDY LIGHTS
The three-way fight of Ed Jones, Dean Stoneman and Santiago Urrutia took a backseat to Felix Serralles and Zach Veach's win battle at Iowa, but with Jones, Stoneman and Urrutia finishing in that order in third, fourth and fifth, the points situation didn't change.
Jones has 236 points to Stoneman's 213 and Urrutia's 206. Lurking and not out of it are the Iowa sparring partners, Serralles and Veach at 199 and 194, with Kyle Kaiser hanging on at 189, 47 points back.
This weekend could be a "winnowing" if the top three in points dominate proceedings but if Serralles and Veach – or Kaiser, who drives for Juncos Racing and was arguably strongest on Indy Lights' only other street course this year of St. Petersburg (third and second) – throw a big result up, then the title battle will remain wide open.
And Kaiser – or De Melo, for that matter – is a decent pick for the weekend because Juncos' Spencer Pigot swept these races last year. Other potential big results could come from Felix Rosenqvist, back after a two-weekend absence, and Grist, who knows the streets of Toronto well and whose Team Pelfrey outfit bagged its only podium of the year on a street course, second at St. Petersburg, with Scott Hargrove.
—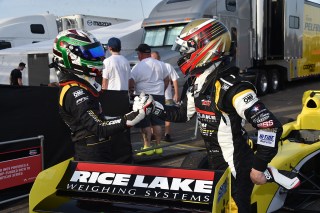 PRO MAZDA
In the battle between Team Pelfrey teammates Pato O'Ward and Aaron Telitz, the pressure is now squarely on the 17-year-old Mexican who won six of the first seven races but watched from off the podium as Telitz swept on home soil at Road America.
Telitz has now closed to within 28 points of O'Ward following his domination at Elkhart Lake, and will look to carry the momentum this weekend. The pair split wins on the only other street course this year at St. Petersburg and with no pressure on him and riding the wave of momentum, Telitz will look to close that gap even more this weekend.
Juncos, which not only has a good Indy Lights setup on street courses, banked a Pro Mazda win here last year with Grist. Emerging star Nicolas Dapero, who's scored two podiums in his last three races, or Will Owen could be in with a shot at their first series wins and ending the thus far Pelfrey sweep of the season. Cape Motorsports with Wayne Taylor Racing returns to two cars with Jorge Cevallos back alongside Nico Jamin; the young Mexican ran the opening races this year for JDC.
—
USF2000
Simply put, whoever emerges ahead of the Cape Motorsports with Wayne Taylor Racing teammates this weekend – Anthony Martin or Parker Thompson (pictured top of page) – will be the points leader.
Because the pair enter tied and Martin is the one surging after winning four of the last five races, including the last three in a row.
The Australian and the Canadian have different driving styles and while both are calm, good kids outside the cockpit, the pressure is intensifying between them since only one of them can win the title.
Thompson, who started stronger, will probably feel the weight of racing on home soil this weekend. Yes, Red Deer, Alberta is a fair way from Toronto, but it'll still be important for Thompson to want to deliver with a win here.
Third place in points is ArmsUp's Victor Franzoni, who should be better here than at St. Petersburg when he was in his first weekend for the team. Franzoni's banked five podiums this year but is yet to win.
Pabst Racing could play spoiler, having had the best setup cars at St. Petersburg and having swept the weekend there between Jordan Lloyd and Yufeng Luo. Garth Rickards is due a good result for the team as well, as is fellow series sophomore Ayla Agren of John Cummiskey Racing, who was fourth last time out at Road America.
Another driver to watch is the third Australian, Luke Gabin, who it appears will race after JAY Motorsports has worked to find funding for the talented and likable young driver for this weekend. Gabin scored his first USF2000 podium at Toronto a year ago with Team Pelfrey. Englishman Jordan Cane, formerly of Pelfrey, could be poised for his first podium since St. Pete – both he and Robert Megennis (Pelfrey) banked podiums at the only other street race this year.