A little over two years ago, four-time NHRA Pro Stock champ Greg Anderson's life – let alone his racing career – appeared in deep peril.
A heart condition that required corrective surgery forced him to miss the first five races of the 2014 NHRA Mello Yello Drag Racing Series schedule.
"When I came out of the surgery, (his doctor) told me I absolutely wouldn't have made it through the first race," Anderson told CompetitionPlus.com in May 2014. "The doctor said the artery was so weak when he touched it, it just fell apart. The lining had been stretched so far and so thin. It wouldn't have lasted through one more blood pressure spike."
Many wondered whether Anderson would be able to come back and be as strong and competitive as he had been in the past en route to his four prior championships.
While he admittedly had a rough season when he returned to racing in 2014 – no wins, three runner-up finishes and two other semifinal showings – Anderson has more than proven he's back at the top of his game since.
"It's a new chapter for me," he said after returning to the circuit in 2014. "A new lease on life."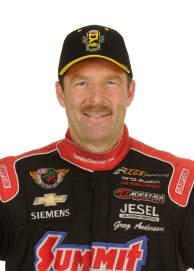 In 2015, Anderson proved he was more than fully recovered with his new lease on life, finishing second in the Pro Stock class to Erica Enders, earning four wins along the way.
But that's nothing compared to the kind of performance Anderson has shown thus far in 2016. In the first 13 races, Anderson has won six races while teammate and series points leader Jason Line has won the other seven national events.
Put simply, KB Racing has absolutely dominated one of the most difficult classes in the sport. And Anderson continued that domination this past Sunday with his 84th career Pro Stock win in the K&N Filters Route 66 NHRA Nationals in Joliet, Illinois.
"This is certainly our hardest fought victory of the year, without a doubt," Anderson said. "When the chips are down, you have to find something extra. It's all good and we're looking forward to the upcoming battle in the coming months.
"Thirteen in a row is amazing, that's something never believed could have happened. But we found a special way to make it happen."
Yes, 13 wins in a row by the same team is amazing, but Anderson is no stranger to multi-win seasons by himself: in 2004, he won a record 15 races; the year before in 2003, he won 12 races.
But even though the Line-Anderson juggernaut keeps winning — they're ranked 1-2 in the Pro Stock standings and are the only drivers in any pro class to have already clinched berths in the upcoming Countdown to the Championship — it's not as easy now as it may have been earlier in the season.
"It's a new ballgame right now," Anderson said. "It's start over. They're even with us, if not ahead. It's exciting, it's cool and a new development period. Things are learned every day."
And it's only going to get harder, Anderson predicted, especially for his team to keep up its winning ways.
"The longer it's gone on, you wonder if it can go on all year long," he said. "But that's ridiculous, and we know that. History tells us that's not going to happen. Just to win 13 in a row is beyond anybody's wildest dreams.
"People ask us if we can win the whole year, well no, we can't win the whole year, we know better than that. But we're going to try and win as many as we can. Regardless of what happens the rest of the year, it's certainly been a great start. But we know deep down that if we don't find more performance, we're going to get smoked the rest of the year.
"We were dominant in the beginning of the year, but that's certainly not the case right now. The class has tightened up, as I said all along.
"You're going to have a new landscape as we get closer to the Countdown (to the Championship). It's a great indicator of what's coming up. You have a lot of teams that have made big gains in that weekend off between Norwalk (Ohio) and Joliet. Now we have another weekend before we go to Denver, so we're really, really going to have to dig in."
Anderson won three straight Pro Stock championships from 2003 through 2005, and his fourth and most recent one in 2010. Given how close he came last year, the 55-year-old native of Duluth, Minnesota, is ready to win his fifth championship, even though he knows just how difficult it will be to do so in the remaining 11 races, particularly the six-race Countdown to the Championship.
"I'm excited," Anderson said. "It's going to be a lot of fun, it's been a lot of fun already, and it's going to get a lot tougher, so when you win one of these buggers right now, it feels great.
"I always feel better obviously whenever I can win, no matter who I beat, whether it's Jason or Bo (another teammate, Bo Butner) or the other cars in the class. As a driver, you always want to win. It's always great when the team wins, and that's the big picture.
"But we're selfish as drivers, we have egos just like everybody else, and we want to win. When you get that far, to the final round, you want to seal the deal. Since it's me that won this one (Joliet), I'm ecstatic as can be."
As strong as he and Line have been this season, Anderson feels for two-time defending Pro Stock champ Erica Enders, who is having an extremely difficult season in what she hoped would be a third consecutive championship year.
Enders is currently in 11th place. If she does not get back into the top 10 by the conclusion of the U.S. Nationals on Labor Day weekend in Indianapolis, she will be watching the championship race from the sideline.
Anderson understands what Enders is going through. He's been there himself before, as well.
"It's tough on your mind and it's hard to dig out of it," he told NBCSports.com. "I've said it many times in the past when I came off winning championships and great seasons, and then you hit that rut, that hole, and you wonder if you can ever win again.
"That's what I've always said determines what makes someone a great champion. If they can find their way out of the hole and act right when they're in a depression, they can find their way back to the top. She will, she absolutely has what it takes, she'll find her way back."
Just like Anderson has found his way back to the top of his game.
Follow @JerryBonkowski