TORONTO – Josef Newgarden and Luca Filippi were 1-2 in last year's Honda Indy Toronto but head into this year's race with vastly different goals and focus.
Newgarden obviously seeks a repeat not only of his Toronto win but a follow-up from his Iowa domination, but the driver of the No. 21 Preferred Freezer Services Chevrolet for Ed Carpenter Racing was not overly happy with his car in first practice. He said he's not the favorite this week and would hope to advance from the Firestone Fast Six to a similar top-three or top-six result. He's second in the points, 73 back of points leader Simon Pagenaud.
Filippi, meanwhile, has absolutely nothing to lose, back in the No. 19 IMPCO ComfortPro Honda for Dale Coyne Racing for the first time since Barber Motorsports Park. The Italian looks to raise his stock in the paddock not just for 2016 but in hopes of a full-time return in 2017, as well.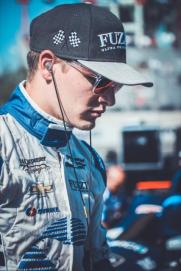 "I think we're trying to figure out what we need right now at the moment. I don't think we rolled off with exactly what we needed for session one, but what you need in session one is not what you need in qualifying and the race. It grips up a lot around this place, the track changes," Newgarden explained during his media availability on Friday.
"I think what we rolled off with was more geared towards later in the weekend. I'm hoping that's going to be the case."
Newgarden said the team, with engineer Jeremy Milless, still has a good street course setup. But the intricacies of all four different street courses – St. Petersburg, Long Beach, Detroit and now Toronto – lends itself to different variations in setup.
Newgarden's street course results this year haven't been as great: he's started 11th, ninth, 14th and 17th in the four prior street races and his finishes aren't much better, 22nd, 10th, 14th and fourth.
"I really thought Iowa was going to be the biggest challenge. But getting to a street course now, this is proving to be the biggest challenge," he explained. "It's so bumpy. Since Texas, I haven't been on a street course. I forgot how demanding they are. You're really getting rocked around this place.
"I think I'm leaving some time on the table. I was having a discussion with my engineer. Some of it was the car. The car wasn't where we needed it to be for session one, but also some of it was me. I know I'm leaving some time on the table in sections just from where I'm at. I need to sort my own stuff out too.
"I think, to answer your question, I think we have a good street course car. I think it's been up and down depending on the street course. They all really require something a little different. I think St. Pete requires something, Long Beach requires something, Detroit requires something else. Then here, too. It's not one package we run for all street courses.
"For this place we have a pretty good car, we just have to get everything together, that being me and where the car needs to be for the specific sessions."
Filippi, who was Newgarden's teammate last year at what was CFH Racing and is now ECR, excelled earlier this year in qualifying – with starts of 15th, 16th, 12th and 12th, Filippi took a Coyne car probably higher than you'd usually expect to see it on the grid.
The Italian is renowned for his tire testing ability – primarily with Pirelli – and that skill set, he said, helped him earlier this year with the Firestone red alternate tires.
"So obviously on street courses, the extra grip you find from the tires is what give you the opportunity to qualify well. On these sort of courses, sometimes qualifying can be crucial," Filippi said.
"So I really focused on trying and work the tire well when it gets to have the new tire run. I think I've been doing tire testing for a long time now. Tire testing I feel is kind of my speciality. For the red tires, they really suits my driving. I can try and maximize the mechanical grip they give to the car.
"Also I think what we're trying to improve with our car, with Dale, is a bit of mechanical grip. So on the blacks, that small issue becomes a little bigger, while on the reds, it gets better for the new tire run.
"But then, because we have a bit of lack of mechanical grip towards the end of the run, it could get worse again. So basically this is where we have to improve. If we can do that, we can become even stronger on the reds and be more competitive on the blacks."
Filippi's daughter turned one year old the day before yesterday, as he had that to celebrate after Toronto last year.
Spencer Pigot (Newgarden at Carpenter) and Conor Daly (Filippi at Coyne) are the respective teammates.