TORONTO – The final four, but primarily the final three, turns of the now revised 1.786-mile Exhibition Place street course at the Honda Indy Toronto are easily the hot topic of conversation after the first day of track activity here.
Construction on the new Hotel X has prompted the Green Savoree Promotions promoted event to move the pit lane from the right side of the course, where it has traditionally been, to driver's left. Cars will enter 35-foot pit boxes, among the shortest on the schedule.
And then there's the turn complex itself, where with pit in at driver's left just after Turn 8 – and it's barely wide enough for one car – the course then narrows significantly through the left-handed Turn 9, the right-handed Turn 10 and then the final left-handed Turn 11. The event promoters told USA Today Sports' Brant James it's a 32-feet difference.
Incidents were aplenty, with a handful of significant accidents occurring in the earlier Mazda Road to Indy sessions. There were at least six crashes between the Indy Lights Presented by Cooper Tires, Pro Mazda Championship Presented by Cooper Tires and Cooper Tires USF2000 Championship Powered by Mazda, and two cars were tubbed and needed replacements.
A deal was struck to see Jordan Lloyd (Pabst Racing) take over Ayla Agren (John Cummiskey Racing's) chassis in USF2000, with Agren unfortunately sidelined this weekend due to financial constraints. Meanwhile Jake Parsons moved from his own car to Garett Grist's old Juncos Racing chassis in Pro Mazda.
Then we got to the IndyCar session, where Juan Pablo Montoya and Charlie Kimball crashed hard at Turn 11.
Driver reactions were mixed on the course changes and with the first day of running in the books, the potential exists there still could be further tweaks.
Here's a sampling of the reactions from the five drivers who came into the media center today: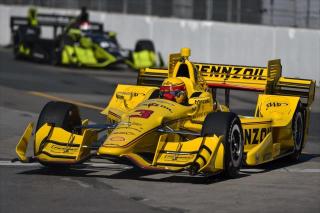 Helio Castroneves, No. 3 Pennzoil Team Penske Chevrolet
"If I have a say, I would make some change, for sure. The main thing is IndyCar, they always adapt, especially the competitors, the drivers, they always adapt whatever circumstances.
"At the least, we don't have a railroad in the middle of the tracks, like we did in the past. That I have to admit was a little bit too extreme
"It's a challenge for everyone. It's difficult. Certainly, yes, if you ask me, if you have the power to change, I would like to make a little bit better. In the end of the day, you have to go with what you have.
"For me the pits are very tough. Where I'm stopping, it's crooked, I don't see people coming. I have to rely on the radio sometimes. It's a little bit difficult because people have different perceptions.
"The racetrack, it will be tough to have a restart side-by-side. However, it might be good so you don't have a pile of cars in turn one crash. You're going to have a little bit of separation.
"There is a pro and a con. I would say I would make the walls a little bit wider. If we have to remove the light poles, to make it a little bit wider, I definitely would do that."
James Hinchcliffe, No. 5 Arrow Schmidt Peterson Motorsports Honda
"It's a pretty big learning process for everybody out there. One-third of the lap roughly is completely different than it has been for as long as I've been racing here. It's definitely very challenging. They didn't make it easier, that's for sure.
"Simon likes it better, which is good for him (laughter). I think it presents a tremendous challenge for the engineers. Really tricky sections in terms of concrete patches, blind corners, tight corners.
"It was tricky to get through 11 behind a car. I haven't done it now in the new configuration. It's a bit slower, trickier. I think it's a little bit easier to screw up than it was, which could potentially lead to more passing into turn one. So that is not a bad thing.
"Eight was silly. I don't know why we did that, why we let that happen. No reason to take the curve away in eight on the apex. It massively slowed down the corner, took away the opportunity for racing. It wasn't the best opportunity, but it was an opportunity for sure."
Simon Pagenaud, No. 22 PPG Automotive Refinish Team Penske Chevrolet
"I like the fact that Turn 10 is off camber. It's probably the only place where you have a corner off camber. All of a sudden you really have to think about it. Okay, how am I going to make this corner? I'm not used to this. We usually go in an oval where it's banked the right way. Mid-Ohio some like that, too. But it's quite new.
"I like changes. I may be different to most, but I like changes. I like slippery places because you really have to place your car the right way, like James pointed out.
"Yeah, I like that you have to dance with the car. You have to be inches precise. The last corner, you saw it, if you're not inches precise, you're going to hit the wall. It's going to be a big one. I like that risk/reward kind of situation.
"I think 11 is better for passing because, yeah, it's so hard to get right that there will be a speed differentiation. If the guy behind you manage to get it right, on 'push to pass', it could have more of an effect.
"Restarts, I also think it's going to be a very tricky corner, very tricky section on cold tires. There will be a lot of action in turn one now. So I think it's a plus."
Josef Newgarden, No. 21 Preferred Freezer Services Chevrolet
"What are you going to do at the start. How are you expecting people to go two-wide and prepare for a two-wide start. I don't know what they're going to do yet. They were waiting to see feedback from session one.
"I think it will be very difficult if that's what we're going to do. I think you just have to delay the start way down the straightaway because we're going to have to go really slow around turn 11 to get cars two-wide around there.
"Maybe that's what we're going to have to do, is push it to the backstretch. I'd be surprised if they do it. From a promoter standpoint, they don't want to do that. So I don't have an answer for you. I think it will be in discussion. I think it will probably be like a vote thing. We'll see how session two goes again.
"My guess will be that they will either push back on the front straight where they throw the green to give us more time to get on the front straightaway or maybe they'll do something like that on the backstretch. It's going to be really tight. I think we're going to have to go really slow at the start of the race."
Luca Filippi, No. 19 IMPCO ComfortPro Honda
"This year obviously it is a bit difficult, a bit different because I didn't race in Detroit obviously. I get a car that is not exactly the car that I built for myself. I'm trying and get it more suitable for me and more drivable.
"Also the circuit has changed a little. So what we know was working here in the past may be a little different for this year what we need.
"We are working. But I think the gap to the leaders is not so big. I think we know where to improve. I'm really looking forward to practice two because I want to see if we can really improve and get a strong result.
"I'm not here, honestly speaking, just to participate and trying to aim for a potential top 10. I want to do very well. I'm motivated. I'm pumped up. I want to really fight to the front.
"I know it's difficult. There are many, many fast guys and fast teams out there. But we here to try and do a good job."