TORONTO – The first three Mazda Road to Indy races of the weekend are in the books from Exhibition Place in Toronto, with the Cooper Tires USF2000 Championship Powered by Mazda and Indy Lights Presented by Cooper Tires races run in the early afternoon before this evening's Pro Mazda Championship Presented by Cooper Tires race occurred later today.
—
The USF2000 race was first off, with the 30-minute affair seeing Victor Franzoni (ArmsUp Motorsports) get ahead of polesitter Anthony Martin (Cape Motorsports with Wayne Taylor Racing) off the line, a key move by the Brazilian.
Meanwhile Jordan Lloyd was a man on the move in the backup car his Pabst Racing team used from John Cummiskey Racing, getting around Parker Thompson (Cape) for position before the first yellow flag when National class driver Brendan Puderbach crashed out.
While Lloyd then fell back behind Thompson after a restart, with Franzoni and Martin 1-2, the complexion of the race and the championship battle changed with just over 11 minutes to go. Martin, who'd also had an incident on Friday that damaged his left front, made another mistake on Saturday and lost his second position.
Thompson inherited it before Lloyd got back around the Canadian in the waning stages.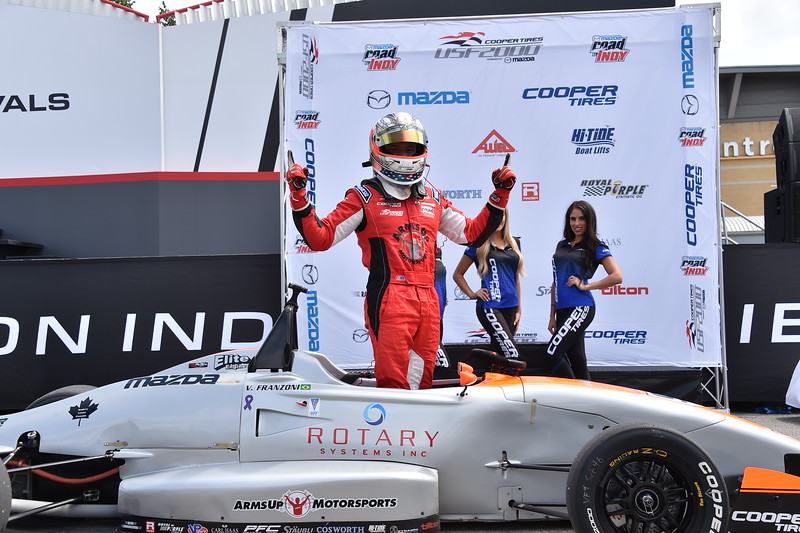 Up front Franzoni continued unchallenged and finally secured his first win of the year after scoring five other non-win podium finishes. Lloyd was second with Thompson a pivotal third, breaking the tie he had with Martin for the points lead.
In solid drives of their own, Luke Gabin (JAY Motorsports) and Robert Megennis (Team Pelfrey) completed the top five – Megennis was particularly stout going from 18th on the grid up to fifth.
—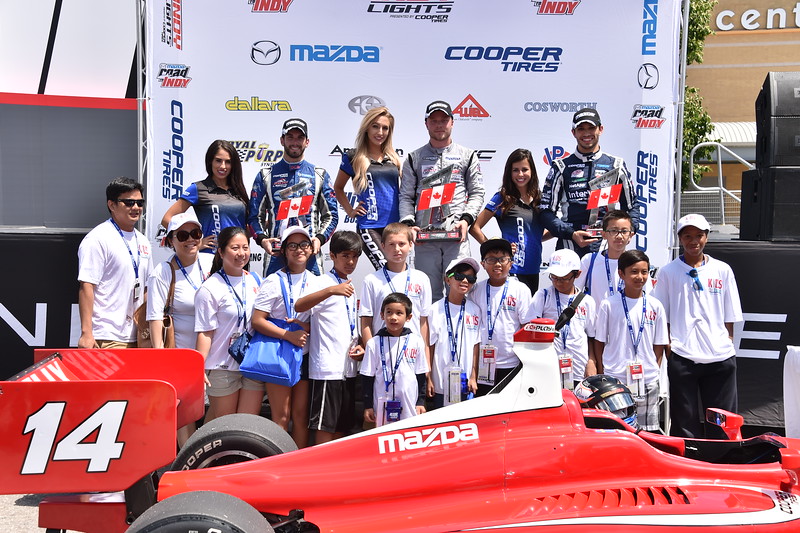 The Indy Lights race saw a dominant performance by series returnee Felix Rosenqvist of Belardi Auto Racing, and we'll write his story simply by saying that from pole the Swede led all 35 laps en route to his second win of the year (Round 2 at St. Petersburg) and set the fastest race lap in the process.
Behind them, Felix Serralles (Carlin) made a pass down the inside of his Iowa sparring partner Zach Veach (Belardi) for second at Turn 3 on Lap 18. That netted the Puerto Rican driver another podium finish and put himself back in the title fight.
Veach was then working diligently to hold off Kyle Kaiser for third before Kaiser pulled off an identical move on Veach as Serralles had 17 laps earlier. While Kaiser of Juncos Racing was back on the podium for the first time since the Indianapolis Grand Prix weekend, Veach then made a mistake on the final lap when he nosed into the tire barriers at Turn 10. That dropped him from fourth place down to a lapped ninth, and has dealt a serious blow to his remaining title hopes.
As for the three title protagonists entering the weekend? Santiago Urrutia, Dean Stoneman and Ed Jones finished fourth, fifth and sixth with Stoneman's drive standing out in particular.
The Englishman was lucky to be able to continue after Juan Piedrahita – his Freedom 100 sparring partner – went down the inside of him on the run to Turn 3 on Lap 9.
Problem was, the Colombian managed to hit Stoneman's right rear wheel in the process and break his rear wishbone, then shot to the right and into the wall.
With Piedrahita unable to slow his now stricken Team Pelfrey machine with no brakes, he careened down the straight and then scrubbed off speed only once he struck Zachary Claman De Melo (Juncos), who had literally nowhere to go into Turn 3. Those two were done on the spot with Stoneman, somehow, able to keep going in another important drive – similar to his recovery at Road America when he switched to dry weather Cooper Tire slick tires and made up a couple positions late.
Jones (251) has an unofficial 21-point lead on Stoneman (230) with Urrutia (225) and Serralles (224) separated by only one point for third. Kaiser has 211 points and Veach is at 206, and both need to make some ground ahead with just six races to go.
—
The first of two Pro Mazda races ran later this evening from Toronto and was dramatic from a points standpoint, if uneventful from a race standpoint.
First lap contact took Pato O'Ward, the points leader, out of the race – and it's left a wide open gap for Aaron Telitz to capitalize.
The Wisconsinite promptly delivered a flag-to-flag win from there, over 24 laps in the 30-minute race.
It's the third straight win and fourth of the season for the driver of the No. 82 Rice Lake Weighing Systems entry for Team Pelfrey, who has unofficially closed to within five points (270-265) of O'Ward.
Nico Jamin and Jake Parsons completed the podium, the latter of whom had a trouble-free race after having two accidents earlier in the weekend.