NHRA Top Fuel driver Leah Pritchett plans to go mountain climbing this weekend, looking for the elusive Wally.
The Indianapolis-based driver will be making her fifth appearance this season for Don Schumacher Racing in this weekend's Mopar Mile High Nationals in Morrison, Colorado (a suburb of Denver).
That's where the mountain climbing comes in: Pritchett and the rest of the NHRA pro drivers will be racing at more than a mile above sea level on one of the most challenging drag strips in the country.
And who's Wally?
Pritchett and every one of her fellow drivers will be looking to take home a winner's trophy – known as a "Wally", named after NHRA founder, the late Wally Parks.
Bandimere Speedway, which plays host to this weekend's event, not only has a long history with the NHRA, it also has a history with Pritchett.
It was at Bandimere that the Southern California native won her first career NHRA race: at the age of 9, behind the wheel of a Junior Dragster.
She then came back to win again at Bandimere in 2002 at the age of 13, the last time she raced at the Colorado track on any level until this weekend.
"Bandimere holds a special place in my heart because it's the very first place where I won an NHRA Wally when I was 9 years old," Pritchett said in a media release. "I've only raced Jr. Dragsters at Bandimere. I've been a spectator at Bandimere national events and worked on a Nitro Funny Car (Melanie Troxel) there in 2011.
"I've made a lot of hits on that track (in Jr. Dragsters) and to be able to finally get back on that track means a lot. I thought that opportunity wasn't going to happen, but now I feel like I'm on top of the mountain by getting to race on the mountain."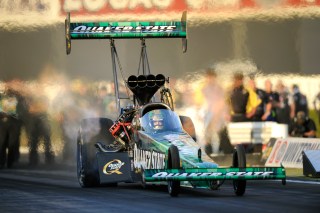 Pritchett's two wins at Bandimere are part of an incredible run that saw her win 37 Junior Dragster races – on the local and national competition levels – in eight years.
Of course, there's quite a bit of difference between a Junior Dragster and its Top Fuel counterpart:
* A Junior Dragster is powered by a five-horsepower motor and the chassis is under 150 inches long.
* A Top Fuel dragster is powered by a 10,000 horsepower motor and has a 300-inch chassis.
If you don't have a calculator handy, that's a 9,995 horsepower difference between a Top Fueler and a Junior Dragster.
Pritchett, now 28, has had a bittersweet season thus far in the Top Fuel ranks. She began the season with high hopes and expectations, including full sponsorship by Quaker State.
She then won her first Top Fuel national event just two races into the season (Phoenix).
Things were definitely looking up – until April 11, that is, when team owner Bob Vandergriff Jr. unexpectedly and suddenly announced his retirement from the sport, closing the doors on Bob Vandergriff Jr. Racing, costing a number of employees their jobs.
As a result, there went Pritchett's ride, there went her sponsorship and there went her chances – at least temporarily – for a chance at more wins and potentially a Top Fuel championship.
But Schumacher stepped up and offered Pritchett a part-time ride and she's made the most of the opportunity, including reaching the semifinals at the most recent race two weeks ago at Route 66 Raceway in Joliet, Illinois.
And as she prepares for her return to Bandimere Speedway after a 15-year absence, Pritchett not only has defied the odds by missing just one of the first 13 races in this season's 24-race schedule – she's also still very much in the running for the Countdown to the Championship.
"At beginning of the year when I was going to run the full season, Bandimere Speedway was at the top of the list of tracks that I was looking forward to racing," Pritchett said.
She's ranked 10th in the standings, the last potential qualifying spot for the Countdown.
If she can hold on to that spot or improve her standing between now and the U.S. Nationals in Indianapolis on Labor Day weekend, she could turn what has been a trying season into a potential Cinderella finish.
* * * * * * * * * * * * * * * * * * * * * * * * * * *
LEAH PRITCHETT:
Pts Events Wins Rup Semi Qtr 1st rd Poles DNQ W/L
2016: 10th 12 1 0 2 3 6 0 0 11-11
Career: 57 1 1 5 9 37 0 6 26-52
* Best Time, Speed: 3.736 sec. (2015, Englishtown), 329.19 mph (2016, Houston), (both with Bob Vandergriff Racing)
* Last event Joliet, Ill., July 8-10: Qualified No. 9, lost in semifinals to Antron Brown
* A year ago at Denver: did not race
* Top Fuel career at Denver: Wins 0; Runner-ups 0; Poles 0
Follow @JerryBonkowski