There's no question Jeg Coughlin Jr. is one of the most successful drag racers in NHRA Pro Stock history, with 58 national event wins and five national NHRA championships.
But, as late broadcaster Paul Harvey used to say, now you're going to know the rest of the story about Coughlin – and it's a unique story indeed.
Twice during his 20-year Pro Stock career, the Ohio resident has taken a hiatus from racing to either spend more time with his family or deal with his burgeoning auto parts business.
When he returned from those layoffs, Coughlin would ultimately go on to win yet another championship each time:
* He missed most of 2006, only to return and win the championship in 2007 (his third) – and then again in 2008 (fourth).
* He sat out all of 2011, came back to finish ninth in 2012 and then went on to win his fifth championship in 2013.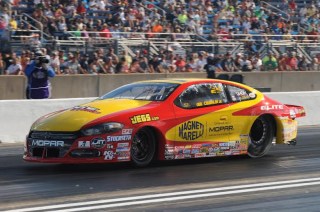 For the third time in his career, he took another break from racing in 2015. He missed most of the season until he was lured back to drive in a handful of races for Elite Motorsports.
Now, Coughlin is hoping to come back from his respite to win yet another championship.
So far, so good.
Coughlin comes into this weekend's Mopar Mile-High Nationals at Bandimere Speedway in Morrison, Colorado, ranked ninth in the Pro Stock standings.
This is a very important race for Coughlin, who drives the Magneti Marelli Dodge Dart. First, he wants to do well because the race is sponsored by Mopar, which is one of his primary sponsors.
"I love Denver and I'm busting with pride to represent Mopar, Dodge, and Magneti Marelli throughout the weekend," Coughlin said. "We do our best to put them in a positive spotlight every race, but we know this one is really big for them, so it makes it vitally important for us."
But Coughlin also knows success at Denver won't be easy for him nor most of the other pro drivers. With the city being a mile above sea level, Pro Stock cars – as well as their Top Fuel and Funny Car counterparts – perform differently in the light oxygen than at all other NHRA tracks and events.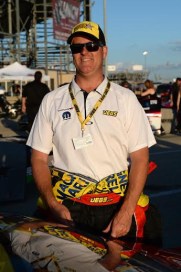 "Denver is a tough race for a lot of reasons," Coughlin said in an NHRA media release. "We've still got work to do on the performance side of things."
Second, Coughlin hopes to further improve upon his hopes to secure a place in the upcoming six-race Countdown to the Championship playoffs that begin six races from now, following the U.S. Nationals on Labor Day weekend in Indianapolis.
"We've got some strong races coming up with the Western Swing, Brainerd (Minn.), and Indianapolis, and we really need to be on our best behavior," Coughlin said.
But there's also good news heading into Denver.
"Our confidence is building in the engine shop, our confidence is building at the track," Coughlin said. "It's never too late for that to happen."
Coughlin comes into this weekend ninth in the Pro Stock standings. Admittedly, he's struggled through much of the season, as has his teammate, Erica Enders, who won the last two NHRA Pro Stock championships.
Much of the problem for both drivers has been adapting to a new fuel injection system in Pro Stock cars for 2016, so much so that if the Countdown were to start today, Enders would not qualify, as she is currently ranked one spot below the cutoff, in 11th place.
That's why it's important for both Coughlin and Enders to kick off the three-race "Western Swing" with strong outings in the rarified air of Denver.
"If there's ever a time to put our best foot forward, this is it," Coughlin said. "We're also looking at the start of the Western Swing, a pretty vital time to prepare for the Countdown to the Championship.
"The work put in by this Elite Motorsports crew has been phenomenal to see. There's little doubt these guys have an unparalleled passion for winning, and I can see why they won the last two championships with my teammate Erica Enders. We're still finding our way, but everyone knows it's time to mash the gas and make a move. We'll be ready."
Follow @JerryBonkowski