Rock group Van Halen had a big hit album with "5150," which – hard as it may seem to believe – was released 30 years ago.
Now there's another "5150" in the works that's ready to be released at this weekend's Mopar Mile-High NHRA Nationals at Bandimere Speedway in suburban Denver.
And NHRA Funny Car driver Ron Capps is ready to sing that tune.
Capps, who turned 51 on June 20, comes into Denver seeking perhaps the biggest milestone of his career: his 50th career Funny Car win.
Ergo, 5150.
And if he hits that number – whether at Denver or in the next several races – Capps is also seeking yet another milestone: No. 1, as he's never captured a NHRA Funny Car championship in his 20 years of racing in the class.
Could that first one be in the cards this year for the Don Schumacher Racing driver?
There's little question that the Carlsbad, California resident has been the hottest driver in the Funny Car ranks this season, having won four races in his NAPA Dodge Charger — including three wins and one runner-up in the last four races — and sits atop the points standings heading into Denver.
He's also the second-winningest driver in Funny Car history – which is celebrating its 50th year of competition in 2016 – behind 16-time champion and 143-race winner John Force.
Racing at Bandimere presents some tough challenges, starting with its altitude (5,800 feet above sea level). High altitudes rob engines of speed and horsepower.
But Capps predicts that given the way this season has gone for not only him, as well as the overall and ultracompetitive Funny Car category, we could see some potential track record times, including Funny Car runs under four seconds for the first time in Bandimere history.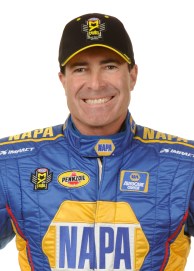 Capps took part in a recent NHRA teleconference previewing this weekend's race. Here are some excerpts of that interview:
Q: Have you ever had a stretch of races like these past five events?
CAPPS: "No. I've said it the past few weeks, there have been some really great race cars that I've gotten to drive and some really great crew chiefs in my career so far and at times I've had a car that you feel you could roll into the track and set low E.T. every round. But I've never had a car that was this consistently as good as we have been here with (crew chief) Rahn Tobler and the guys. You sometimes grow accustomed to watching from afar, maybe another team go on a hot streak. We saw with Del (Worsham) what he did in the Countdown (last year). We saw what (Jack Beckman crew chief) Jimmy Prock did starting in Sonoma last year. And you go back with what Snake (Don Prudhomme) did with the Army car.
"Certain cars at certain times just are dominant. When you stand back and look at it and you see every chance that car rolls up there it has a shot at setting low E. T. of that session. I'm not sure I can say I have had that in the past, or for as long as we have had this car. It is neat to be driving the Funny Car that is doing that. And on top of that the Funny Cars are so exciting right now, not just to watch but to drive. More than they ever been as far as I can tell you in my career."
Q: What is the morale of the team knowing they are part of the baddest Funny Car on the planet?
CAPPS: "It is funny. I get really nervous about the word dominant. You hear people throw that out the past few races about us. I get really nervous about it, it makes me cringe. I know from being on the other side of that, all the other Funny Car teams, that is just motivation. It has always been that way for me and my team. When we are on the other side of it and behind a little bit and we are trying to catch up to someone who has really hit their stride. That can be insulting at times for other teams. I'm very careful about it. One of the first things (former team owner) Roland Leong taught me is to treat the people on your way up the ladder the way you want to be treated on the way down. In this business, as most, it is going to be up and down the ladder. You want to make sure you don't say the wrong thing.
"But the thing is, I love the way our team was so disappointed in the way that we weren't the absolute quickest car of one or two of those rounds in Chicago. That shows me they are still hungry even though the car is as good as it is. But even more so, pulling around the staging lanes and being the last pair or one of the last pairs, and hearing on the radio and hearing the announcer announce, each run is a track record has been lowered and lowered. And sitting in the car knowing that I have got a really, really good chance at lowering that even more and taking the three qualifying points and possibly heading up to the press room as low qualifier at the end of the session. It is a great feeling and a little bit of you wants to hopefully have the same feeling later on in the Countdown. You don't want to use it all up right now but we are just trying to enjoy the moment."
Q: How tough is the Funny Car category this year?
CAPPS: "That is what it that more impressive from New England on. Every year we talk about the competitive nature of the Funny Car class and when you stand in Pomona and before Q1 at the beginning of the year and you look at the list of Funny Car entrants and you say, my gosh there are going to be more than ten wanting to make the Countdown. Which leaves out some big named, big sponsored teams that won't event make the Countdown – let alone who you are battling for a championship within the top ten.
"It is as competitive as it has ever been. It has left me speechless at times and you stand back and you say this is as competitive of a year I've ever seen in Funny Car. For us to be running as good as we have been and winning as we have been, it just impresses me more. I love the fact the guys, especially Tobler, that he has put in to get what we have got right now. It is neat to see that confidence but you certainly don't want that confidence you don't want that confidence to turn into cockiness at all.
"Everybody is staying pretty grounded and it is a tough thing to do. I got to tell you, there is a little bit of you that wants to hold your chest out a little bit and you have to have that nature and you strive to be as good as we are right now and yeah everybody is going to catch up and last week it showed. It is going to be tough down the stretch but you have to have a little bit of that swagger. I watched it last year and we battled down to the championship last year. Del and Prock and Beckman and those guys were running down the championship, throwing blows by blows. One would set lower, the other would come back and knock his time down and better it. You have to have that swagger and feel it but you don't want to rub it in peoples face."
Q: Have you started thinking about the championship yet or take it step by step?
CAPPS: "Every time with these last few wins and low qualifiers, when I'm up in the press room the championship word comes up. The only time it comes up in our vocabulary is when we spent Saturday in Chicago, we sacrificed E.T. a little bit and not getting low qualifier there and what Tobler did was he had to work in another clutch disk into our program to have our clutch the way it is and tune-up the way it is to last through the end of the year. Otherwise we were going to come up short.
"Anybody that doesn't understand that on a mechanical side, it is like taking a high end chef and taking away two or three of his master ingredients and telling him to go into a contest. You are at a disadvantage. We did that on Saturday and he was very happy. Now we feel much better, it was a big picture move where we had to sacrifice a little bit but now he has learned and we have plenty of clutch disks to run the end of the year. That is when we talked about the championship within our team, the word championship, we needed to make sure we could get through the Countdown which is obviously the most important part and have the same tune-up that we have now."
Q: In Chicago you hit 600 round wins. Can you wrap your head around that number yet?
CAPPS: "No. Everybody in the staging lanes was giving me a hard time about it. That is a lot of wins. Obviously I've been driving a Funny Car since 1997 with Snake, and that is a lot of round wins. It didn't hit me at first when they showed me that. I got back to the trailer and I was getting my fire suit off and I started think, you start counting in your head, that is a lot of round wins, that is impressive. It shows you the amount of talent that I have been around all this time.
"The depressing part of it is, and I don't know what the number is, but John Force's numbers will always seem to make any other Funny Car's drivers numbers pale in comparison. While for a second you feel pretty good and then you look where John Force is at, it sort of sets everything into perspective, being the winningest Funny Car driver ever. It sort of takes the sting away."
Q: How impressive would it be to continue the hot streak and sweep the Western Swing?
CAPPS: "We strive to do that and every team will tell you that. We almost pulled off the East Coast Swing. It is my home, coming through Sonoma, we ran pretty good last year in Denver. I don't think there has been a three second run Funny Car in Denver so I know that is going to happen. That is going to be quite exciting to see.
"We have a couple of goals, obliviously to sweep the swing is on the front of our lobes right now. But I got to tell you the stride that we are looking for is getting through there and Brainerd, and through Indy and keeping the points lead to have that bonus of 20 points going into the Countdown. That is the big goal of the NAPA team right now. I think if we can go and concentrate on each run and maybe win a couple of the west coast swing races we can keep that point lead."
Q: Do you definitely think we will see a three-second run in Denver?
CAPPS: "Yeah, without a doubt. Unfortunately we are going to be, we are first in points, so we are going to be the last pair of the first session, so we may not be the first to do it, but without a doubt, I would put everything in my bank account that the track record will fall the first day of qualifying and it will be three-second runs.
"We won't be the first since we won't be the first in line but there is going to be for the Denver fans this year a lot of the best Funny Car races that we are ever going to see. Going up there with the way these cars drive now, they are a bit of a handful with these new exhaust headers but I for sure see the cars incrementally move early it will put them in the three second zone. It will make them without the downforce we are used to it will make them more of a handful and more fun. It will put a lot back in the driver's seat and I think the fans will love to more than ever."
Follow @JerryBonkowski