The benchmark for North American sports car racing teams this century, arguably, has been Corvette Racing.
And on Saturday, the Corvette Racing team hit the century-win landmark.
A 1-2 finish led by longtime Corvette Racing stalwart Oliver Gavin, the winningest driver in Corvette Racing history, and newish recruit Tommy Milner, now in his sixth season of the team, occurred during the IMSA WeatherTech SportsCar Championship's Northeast Grand Prix at Lime Rock.
"It is pretty amazing to get the 100th," Gavin said. "We have had some great wins this year.  When you look at Daytona, that was phenomenal; Sebring too. Our Le Mans win last year. But to get the 100th is pretty special. I have to thank the team and everybody involved.  I have had a few of the wins with the team, but I have to say this is a pretty special one. To fight off the No. 67 car and having our teammates on the podium. It is pretty special for everyone at Corvette Racing!"
"I feel very lucky to say I was in the car that got the 100th win for this team, but you think about all the people that have worked on this team; all of the drivers; the crew, the marketing and PR people, everybody that have contributed to this, I just feel fortunate to be a part of that. It is good to get that monkey off of our back. It was a small monkey, but it was lingering," Milner added.
The pair of Corvette C7.Rs have soldiered on despite being hampered by certain Balance of Performance adjustments – most noticeably at this year's 24 Hours of Le Mans – and returned to the top step of the podium on Saturday following great drives from all four of the team's drivers. Besides Gavin and Milner up front in the No. 4 car, the "King of Spain" Antonio Garcia and Jan Magnussen also scythed through the field to end second in the sister No. 3 car.
Corvette Racing first and foremost is a team though, and while it's program manager Doug Fehan who has always been front-and-center for the Pratt & Miller outfit, the team's crew is a huge reason why it has achieved the success it has since 1999.
"If you're going to win your 100th race, you may as well do it with a 1-2 finish," Fehan said after the race on Saturday.
"We never diminish the input the engineers have in giving the team great Corvettes, and the crew today just had  absolutely terrific pit stops. But today, this one goes to the drivers. On this race track and in these conditions, those guys brought it home. I'm tipping my hat to the drivers today."
Added Jim Campbell, Chevrolet U.S. Vice President, Performance Vehicles and Motorsports, "Achieving 100 victories is a tremendous accomplishment for Corvette Racing. It's a testament to the dedication of all the crew members, engineers, drivers and our engine team members over the past 17 years. We certainly couldn't have achieved this milestone without the support of our partners at Pratt & Miller, Mobil 1 and Michelin. Everyone with Corvette Racing operates as one team and embodies the competitive spirit of Chevrolet. We're happy to share this success with our passionate Corvette owners and supporters."
Here's a great salute from the FIA World Endurance Championship paddock, from DailySportsCar editor Graham Goodwin.
—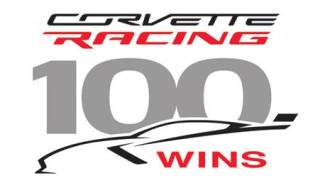 From a team release, here's the breakdown of wins:
The Corvette Racing team made its first start Jan. 31, 1999 at Daytona. Since that time, the program has claimed championships and victories on endurance racing's most prominent stages:
Ten manufacturer and team championships in the American Le Mans Series, plus nine driver titles
Eight class wins at the 24 Hours of Le Mans
Three wins in the Rolex 24 including an overall victory in 2001
Ten class wins at the Mobil 1 Twelve Hours of Sebring
Corvette Racing also claimed endurance racing's Triple Crown in 2015 with wins at Daytona, Sebring and Le Mans. It was the first team in 15 years to accomplish the feat.
The tally of Corvette Racing victories spans a number of different series. In addition to its record at Le Mans, Corvette Racing has nine wins in the WeatherTech (formerly TUDOR) SportsCar Championship, 82 in the American Le Mans Series (a record for entrants) and one in the GRAND-AM Rolex Sports Car Series.
—
Here's a recap video and congratulatory message from Corvette Racing's longtime tire technical partner, Michelin:
"We are pleased that since Corvette Racing switched to Michelin for the 2004 racing season, the last 75 wins have been with us," said Ken Payne, technical director motorsports, Michelin North America.
"We want to congratulate our friends at Chevrolet, GM Motorsports, Pratt & Miller, and the entire Corvette Racing teams and drivers on this milestone win."
—
Here's a congratulatory message from longtime oil partner Mobil 1:
—
And here's a list of all the past wins, via Autoweek.
The driver breakdown of past winners, by number of wins, is as follows:
Oliver Gavin (47; 2002-3, 2003-2, 2004-5, 2005-7, 2006-5, 2007-9, 2008-3, 2009-1, 2010-1, 2011-1, 2012-4, 2013-2, 2015-1, 2016-3)
Johnny O'Connell (41; 2001-7, 2002-8, 2003-3, 2004-5, 2005-3, 2006-1, 2007-3, 2008-8, 2009-3)
Olivier Beretta (31; 2004-5, 2005-7, 2006-5, 2007-9, 2008-3, 2009-1, 2011-1)
Ron Fellows (30; 2000-1, 2001-7, 2002-8, 2003-3, 2004-5, 2005-3, 2006-1, 2008-2)
Jan Magnussen (30; 2004-2, 2005-2, 2006-2, 2007-3, 2008-8, 2009-3, 2010-1, 2011-1, 2013-3, 2014-3, 2015-2)
Antonio Garcia (11; 2009-2, 2011-1, 2013-3, 2014-3, 2015-2)
Tommy Milner (11; 2011-1, 2012-4, 2013-2, 2015-1, 2016-3)
Kelly Collins (6; 2000-1, 2001-1, 2002-2, 2003, 2)
Andy Pilgrim (5; 2000-2, 2001-1, 2002-2)
Franck Freon (4; 2000-1, 2001-2, 2003-1)
Max Papis (3; 2004-1, 2007-2)
Ryan Briscoe (2; 2015)
Marcel Fassler (2; 2016)
Chris Kniefel (1; 2001)
Scott Pruett (1; 2001)
Emmanuel Collard (1; 2010)
Richard Westbrook (1; 2013)
Jordan Taylor (1; 2015)