CJ Wilson Racing and the Chicago Blackhawks charities have come together for a partnership going into the next round of the Continental Tire SportsCar Challenge season at Road America.
A release from CJWR explaining said partnership is below:
—
The CJ Wilson Automotive Group and CJ Wilson Racing today announced a partnership with the Chicago Blackhawks, who will become the primary sponsor of the race team's #35 Porsche Cayman GT4 Clubsport for the IMSA Continental Tire SportsCar Challenge event at Road America. The car will compete in the colors of the Chicago Blackhawks Charities.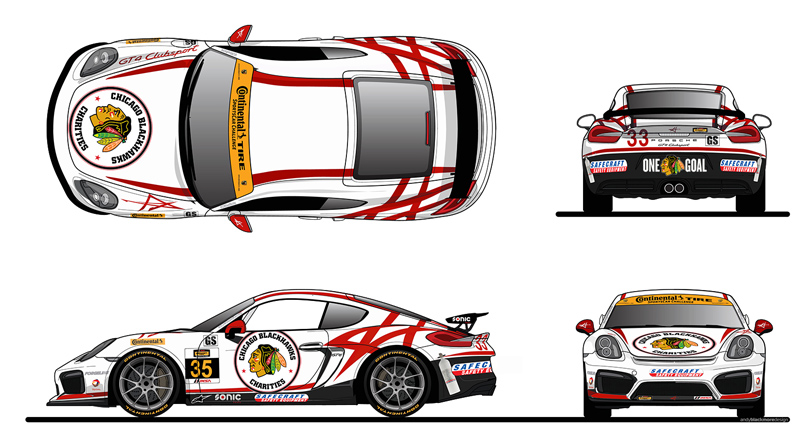 The partnership will officially launch at the United Center on Wednesday, August 3, from 11 a.m. until 1 p.m in advance of Saturday's race. Fans will have the opportunity to get up close to the car, meet the drivers and Blackhawks Ambassador Denis Savard, and have their picture taken. Attendees can make a voluntary donation to Chicago Blackhawks Charities and one family from Bear Necessities Pediatric Cancer Foundation will be invited to the race itself as the special guests of CJ Wilson Racing.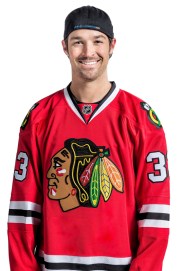 Automotive Group and race team President, CJ Wilson, is excited about this unique partnership. "This is the first real opportunity for our team to partner with one of the 'big four' professional sports and create some crossover with professional racing."
The two-time MLB All-Star went on to explain that "from a competitive standpoint we look forward to every race. We have taken a significant step up, moving from the ST level to GS and we are continuing to take further steps away from the track to expand our reach and our influence. Having the car available to Blackhawks fans at the United Center is really neat and is one of the elements of this partnership that has really excited us. Being able to show off these amazing machines in a non-traditional setting really shows people the commitment we have as an organization and hopefully gives them a better understanding of just how accessible our sport is."
"It is great to be able to include the race team into our long-standing community-based charitable work and our ongoing efforts to give back to local Chicagoland initiatives," added Eric Vates, Vice President of CJ Wilson Mazda. "It is exciting for the CJ Wilson Automotive Group to have the opportunity to incorporate our race team with one of our premier partners, the Chicago Blackhawks," added Vates.
Fans can meet the drivers and Blackhawks Ambassador Denis Savard and get up close to the CJ Wilson Racing Chicago Blackhawks Charities Porsche at the United Center on Wednesday August 3, from 11 a.m. until 1 p.m. in Lot C (located on Warren Blvd. between Damen Ave. and Wood St.). The seventh round of the IMSA Continental Tire SportsCar Challenge will take place at Road America, Wisconsin on Saturday, August 6, at 11:35 a.m.