One of the MS Amlin Andretti FIA Formula E Championship drivers, Robin Frijns, had his first day in an IndyCar last week at the Mid-Ohio Sports Car Course.
Next month, all three of the team's Indy Lights Presented by Cooper Tires drivers will have their first days in an IndyCar on August 11 at Watkins Glen International.
Dean Stoneman, Dalton Kellett and Shelby Blackstock will step into the No. 28 DHL Honda, No. 26 Andretti Autosport Honda and No. 27 Snapple Honda cars, respectively, for the test. The trio will share with the team's full-season drivers, Ryan Hunter-Reay, Carlos Munoz and Marco Andretti, while Alexander Rossi will have a full day in the No. 98 Castrol Edge/Curb Honda after also completing a Firestone test there in June.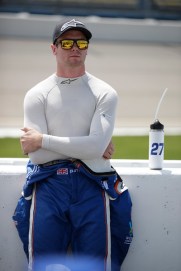 Stoneman, who seems determined to graduate into the Verizon IndyCar Series in 2017, looks forward to now having an IndyCar outing to join his Formula 1 test for Williams.
"Can't wait to get into Ryan's car for the IndyCar test at Watkins Glen. To be there testing at an iconic US circuit will be great." Stoneman said. "I have been watching the big guys all season so I'm going to enjoy finally testing one.
"I came to Indy Lights with a view of moving up to IndyCar, which has always been the goal that I'm working on for 2017, so the test will give everybody some indication of my ability. In 2010 I was invited to test Williams F1 car in Abu Dhabi and seemed to really impress everyone, so I'm hoping we can do the same sort of job with Andretti as I look to next year."
Mazda Road to Indy veterans Blackstock and Kellett, meanwhile, will reach the pinnacle of the ladder with their first IndyCar test days. Blackstock has track experience of Watkins Glen in sports cars, albeit not on the repaved surface.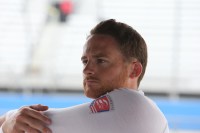 "I have a lot of history at Watkins Glen and it brings back a lot of great memories just saying the name," said Blackstock. "Seven years ago I went to The Glen as part of the Jim Click's Mustang Challenge team as a crew member. It was the first road course race I had ever been to and it was an eye opener. I did every job possible on the team in one weekend, but that's where my journey at The Glen (and in racing) started.
"Over the years, I've been a crew member, raced Skip Barber and CTSCC (Continental Tire Sports Car Challenge) there and now several years later after entering the track for the first time, I finally get to do my first Indy car test there. Words can't describe how excited I am for this opportunity to finally get to drive my dream car. This is my fifth year at Andretti Autosport after completing the entire MRTI (Mazda Road To Indy) program with them and now finally getting to test one of their Indy cars! I can't thank Michael and Andretti Autosport enough for giving me this opportunity and I can't wait to get on track!"
Kellett added, "I am extremely excited for my first Indy car test and I am very grateful to do so with Andretti Autosport. There are going to be differences between the Indy Lights car and the Indy car for me to adapt to. I expect the biggest adjustments will be getting used to the braking and cornering performance.
"The Indy car is going to be much more physically demanding, but I have been training hard and I feel like I am prepared. I'm also looking forward to learning the pit procedures and feeling the increase in power. I haven't raced or tested at The Glen so this will be a complete learning experience for me, with a new car and new track. I am happy to be able to learn from and work with Andretti Autosport for this amazing opportunity."