One of the hardest parts to explain to people that aren't racing junkies is that once you take the helmet off of drivers, they can often be personalities.
Yet one of the best ways companies can peel back the layer of these helmet warriors is to activate – and for most of its lifespan in the Verizon IndyCar Series, no company did that better than Target.
Which is why today's news that Target is leaving IndyCar after 27 years leaves a simply giant void that no company will be able to fill – at least not immediately.
In the era of opulence in North American open-wheel racing, when activation was everywhere from retail companies, to cigarettes, to car manufacturers, it was as much a battle off track as it was on track.
You didn't just have to have a superior product on-track, and that often depended on whether you had the right "package" of chassis, engines and tires.
No, you also had to showcase your drivers in commercials, stores or print advertisements in any way you could.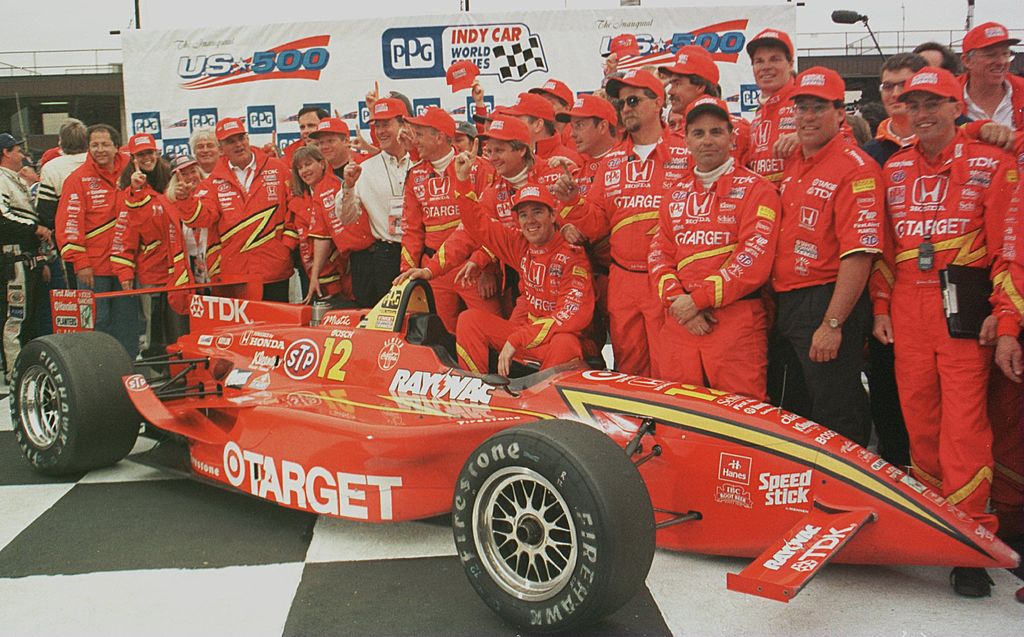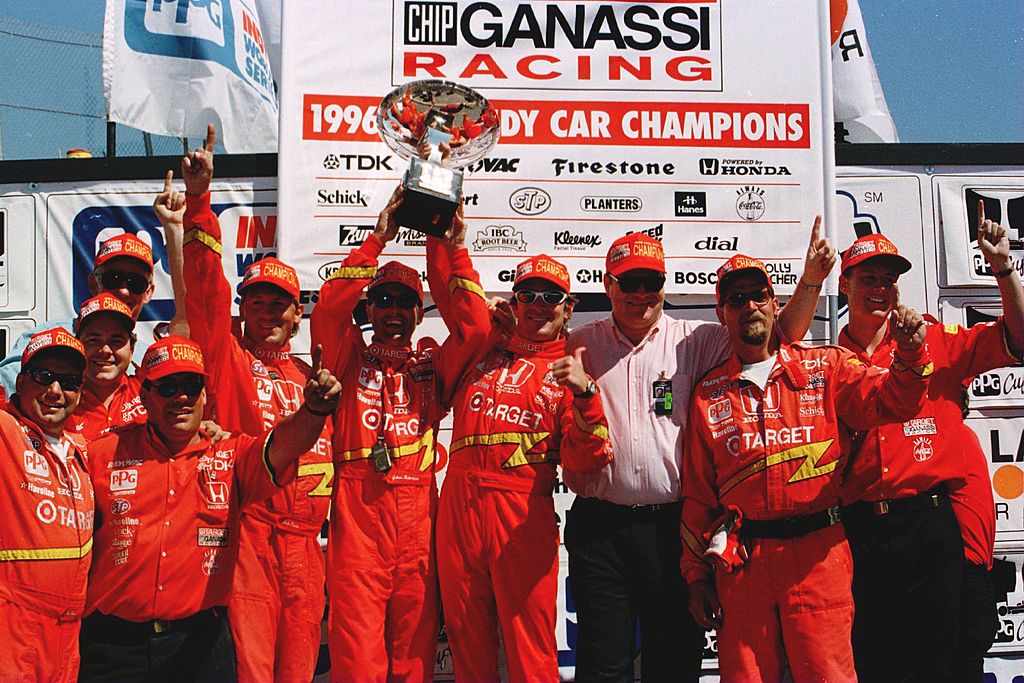 And for about a four-year period from 1996 (the year of Ganassi's first title and the split) through 1999 – my formative years as a racing fan that eventually helped lead me into the role I have today – no company did that better than Target.
Yes, there were the Andrettis selling you Texaco and Havoline for your car, but when you're 6 or 7 years old, you're not exactly thinking about oil changes. Yet, anyway. Same with Shell (Team Rahal) and Pennzoil (Jim Hall Racing).
Cigarettes? I knew the Marlboro Team Penske cars looked cool, but I also knew I never wanted to have anything to do with smoking one of those bad boys. Same goes for Player's despite their cool blue cars, Hollywood and its eye-popping multicolor scheme featuring Brazilian drivers, and eventually, the Team KOOL Green cars.
Beer? Despite being a connoisseur now, again, when you're 6 or 7, you're not thinking about chugging Miller Lite or Budweiser. And as an informed beer drinker who prefers craft and microbreweries anyway, you're still not thinking about drinking either product.  I do miss the old Budweiser frogs and lizards, though…
Telecommunications? LCI and MCI were on cars before cell phones had even taken off.
Other B2B-type sponsorships – the Hogan Truck Leasing, Alumax Aluminum and the like – didn't make sense to me at the time although those type sponsorships are the ones that are commonplace today.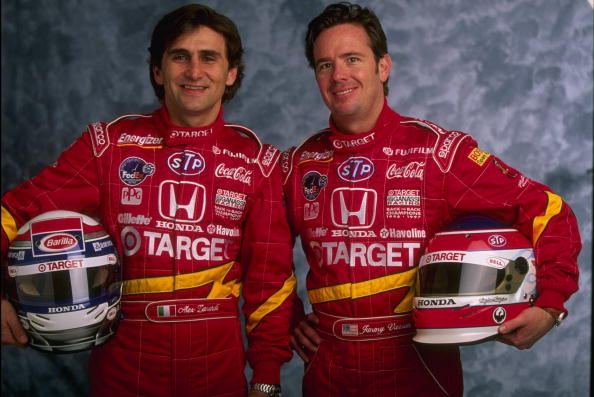 So almost by process of elimination but also through the series of engaging, often humorous and mega TV spots, I discovered Target – by way of Jimmy Vasser and Alex Zanardi.
It was engaging. It was relatable. And it was reliable.
The banter these two had – whether it was joking about picture sizes, racing motorhomes around Gateway, introducing flags or Zanardi explaining how he "passed" his driver's test – was unparalleled and served as a perfect compendium to the races I was watching.
"Look," younger me thought as I'm watching the CART race from wherever it was that weekend, say a Detroit, Portland, Cleveland, Toronto or Road America. "Here's the guys I'm watching on the TV, and now they're joking with each other in the commercials breaks. I like these guys!"
As my Dad and I headed to races on the West Coast like Fontana (now Auto Club Speedway) and Long Beach, the goal was simple: buy Target-branded merchandise and root for the Target cars during the race.
That made it a damn sight unfortunate when after Zanardi had clinched his 1997 CART title, his first of two in a row, my Dad had purchased a "Donuts, not just for breakfast!" T-shirt that weekend to pay tribute to Zanardi's winning trademark. Except Zanardi got hurt during the weekend in a practice crash and didn't even get to race!
Arie Luyendyk got drafted in last-minute and the "flying Dutchman," the two-time Indianapolis 500 champion and current INDYCAR Race Steward, got taken out by Arnd Meier in the race.
But my quest to meet Zanardi would not go unfulfilled. At Long Beach, 1998, I'm now 8 and I've staked out the Target paddock – autograph achieved. Zanardi then promptly delivered one of his best wins ever, coming back from a lap down to win the race, after making another move on the guy he always seemed to make incredible moves on – Bryan Herta. A then-unheralded Dario Franchitti scored his first career podium that day too, in second…
That day, I saw my favorite driver growing up finally do those donuts.
When Juan Pablo Montoya entered in 1999, the change was notable. And Montoya – who I've been fortunate enough to get to know much better now in covering the series full-time – was a different force then.
He was – and still is – a ridiculously focused driver with surreal car control. But he wasn't the same as Zanardi outside of the cockpit, and despite the infamous/famous Vasser and Montoya "snipe!" ad they put together, there never felt the same bonding to me growing up.
The Target drawdown in TV ads began about 2000, when Ganassi's fortunes began to shift as a team.
The previously dominant Reynard/Honda/Firestone package was tossed aside for Lolas and Toyotas. Gone were Vasser and Montoya, and in were the then unknown Bruno Junqueira, Nicolas Minassian and Memo Gidley. Kenny Brack and Scott Dixon joined in 2002. The team switched series in 2003, and despite Dixon winning the 2003 Indy Racing League title, there was never the feel that Target had the same motivation for activation.
Yet even through those rough Toyota years of 2004 and 2005 – Dixon recently recalled to me at Iowa that in 2005 at Milwaukee, they wrote off several cars and driver Darren Manning got canned – Target endured.
Target has continued with Ganassi through open-wheel's rough patches, as noted above. They were always on par with Marlboro as one of the two most well-known sponsors in the sport through the needed open-wheel merger of 2008, and became the pre-eminent sponsor in the sport when new tobacco restrictions forced Marlboro colors off the Team Penske cars at the end of 2009.
Target continued. Still. And from 2008 to 2011, they won four titles in a row – again – a feat they did together from 1996 to 1999.
And yet now, when it feels as though IndyCar racing is back on something of an upswing, with Dixon and Ganassi serving as ambassadors for the company because you know every single race that Dixon is a threat to win as one of the greatest drivers of his generation, is when Target pulls the plug, owing to a change at the top of the company.
Signs have been evident and building, though, that this day would eventually come.
Target scaled back from two cars to one in the last couple years, and then this year they brought back the famous "lightning bolt" at the start of this year. Yes, it pays tribute to the past but in hindsight, it felt like a move that signaled the beginning of the end.
The departure comes because the new people in charge of overseeing the marketing programs don't see the ROI and value in IndyCar racing today, plain and simple.
And despite recent small upticks in TV numbers the last two or three years, this is a legacy departure that comes as a result of the 12-year split through 2008 and the lack of value that has persisted in the interim years, especially in comparison to NASCAR.
The NASCAR sponsorship continues for one more year at least anyway because even though Kyle Larson usually finishes in the teens and 20s, he's being seen by 5 million people – as was witnessed with Sunday's Brickyard 400 – whereas IndyCar fans are pleased if a cable broadcast today can reach 500,000-plus. Dixon wins races, Larson wins eyeballs.
Here's where this really stings: in appealing to my generation – the 20- or 30-somethings who maybe got hooked on racing, like me, in the 1990s, who have only known IndyCar racing with Target Ganassi entries.
We grew up with Target Ganassi cars as part of our identity, as something to root for, as something to get behind.
We knew that through thick and thin, whatever construct North American open-wheel racing would be, we knew there'd be at least one, but usually two, Target Chip Ganassi Racing entries.
Dixon and Ganassi will continue but without the company that's served them both the longest.
It's more than just a void on the sidepods that needs to be filled.
St. Pete 2017 is gonna be weird.