The Mid-Ohio Sports Car Course serves as the second-to-last weekend for the first two rungs on the Mazda Road to Indy ladder and the second-to-last doubleheader weekend for the top one.
In simplest terms, each of the seven races at the 2.258-mile road course will be pivotal for the respective championship chases, and will likely play a key role in who wins the Mazda advancement scholarships for the following year.
Here's what's ahead for the Indy Lights Presented by Cooper Tires, Pro Mazda Championship Presented by Cooper Tires and Cooper Tires USF2000 Championship Powered by Mazda championships:
—
INDY LIGHTS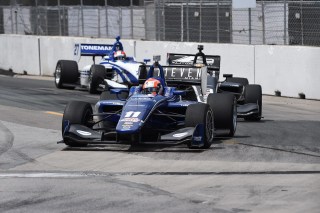 None of the three primary title protagonists – Ed Jones (Carlin), Dean Stoneman (Andretti Autosport) and Santiago Urrutia (Schmidt Peterson Motorsports) – had a banner weekend in Toronto and Stoneman was the one who drew the shortest end of the stick with a mechanical issue sidelining him before the second race even started.
Meanwhile in the second tier of title contenders, Kyle Kaiser reasserted himself as a still-in-the-frame driver after a pair of third place finishes on the streets of Toronto. Finishes of second and 10th (Felix Serralles) and ninth and sixth (Zach Veach) didn't truly help either of them, although Serralles moved up on the heels of Stoneman's DNS.
With Felix Rosenqvist not racing this weekend as he's at the Total 24 Hours of Spa, after dominating the Toronto doubleheader, the win chances are reopened for one of the remaining drivers in the field.
The top six – Jones, Urrutia, Serralles, Kaiser, Stoneman and Veach – are separated by just 47 points with five races remaining, including two this weekend.
These two races last year were the definition of chaotic and controversial with Jones and then-title rival Jack Harvey (Schmidt Peterson) having their coming together and Spencer Pigot (Juncos) avoiding the controversy and coming out cleaner from a points standpoint. Meanwhile RC Enerson (Schmidt Peterson) and Sean Rayhall (8Star Motorsports) won the two races.
Neither Enerson nor Rayhall is back this year but in the "they could they be a first-time winner" file, respective replacement drivers Andre Negrao (Schmidt Peterson) and Garett Grist (Team Pelfrey).
Grist is a past Mid-Ohio winner (in both Pro Mazda and USF2000) and has five poles at the track, including both Pro Mazda races last year.
Negrao, who was on the podium again in Toronto, seems closer than ever to his first win this year.
Neil Alberico – who's had a nightmare season in terms of mechanical failures with Carlin – is also a past Mid-Ohio winner in Pro Mazda along with Urrutia, as the pair split the wins last year. In a year where nothing's gone right for Alberico, on the heels of a decent Toronto weekend and a recent trip to Carlin's UK headquarters, this could be the weekend when things come right.
Shelby Blackstock has also podiumed at Mid-Ohio before – he did so last year in Indy Lights and has in Pro Mazda as well – and if Andretti Autosport's road course setup is better than its street course one he could be a sleeper.
Dalton Kellett and Zachary Claman De Melo, who tested an IndyCar last week at the track, round out the reduced 12-car field, a season-low. Rosenqvist is absent owing to his European commitments while Juan Piedrahita, a several-year Mazda Road to Indy veteran, has withdrawn his entry from Team Pelfrey.
—
PRO MAZDA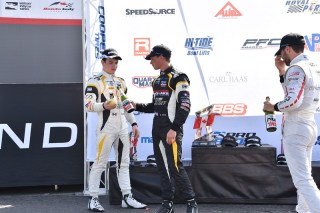 Only once this year has the Pro Mazda weekend featured split wins – the season opener at St. Petersburg when Pato O'Ward and Aaron Telitz won the pair of races.
Since, O'Ward and Telitz have gone on respective weekend runs of their own. O'Ward did the business at Barber, the Indianapolis road course and the lone oval at Lucas Oil Raceway for five in a row with Telitz now on a four in a row run after sweeps at Road America and Toronto (blog on it here for Team USA Scholarship website).
Fittingly, the Team Pelfrey teammates enter this weekend tied on 297 points, although O'Ward has six wins to Telitz's five. Simply put, whoever emerges ahead here emerges ahead in the title run in the penultimate weekend of the year.
There's also a tie for third between Nico Jamin and Will Owen on 207 points, Jamin having finally hit the sweet spot on setup with three straight podium finishes. At a track where he swept all three USF2000 races last year, Jamin could be well poised to win his first Pro Mazda race and break the Pelfrey perfection from the first 11 races.
Owen's Juncos Racing teammates Jake Parsons and Nico Dapero are then only split by seven points for fifth (177-170). Parsons needs a clean weekend after two accidents in Toronto.
Both Pro Mazda races are Saturday at Mid-Ohio, one in the morning and one to close the day's activities.
—
USF2000
After a few weekends where it appeared his Cape Motorsports with Wayne Taylor Racing teammate Anthony Martin (No. 8) held the edge, Parker Thompson (No. 2) regained the momentum on the heels of a third place and then a home country win in Toronto on Sunday, while Martin soldiered on despite a hand injury.
Thompson now holds a 20-point lead (270-250) heading into the Mid-Ohio tripleheader, at a place both drivers raced at but didn't podium last year. All of Telitz, Jamin and Jake Eidson locked out the podium – Jamin winning all three races.
At 42 points back (228), ArmsUp Motorsports' Victor Franzoni is about the only other driver in with a realistic title shot with five races remaining. But he'd need a Jamin-like Mid-Ohio weekend sweep to realistically account for that deficit, and/or have to hope for both Thompson and Martin to hit trouble. It's not impossible, but it's not entirely likely either.
Elsewhere in the 22-car grid, it'll be interesting to see the respective fortunes at Pabst Racing and John Cummiskey Racing this weekend. Jordan Lloyd made it to second in race one in Toronto in a familiar car – his 2015 JCR chassis – following a deal reached between the two teams to run it after his own crash in his own car in practice.
The situation was made easier by the fact Ayla Agren wasn't in Toronto, and thus her car was available.
With Agren making a welcome return this weekend though alongside Lucas Kohl, the question becomes which car goes where in a case of musical cars. Lloyd and Garth Rickards both had incidents in Toronto; Rickards, in particular, is owed a trouble-free weekend without issues. Meanwhile Yufeng Luo, the third member of Pabst's trio, has been steady if unspectacular with fifth to ninth place finishes in six of the last seven races.
Luo is only one point ahead of Robert Megennis, the 16-year-old rookie out of New York who's been dynamite this year on a one-car Team Pelfrey. Coming from 18th to fifth in Toronto, and keeping the car clean all weekend on the menacing street course, is no small feat. Those two sit behind Luke Gabin, fifth in points, still in search of his first win.
Elsewhere on the grid, Team USA Scholarship winners Dakota Dickerson (Mazda scholarship driver) and Michai Stephens have started to find their form of late – fourth and ninth last time out in Toronto marked both drivers' best results this year. Jordan Cane is also looking for his first top-five since switching to Cape, and either he or Nikita Lastochkin could essentially knock Franzoni out of the title chase if they get ahead of the lead ArmsUp driver.
The USF2000 field has one race apiece on Friday, Saturday and Sunday.