Red Bull Global Rallycross is now at the halfway point of its 2016 season. Originally scheduled for 12 races, the season drops by one to 11 following the cancellation of the second MCAS New River event.
We checked in with NBCSN analyst Anders Krohn, who plays a color role for Red Bull GRC Supercars and GRC Lites races, for his take on how the year has gone thus far:
—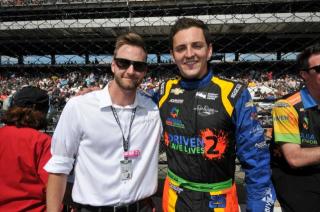 MST: The Volkswagen Andretti Rallycross team has come out even stronger to kick off 2016. How impressive has their start been to witness?
Anders Krohn: "Though they've been impressive, it hasn't come as a surprise considering the pace and consistency they had towards the end of last year. I actually think a lot of people expected them to dominate even more than they have so far. With that said, when they have a trouble free run, nobody can really challenge."
Tanner Foust and Scott Speed clearly gel as teammates and have a strong relationship. Do you think it will be tested at all if it is super close between them in a battle for the championship down the stretch?
"It's bound to get intense as the season carries on if they continue being as close as they've been all year. Not sure it'll be a Nico Rosberg and Lewis Hamilton situation, but it should be very interesting to watch the complexity between the pair. All I know is I've got my bucket of popcorn ready, because it could be a good one."
Would you agree Steve Arpin and Chip Ganassi Rallycross have been the pleasant surprises of the season? What has that team done to make the key strides they have thus far this year?
"They have indeed been a pleasant surprise, but a needed one for sure. With a year under their belt in GRC, Chip Ganassi Racing will be expecting the wins to start racking up, and Steve has enough experience by now. Last year he was solid, if a little anonymous. He needs to keep up the aggressive moves early on in the races to stand a chance against the might of the Germans."
Have the new Hondas been about where you thought they'd be, ahead of where you thought they'd be, or behind at this juncture?
"They started the year way ahead of where I expected them to be, but the development hasn't been quick enough. They're still quite a ways too heavy so until they get closer in this area, it could be tough going for them. Their strong suit is how good they are off the line with the long wheelbase and what appears to be a very nice, progressive torque curve. Now they need some less body roll to look more like the VW's in the twisties."
Patrik Sandell and Herta's team got the win in Dallas. But they haven't had the luck. Do you think they can bounce back?
"For their sake, I hope so. They're sort of the small team fighting against the big dogs, so it's always nice (and needed) to see them do well. I've said it before and I'll say it again, Patrik is a ridiculously talented driver and given the right machinery, he can win in almost any category with four wheels. Herta's done a great job with the resources/equipment they have. If only Ford were to step in with a crack factory outfit they'd be tough to beat I reckon."
What do you make of the other team seasons thus far (Ward/SH Rallycross, Dyne/AD Racing, Millen/Subarus)?
"The Ward/SH Rallycross combo has probably been the letdown thus far. I'm assuming that's why they've elected to put Piquet in the car for this weekend, to see if it's the driver or the car lacking. Having talked to Sulli several times, they didn't skimp on resources when it came to rebuilding the car in the off-season, and considering the pace Ward showed in his limited program with CGR, I think everyone (myself included) expected them to be at the sharp end of the field.
"I think Austin Dyne has been massively hampered by not having a teammate this year. Last year, using Sandell's data, he progressively got stronger and stronger, but this year has been a big struggle. If they get their second car up and running with an experienced shoe in it, the whole team should be able to push forward.
"Millen is just a wheelman. His chassis is from 2002, engine is from the late 1930's (kidding, maybe) but he's still not that far off pace. Just look at practice times when it comes to learning new tracks, he's always right up there. Maybe we should put together a letter to Hyundai asking to start ponying up with Rhys again.
"Subaru has done tons of test miles, but close to no race mileage so far this year. The program looks to be a lot further ahead compared to last year, but they would have benefitted from being on the grid from the drop of the green in Phoenix."
With three of the first four weekends planned doubleheader weekends, and the next several weekends intended to be single races, how much easier do you think the single weekends are for teams with only one race focus as opposed to the doubles where there's often long tear downs and repairs in between races?
"The double-headers are BRUTAL. ALL CAPS. The GRC crew guys work harder on race weekends than any other crews I've seen. Every single session the cars are torn up and the double headers makes it really tough if you have a cracked/bent chassis to be ready in a proper manner for the second day of racing. The one-race weekends also makes the climax of that race a little more special in my opinion, so that's what I prefer."
What was your favorite race to call this year? I know you weren't at New River but it was gnarly!
"New River looked absolutely amazing. T-Bell, Toby and Kristen did a heck of a job with that one under the nastiest of circumstances. Outside of that, Dallas was pretty special because we all expected VW to run away with everything this year, and then Sandell/Herta/Ford proved that with right timing, a little luck and perseverance you can make it happen. It opened up the championship and made us realize that there's more than two horses in the race.
Who are some of the stars you could see emerging out of GRC Lites, in what seems to be a deep field there this year?
"I could write a novel on this, but neither you, TDZ, nor any of the readers would have the patience to read through it! Long story short, GRC Lites has the most competitive field we've ever seen and there's at least a handful, if not more, drivers I can easily see moving up to Supercars and doing well. The Lites action has been fantastic all year long and the championship battle is really heating up."