LEXINGTON, Ohio – Dale Coyne Racing can afford to chalk up the Honda Indy 200 weekend as a pretty good one for its team with its pair of young, hungry American drivers.
Much like Conor Daly delivered arguably the best 17th place finish in recent memory at Long Beach in 2015, RC Enerson turned in arguably the best 19th place result in recent times on Sunday.
Meanwhile Daly, who'd had a tough weekend by comparison to the Verizon IndyCar Series debutante who was taking up reins as the third different driver of the No. 19 Dale Coyne Racing Honda this year (Luca Filippi, Gabby Chaves), wound up nailing his strategy in his No. 18 Jonathan Byrd's Hospitality Honda and using excellent late race pace courtesy of a brake bias adjustment to bank another top-10 result in sixth.
For Daly, considering his U.S. junior series experience, it seemed surprising to note that Sunday marked his Mid-Ohio race debut.
Both drivers moved into the top 11 after pitting prior to the first caution on Lap 16, when Scott Dixon and Helio Castroneves collided going into the Keyhole.
By Lap 27, Daly and Enerson were running sixth and seventh. Daly pitted for a second time on Lap 36 (first stop was Lap 9) and Enerson uncorked a flier on Lap 37, 1:05.7385 around the 2.258-mile road course, which stood for that moment as the fastest race lap and held as the third fastest lap of the race.
Sadly for Enerson, the lap was almost too fast. He pitted on Lap 38 and his race went downhill from there – the combination of a fuel meter error coupled with an aggressive pit call ruined his race. Having lost fuel pressure in pit lane, the crew had issues restarting the car and the 19-year-old wound up 21st, two laps down following his lengthy stop.
So that took him out of the running even though he eventually got one of those two laps back, and ended as noted in 19th.
Shifting to Daly, his strategy got compromised as early pit stop occurred on Lap 57 due to a flat spotted tire. The early stop meant that Daly was about seven laps short of making it to finish, barring a long caution period.
Daly picked up the lead on Lap 63, under a full course caution for Jack Hawksworth going off course at Turn 1. Following the restart, knowing that he didn't have enough fuel to make it to the end, he built a gap of nearly 10 seconds before entering pit lane for a splash of fuel with five laps remaining.
The American exited the pits in ninth place and took the checkered flag in sixth, his third sixth place finish this season.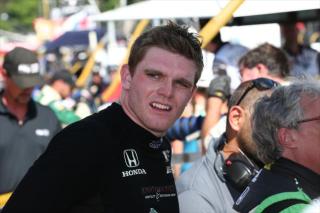 "Yeah, man, even during the race, it was going horribly," Daly told NBC Sports post-race. "We took the start real easily and from the start we called a no-start and all of a sudden I was way behind. I thought we weren't starting. I just figured out the car in the middle of the race. All it took was rear brake bias. We kept locking up the front so easily and I just go sailing off. And even during the race, I'd just go sailing off again. But as soon as I sorted the brake bias, the car was amazing. It was beautiful.
"We were like seven laps short," he added. "It's worked out for us in the past, a short fill and stay on the same tires. We pulled a really good gap so we thought why not just keep going. I just tried to nail every single lap. I think we had a good enough car to kind of stay up front and pull the gap we needed. I think sixth was probably as good as we could have done in that scenario. I was just happy to pull away and to lead a stint like that. These guys kept the faith in me because I had driven the car off-course all weekend. I'm just glad we could have a good finish and end up the weekend."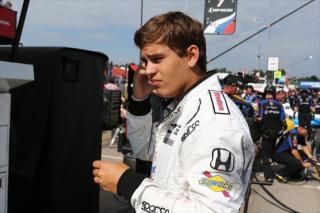 Enerson, who'd had a massively impressive Friday and was probably unlucky to only qualify 18th – he had the pace on the first set of Firestone red tires in Q1 before traffic and a mistake resigned him to ninth in his group – was perhaps disappointed with 19th because generally speaking he was in the seventh to 12th range most of the weekend, and a finish in that ballpark was possible.
"Yeah, we had a good stop on the first one and we were just one lap too short, I had the low fuel pop on coming out of Turn 1," he told NBC Sports post-race. "Didn't quite make it around, but we made it in, got it refired and was only two laps down and we were able to get one (lap) back. We were kind of hoping for another yellow to see if we could get another lap back, but that's how it goes.
"For my debut, it couldn't really have gone any better. Of course, we'd have liked to have finished further up, but we were turning quick times, had a strong car and we just need to execute it better."
Although he isn't confirmed yet, the 19-year-old's performance this weekend will have gone a long way to raising the chances we'll see him back in the No. 19 car for the Watkins Glen and Sonoma races. Chaves will resume at Texas and so it leaves Pocono the remaining question mark for "who's TBA."