One of the star qualifiers in the Continental Tire SportsCar Challenge, Justin Piscitell, will step up to a GS class entry for this weekend's race at Road America – and a good one at that.
The ST class veteran, who's driven and scored poles in a Porsche Cayman before, will fill in for Tyler McQuarrie alongside Till Bechtolsheimer in CJ Wilson Racing's No. 35 Porsche Cayman GT4 Clubsport, which is adorned in a special Chicago Blackhawks livery.
The CJWR team release is below:
—
CJ Wilson Racing today announced that Continental Tire Series regular, Justin Piscitell will join the team for Round 7 of the IMSA Continental Tire SportsCar Challenge at Road America. The 27 year old from Patterson, New York will fill in for Tyler McQuarrie in the #35 Chicago Blackhawks/Safecraft Porsche Cayman as the Californian has a clashing Formula Drift commitment. Piscitell will race alongside regular driver, Till Bechtolsheimer.
"I was extremely excited to get the phone call from Andris asking me to come and run the CJWR car with Till," explained Piscitell. "I have raced Caymans in the ST class but never the GS version of the car. So while being somewhat familiar with the platform, at the same time, this is going to be totally different," he added.
Like many drivers, Piscitell ranks the 4.048 mile Wisconsin track highly. "Road America is one of my all-time favorite tracks, it is high speed in places with lots of exciting and different types of corners the whole way round the track. I have really great memories of the track as my first Skip Barber title was won there in 2009 at the final race of the season. Last year in Continental ST, we didn't get to qualify so I started the race in eighth place and I think I turned the car over with a six second lead after maybe the driving at the highest level I ever have."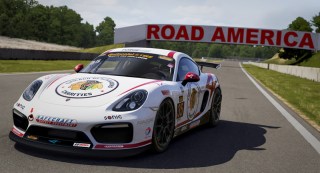 Team Manager, Andris Laivins is confident about McQuarrie's replacement and believes there will be no drop in performance or expectations for the #35 car. "There is a pretty short list of drivers who have the right combination of CTSC experience, attitude, and speed that we would just drop into our program. Justin has always been consistently quick in these races, and our team has gotten to know him well over these last few seasons, so it's a natural fit. We'll all miss Tyler this week, but I'm still expecting to have cars on the podium!"
Piscitell also sees this opportunity for him to make a major impression with the team. "I know that CJWR is a top notch team seeing as they won the ST Championship last year and we were close competitors with them all season. So I know how great an opportunity it is for me but I also hope it proves to be a great chance for CJ Wilson Racing to see what I can do."