Those that are part of IndyCar racing have long been considered members of the same family, with their roots and genes steeped in the passion of high speeds.
But like many regular families, disputes can occasionally creep up, to the point where they become true family feuds.
So it's not surprising that several Verizon IndyCar Series drivers recently took part in a REAL family feud – as in the popular TV show "Celebrity Family Feud."
Members of the IndyCar family were Helio Castroneves, James Hinchcliffe, Will Power, Tony Kanaan and Conor Daly.
"I'm actually a big fan of the show," Kanaan said. "I've always watched it. I've been working with IndyCar to see if they could get us in.
"I'm excited. I'm a little nervous about being able to answer all the questions."
Castroneves served as team captain.
"I put the right people in the right place," he said. "I know we have a good strategy."
There was plenty of incentive to do well, Castroneves said.
"We're racing here to win big money for our favorite charity, the Indy Family Foundation," Castroneves said.
Team IndyCar squared off with a team of models from the annual Sports Illustrated Swimsuit issue.
But don't think the open-wheel guys lost their focus of winning against the models. There was even trash talking that went on.
Castroneves: "We're going to crush you guys. … Game is on, game is ON!"
Hinchcliffe: "We're taking this one."
Daly: "I'm lost."
Kanaan: "They're done."
But just before the lights came up and the camera's started rolling, Castroneves – who won Dancing With the Stars in 2007 – suddenly was beset by a case of stage fright.
Have no fear, Hinchcliffe came to Helio's rescue with an inspiring speech.
"You've won three Indy 500s," Hinchcliffe told Castroneves. "This is a game show. RELAX!"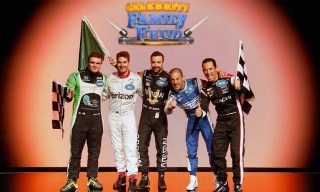 When the show started taping, host Steve Harvey tried to quantify what it means to drive 500 miles (as in the Indianapolis 500).
"500 miles in a regular car is about 10 hours minimum," Harvey said. "Then you have to stop to and get gas because you've got nothing that goes the whole 500 miles."
To which Kanaan deadpanned, leaving Harvey with an incredulous look on his face, "Not really, Steve. We can do it in seven (hours). We're not going to stop to pee. We can bring a bottle … anything that makes you arrive faster."
Hinchcliffe, who sat on the pole of this year's Indy 500, picked up where Kanaan left off when Harvey asked the drivers what do they do if they have to go to the bathroom in the course of a race.
"I knew this was coming," the mayor of Hinchtown proclaimed. "It's just in the suit, man. When you've gotta go, you've gotta go."
So, after Team Indy won $25,000, Kanaan put things in perspective: "This was as important as the Indy 500. It was great teamwork."
Follow @JerryBonkowski