John Force is on the verge of adding to his long list of historical accomplishments and achievements this weekend in suburban Seattle.
The 16-time NHRA Funny Car champion is seeking to sweep the sport's "Western Swing" – back-to-back-to-back races for the second time in his career. No other Funny Car driver has ever won the Swing other than Force.
Force has already won the first two legs of the swing: Denver and Sonoma. If he reaches and wins this Sunday's final round of the ProtectTheHarvest.com NHRA Nationals, he'll mirror the accomplishment he achieved by sweeping the Swing in 1994.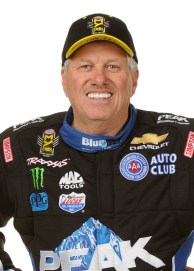 And given his past success at Seattle, the numbers and odds would appear to be in his favor of pulling off the sweep this weekend:
Of Force's 145 national event wins, eight have come at this weekend's host track, Pacific Raceways, in Kent, Washington.
Force has a career round record of 55-19 there.
He's reached the final round at Seattle 10 times, winning eight.
His last win at Seattle was 2014, when he qualified No. 1 and defeated long-time friend Gary Densham in the final round.
Has qualified No. 1 six times and in the top four 14 times at Seattle.
His first race at Seattle was 37 years ago in 1979, shortly after Force turned 30. He's now 67.
Force has won at least two races in a row 28 times, including his most recent two races.
He's won three races in a row 12 times (the last time in 2013 to clinch his 16th and most recent Funny Car championship), four in a row twice and a record five straight in 1993.
Force almost repeated the Western Swing sweep in 2003, winning at Denver and Seattle, but lost in the semifinals at Sonoma.
Force spoke about the potential of setting NHRA history for the second time in his career. Here are some excerpts of his comments:
Q) How satisfying is this two-race winning streak?
Force: "It is exciting. … I cried a lot about hard times but it takes money to make this game. I'm working with the right people, like Mike Neff and Alan Johnson who are in charge of my Funny Car and Top Fuel programs. Mentally, it helps to work with my (team) president (and son-in-law) Robert Hight as we put the band back together so to speak and it is starting to show, it is starting to turn the corner.
"In our races too, luck is a big part of the game. … If you look at the last two weekends the cars have gone out, Robert and Courtney (Force) are because of me. We all have the same tune-up and we are all helping each other. Its hurts us, but helps me, but in the end we are all part of the same team."
Q) Your crew chief, Jon Schaffer, is only 27 years old. Plus, the majority of your team is on the young side. How do you keep them focused and remain hungry heading to Seattle?
Force: "Schaffer, along with Nick Casertano are very important, they manage those guys and we talked about it. Let the crew have a dinner, have some drinks on Sunday but the preparation they make at these tracks is what will make us try to win the sweep in Seattle.
"And that is what we said after Denver going into Sonoma, keep a lid on them. The road is tough on these kids and I have a young team. We have seen mistakes like any team out here but we have addressed it. We will be ready for Seattle with them."
Q) What do you feel your chances are going into Seattle?
Force: "I'm going in with three Funny Cars that is going to try to defend it and if any of us get a win, the win is what is crucial. Do I want to get the Swing? Without a doubt.
"I talked with (former crew chief) Austin Coil this morning and he was congratulating me. Said I drove (at Sonoma) like I drive 20 years ago when we started beating them and when we were first winning. He can see it because he taught me.
"My chances to win the Swing? As good as anybody else's. I like Seattle, good air, good racetrack. The fans are great, let's see if we can go give them a show. That is what we are trying to do. I want to win championships.
"… To win the Swing a lot comes into play. The pressure comes in from the media and the fans. Then you can't let your mindset change. You have to be able to run with the pack. Keep your mindset right and you need destiny."
Follow @JerryBonkowski