Will she or won't she? Only her horsepower guy knows for sure.
Two-time defending NHRA Pro Stock champ Erica Enders isn't giving up on making the Countdown to the Championship six-race playoff.
All Enders has to do is be ranked within the top-10 after the upcoming U.S. Nationals in Indianapolis and she'll have a fresh chance to win her third consecutive title.
But it won't be easy. Enders is currently outside the Countdown window, in 11th place. Granted, she's only nine points out of 10th place, but given her up-and-down performance record this season, nine points might as well be 90, if not 900 points.
There's only one way to solve that problem and make up for lost time: wins, wins and more wins. It's the only way she'll likely make the Countdown, let alone win her third consecutive championship.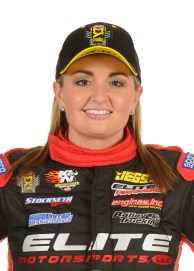 Enders has three races to qualify for the Countdown: this weekend's Protect The Harvest NHRA Northwest Nationals; Brainerd, Minnesota in two weeks and the biggest race of the season, the legendary U.S. Nationals on Labor Day Weekend in suburban Indianapolis.
It's been a challenging season for Enders and her Elite Motorsports team on a number of fronts. Not only have they failed to advance past the first round of eliminations 10 times in the first 15 races, they've also had difficulty adapting to the new electronic fuel injection system mandated by NHRA.
On top of that, they also switched from the Chevrolet power that led them to the 2014 and 2015 championships to Dodge power and chassis this season.
And then there's the domination of KB Racing's Jason Line and Greg Anderson, who have won a combined 14 of the first 15 races this season.
Even with all those challenges, Enders says she's ready for the challenge at hand to make the Countdown.
"I don't have any doubt we'll rise to the occasion again," Enders said in a media release. "Certainly, it's not been like the last couple of years with the struggles we've had switching to EFI and switching manufacturers. It's certainly been a learning year for us.
"Having said that, we're going to do the best we can. In my opinion, nobody performs as well under pressure as we do collectively."
It's hard to understand how Enders and her Elite team have fallen backward so far. Over the last two seasons, she not only won 14 races (six in 2014 and eight in 2015).
Thus far this season, Enders hasn't even reached one final round, let alone visit the winner's circle.
"We've been fortunate in years past," Enders said. "This year, things haven't necessarily been falling our way. We've had struggles with parts failures and stuff that wasn't typical in the past.
"Those are all huge obstacles we have to overcome. I feel like we're certainly right on track to making better runs and getting more horsepower. We just need a little bit of a break."
Follow @JerryBonkowski