His nickname may be "Fast Jack," but NHRA Funny Car driver Jack Beckman wants to be "Faster Jack" as the Mello Yello Drag Racing Series closes in on the six-race Countdown to the Championship playoffs.
For all intents and purposes, Beckman has had a very good season through the first 15 national events. He's qualified No. 1 in four races, won his first race of the season last month at Chicago, has reached the final round a total of four times, is currently third in the Funny Car point standings and appears to be well on his way to potentially earning a second NHRA championship.
Except …
Compared to last season, Beckman is struggling. He won a career-high seven wins last season, including the first two races of the Western Swing.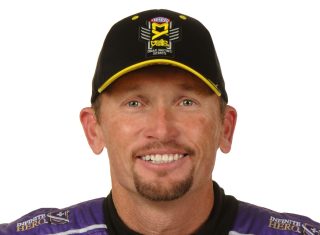 Fast forward a year to the present time and Beckman not only has just the one win (at Chicago), he's won just one round win in the first two legs of this year's Western Swing.
The third and final leg of the Swing is this Sunday in the Protect The Harvest Northwest NHRA Nationals at Pacific Raceways in suburban Seattle.
So while things may look good on paper, Beckman is ready to tear things up starting with Seattle and hopefully go on another tear like he did last season.
"You look at the points and it looks like we're having a pretty solid year, but I don't think anybody on this team is satisfied with the performance," Beckman said in a media release. "We'll clinch a spot in the Countdown before the end of Seattle and we'll likely go in looking pretty good in the points standings, but we know we've been struggling and we know we haven't hit the sweet spot yet in our tune-up.
"One of the problems is we've been playing musical chassis. The shop has been really good with everything, but it's a lot of extra work getting everything switched over each time."
Beckman came so close to winning his second Funny Car championship last season, but Del Worsham won the first two races of the Countdown – and four overall of the six playoff events – and Beckman couldn't quite catch Worsham in the remaining races.
"Every one of our races awards a trophy and every race is important," said Beckman, who has 23 career victories. "I don't have a crystal ball but hopefully we can capitalize this weekend.
"This team last year on the Western Swing, we were 8-0 (in round wins) and right now we're 1-2. I think we just want to walk out of (the Western Swing) with our head held high and the only way to do that is to take the trophy home with us."
But it won't be easy for Fast Jack. He has to contend not only with 16-time Funny Car champ John Force, who has won the first two races of the Swing and is looking to win all three for only the second time in its history.
And then Beckman must contend with his own Don Schumacher Racing teammates: Funny Car points leader (and four-time winner this season) Ron Capps, two-time champion Matt Hagan and always dangerous Tommy Johnson Jr.
"It is real easy to be confident when your horse is the fastest horse," Beckman said. "When you have that attitude you just go back to reacting and you don't think about things. It feels like you're doing things naturally.
"When things aren't going your way you get into that habit of trying to fit a square peg into a round hole. I still have to do what works best for me and that's be calm and confident, and go execute. We can't leave anything on the table anymore.
Every race we leave without a trophy we let an opportunity slip by. I don't think we can try any harder. Everybody is working hard. We just have to find those small details to get the car to respond like it did last year. But we don't want to let anything else slip away. They're giving away three more trophies before the Countdown and we still have a shot to get back into the points lead."
* * * * * * * * * * * * * * * * * * * * * *
PROTECT THE HARVEST NHRA NORTHWEST NATIONALS presented by Lucas Oil FACT SHEET
WHAT: 29th annual Protect The Harvest NHRA Northwest Nationals presented by Lucas Oil, the 16th of 24 events in the NHRA Mello Yello Drag Racing Series. Drivers in three categories – Top Fuel, Funny Car and Pro Stock – earn points leading to 2016 NHRA Mello Yello Drag Racing Series world championships. The NHRA Lucas Oil Series also will be featured at this event.
WHERE: Pacific Raceways, Kent, Wash. The track is located 10 miles east of Interstate 5 on Highway 18. From I-5, use Exit 142A (Auburn exit) and travel east 10 miles on Highway 18, following the signs to the track. From other points, use Highway 18 and exit S.E. 304th St. or S.E. 312th St.
COURSE: Championship drag strip; Track elevation is 280 feet above sea level; Track direction is east to west.
WHEN: Friday through Sunday, Aug. 5-7
SCHEDULE:        
FRIDAY, Aug. 5- LUCAS OIL SERIES qualifying
MELLO YELLO SERIES qualifying at 2:30 and 5:30 p.m.
SATURDAY, Aug. 6- LUCAS OIL SERIES eliminations
MELLO YELLO SERIES qualifying at 1 and 4 p.m.
SUNDAY, Aug. 7 – Pre-race ceremonies, 10 a.m.
MELLO YELLO SERIES eliminations begin at 11 a.m.
TELEVISION:      
Friday, Aug. 5, FS1 will televise one hour of qualifying coverage at 10 p.m. (ET).
Sunday, Aug. 7, FS1 will televise one hour of qualifying coverage at Noon (ET).
Sunday, Aug. 7, FOX will televise three hours of live finals coverage at 4 p.m. (ET).
2015 EVENT WINNERS: J.R. Todd, Top Fuel; Tommy Johnson Jr., Funny Car; Chris McGaha, Pro Stock.
MOST VICTORIES: John Force, 8, FC; Bob Glidden, 6, PS; Joe Amato, 5, TF; Warren Johnson, 4, PS; Tony Schumacher, 4, TF.
TRACK RECORDS:            
Top Fuel – 3.727 sec. by Richie Crampton, Aug. '15; 328.30 mph by Spencer Massey, Aug. '15.
Funny Car – 3.912 sec. and 322.88 mph by Jack Beckman, Aug. '15.
Pro Stock – 6.488 sec. and 213.40 mph by Chris McGaha, Aug. '15.
NATIONAL RECORDS:    
Top Fuel – 3.671 sec. by Steve Torrence, July '16, Sonoma, Calif.; 332.75 mph by Spencer Massey, Aug. '15, Brainerd, Minn.
Funny Car – 3.862 sec. and 335.57 mph by Matt Hagan, May '16, Topeka, Kan.
Pro Stock – 6.455 sec. by Jason Line, March '15, Charlotte, N.C.;  215.55 mph by Erica Enders, May '14, Englishtown N.J.
Follow @JerryBonkowski