Veteran ARCA driver Will Kimmel is on a roll.
Kimmel and wife Erica joyously announced earlier this week that they are expecting their first child in mid-February, potentially spawning a fourth generation of Kimmel family racers.
And now Kimmel is preparing for a personal milestone, his 100th career ARCA Racing Series start in the 54th SuperChevyStores.com 100 on August 21 at the one-mile dirt track at the Illinois State Fairgrounds in the state capital city of Springfield.
It'll be Kimmel's second bid at No. 100. He was on-track and ready to take the green flag for his milestone last Saturday at Berlin (Michigan), but decided he'd rather set the milestone at Springfield.
"Springfield's always been special to me," Kimmel said in an ARCA Racing news release. "The list of names who have won there is so big. … It'd be so cool to be on that list.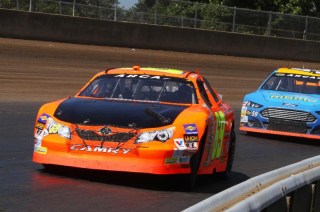 "Winning in our 100th start would be ideal at Springfield, but at this point, we'd take a win no matter where. But that's exactly why I didn't run Berlin. We weren't going to run the whole race and I didn't want that to be my 100th. We're coming full tilt for Springfield."
Springfield has served as a good host for Kimmel in the seventh race there since his first entry there in 2009. He finished fourth in 2011, fifth in 2014, eighth in 2009 and 11th in 2012.
He wound up in a crash in last year's race, something he hopes to bounce back from in No. 100.
"Based on the success we've already had there, if things go our way we can compete at Springfield … same at DuQuoin," Kimmel said. "For a small team like us, the dirt tracks are the big equalizers.
"You can never really go there and know exactly what to expect out of the race track, so you shoot for the middle on set-up and hope you're close enough. We go with what we've done in the past, and tweak our set-ups as we go.
"We've tweaked our set-ups from when Frank (Kimmel/8-time Springfield winner) won all his races. If you watch some of those past races, if the breaks go our way, we're one of the fastest cars at those places.
"Weather plays a big part as to which way you go. One of my favorite races at Springfield was a couple years ago when we had all that rain and there was so much moisture in the track. You had an outside groove … something you don't always get at Springfield, but what a cool race … so much fun to drive."
When pressed to rate Springfield on his list of favorite tracks, Kimmel said it's in his personal top-3, including Daytona and Salem (Indiana) Speedway.
"I'd say Springfield is second only to Salem," he said. "I want to win Daytona in the worst way, but you have to rely on other people, other cars at places like Daytona … and your equipment has to be right on the money.
"At Springfield, our little team has a fair shot to win. Winning there in my 100th start would be a dream come true. Winning anywhere in my 100th start would be a dream come true, but it'd be a way bigger deal for me, personally, at Springfield. You look down through the list of winners there, and you'll know what I mean. I'd just like to win on the dirt."
NOTES: Here's a quick list of some of the past winners at Springfield: Curtis Turner ('63), Don White ('66, '67, '72), Al Unser ('72), Jack Bowsher ('73), Roger McCluskey ('74), Ramo Stott ('76, '77, '80), AJ Foyt ('79), Joe Ruttman ('80), Dean Roper ('81, '82, '83, '83, '85, '86), Bob Keselowski ('87, '88, '89, '93), Bobby Bowsher ('91, '92), Tim Steele ('96, '97), Ken Schrader ('98), Bill Baird ('99, '04), Justin Allgaier ('06), Parker Kligerman ('09), Frank Kimmel ('00, '01, '02. '03, '05, '07, '08, '12), Kevin Swindell ('14) and AJ Fike ('15). … Practice for the SuperChevyStores.com 100 runs from 9 to 10 a.m. CT on Aug. 21. Qualifying takes place at 11:15 a.m. and the race takes the green flag at 1:30 p.m. The race will be televised live on the American Sports Network and streamed on AmericanSportsNet.com.
Follow @JerryBonkowski