While much of the focus last week coming out of Road America was IMSA's future direction and platform for the IMSA WeatherTech SportsCar Championship, Continental Tire SportsCar Challenge and the renamed Prototype Challenge presented by Mazda, four of IMSA's developmental or single-make series have had particularly busy last couple weeks on track – potentially setting the scene for champions to move up in 2017.
Last week at Road America, IMSA's Porsche GT3 Cup Challenge USA by Yokohama and Lamborghini Blancpain Super Trofeo North America were in action.
This weekend, it was the Ultra 94 Porsche GT3 Cup Challenge Canada by Yokohama and Mazda Prototype Lites Presented by Cooper Tires racing on the streets of Trois-Rivieres, for the annual Grand Prix de Trois-Rivieres (GP3R).
—
Ultra 94 Porsche GT3 Cup Challenge Canada by Yokohama
The battle between Canadian talents and rivals Daniel Morad and Scott Hargrove rolled onto the streets of Trois-Rivieres this weekend. Hargrove closed to within three points of Morad, 137-134, leaving the streets of Toronto in mid-July.
In race one of the GP3R weekend, Hargrove made the gap tighter still with a win in his No. 28 OpenRoad Racing Porsche 911 GT3 Cup car, edging ahead of Morad (No. 17 Porsche Centre Oakville/Alegra Motorsports Porsche) at Turn 6 after making contact with his title rival.
"I had an opportunity on the first lap, and I was kind of kicking myself for not really going for it because I didn't know if I was going to get another chance," Hargrove said. "But then coming out onto the back straight, I got a really good run up behind Daniel (Morad) and he knew, and I said, 'It's now or never,' and I just went for it. Probably one of the sketchiest moves I've made, but I'm just very happy the car stopped."
Morad bounced back in a big way on Sunday with a win while Hargrove lost points and time at the end of the race. He was credited with eighth place after sustaining damage to his car from a late collision, and was assessed a post-race time penalty for incident responsibility.
"The team and myself are working together, and we're constantly improving the car," Morad said." I'm looking forward to our chances in the last race, although anything can happen, and we need Lady Luck on our side."
Although Hargrove has five wins to Morad's four, Morad now leads Hargrove by 13 points, 175-162, heading into the season finale weekend Sept. 2-4 at Canadian Tire Motorsport Park. The doubleheader will be Rounds 11 and 12 this year, and will make this the first IMSA Single-Make Series that concludes its 2016 campaign.
—
Mazda Prototype Lites Presented by Cooper Tires
Clark Toppe closed the gap on his JDC Motorsports teammate Austin Versteeg to just two points (154-152) with two race weekends remaining in the Mazda Prototype Lites Presented by Cooper Tires season. Meanwhile the lanky (6'6″) 18-year-old Texan helped to extend the John Church-owned team's overall win streak to 27 races straight, dating to August 2014.
Toppe passed Versteeg for the lead in the first of two races and Versteeg's later spin dropped him down the order. Kyle Masson and Max Hanratty completed the podium.
Toppe then took the lead on Versteeg off the start in race two to pull away for his second win of the weekend. Hanratty and Masson swapped their race one positions. Behind them in easily his most impressive weekend of the year was Hanratty's Patron ESM teammate James Dayson, who finished fifth and fourth in the two races.
Rounds 10, 11 and 12 will be Sept. 9-11 at Mazda Raceway Laguna Seca as part of the all-Mazda weekend at the scenic, 2.238-mile, 11-turn circuit in Salinas, California. The final two races of the year will be part of Petit Le Mans at Road Atlanta in October.
—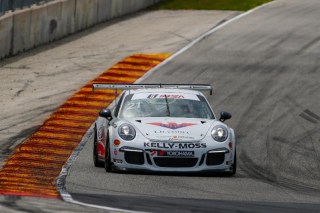 Porsche GT3 Cup Challenge USA by Yokohama
Jesse Lazare's weekend sweep at Road America last weekend, in the No. 21 Kelly-Moss Road and Race Porsche 911 GT3 Cup car, brought his win total to seven wins in 10 races and extended his points lead over Lucas Catania (No. 26 NGT Motorsport Porsche) to 26 points (173-147). The win also occurred at Kelly-Moss' home race; the team is based in Madison, Wis., 110 miles away from Elkhart Lake, Wis. 
Rounds 11-12 are scheduled for Aug. 26-28 at VIRginia International Raceway in Danville, Virginia, with additional doubleheader weekends to come at Circuit of The Americas (Sept. 14-17) and Road Atlanta (Sept. 28-Oct. 1)
—
Lamborghini Blancpain Super Trofeo North America
After its third weekend of the year at Road America, the Lamborghini Blancpain Super Trofeo North America has three more weekends left – at VIR, Circuit of The Americas and then at Circuito de la Comunidad Valenciana Ricardo Tormo (Dec. 1-2) for the final North American rounds of the year before the World Final there Dec. 3-4.
—
Ferrari Challenge
Ferrari Challenge North America has been off since the Canadian Grand Prix weekend in Montreal June 10-12. Remaining weekends are at Lime Rock (Sept. 23-24), Homestead (Nov. 4-6) and Daytona (Dec. 1-4), the latter of which is its World Final.