It's always good to see new teams enter a championship, or legacy teams make a comeback. Next year's Cooper Tires USF2000 Championship Powered by Mazda championship will have at least two new entrants for the debut of the new Tatuus USF-17 car.
A team making a comeback for the first time in nearly a decade is Newman Wachs Racing. NWR was formed in 2005 and became a stalwart of the Atlantic Championship – which also then ran on Cooper Tires – through that series' initial lifespan to the end of 2009.
NWR won the 2009 Atlantic title with John Edwards and also saw Jonathan Summerton, Simona de Silvestro and JR Hildebrand – among others – race for them in that time period.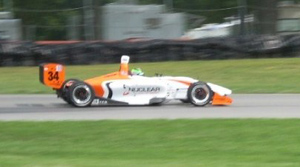 The Eddie Wachs-owned and Brian Halahan-led team is back in action for 2017 having ordered four cars. Alan O'Leary will be the team's engineer and Ray Hook will be fabricator and machinist.
"After racing together for many years, Paul Newman and I felt we should give back to the sport" Wachs said in a team release. "By putting together NWR, we created an opportunity for young aspiring drivers to take the next step in professional racing. We decided to concentrate on open-wheel racing and the Atlantic Series.
"During the four-year involvement, we practically dominated the series with a number of talented drivers including Joe D'Agostino, JR Hildebrand, Simona de Silvestro, John Edwards, Jonathan Summerton, and others who have become full-time professionals in their sport. In 2009, we shut down the team when the Atlantic series folded.
"We're delighted to be back and we look forward to the continued success we are used to seeing."
"Adding the respected Newman Wachs Racing to our 2017 USF2000 paddock is awesome news," added Dan Andersen, Owner and CEO of Andersen Promotions. "Eddie Wachs and his group, including the highly regarded Brian Halahan, are sure to make an immediate impact and raise the caliber of our competition. As an entrepreneur myself, I have the utmost respect for Eddie. He is an entrepreneur's entrepreneur. I am delighted they will be campaigning their four USF-17 cars with us next season."
—

Meanwhile, announced a couple weeks ago, the new DEForce team plans a three-car effort led by racing veterans David Martinez and Ernesto Martinez (D and E for DEForce). David Martinez, an ex-Champ Car and Atlantic driver, has carved a successful post-driving career as a partner in Speed Group; Ernesto Martinez founded the Falcone GP team in 2006 and has seen that team blossom into one of Mexico's top teams for young driving development.
"It's been so busy with our announcement that it´s been hard to get emotional or think about it too much. What can I say, this is a great opportunity that was presented to me as a team owner. Me and Ernesto are more than partners, we are family and great friends," David Martinez said.
—
You can see DEForce and NWR as part of the list of USF-17 teams linked here, via the USF2000 series website.
—

The other piece of USF2000 news that came out a couple weeks ago was a livery release for John Cummiskey Racing's USF-17 cars for 2017.
It's nearly an identical livery as in 2016.
The team placed two orders for 2017 and would look set to run a two-car lineup again next year. This year, Ayla Agren and Lucas Kohl have been in the team's two cars.
"JCR is very excited to be a part of the next generation of racing in the USF2000 series," Cummiskey said. "The USF-17 has been met with positive reviews through every step of its development, and will be a great tool for drivers looking to move up the Mazda Road to Indy Presented by Cooper Tires ladder."